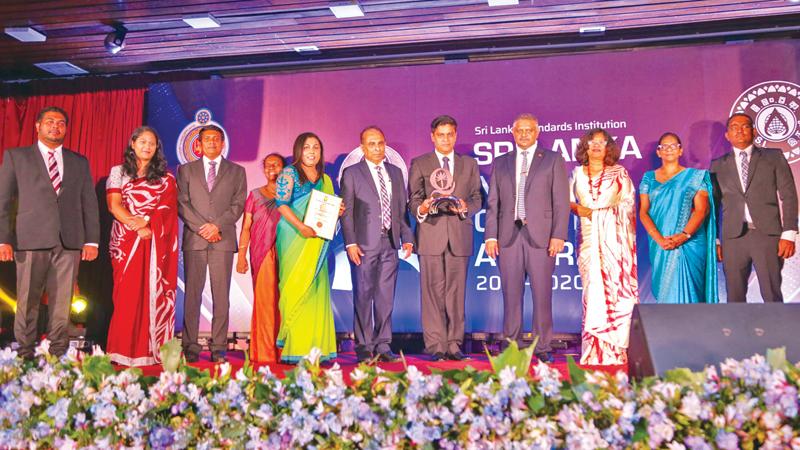 The Sri Lanka Standards Institution (SLSI) hosted the 26th Annual Sri Lanka National Quality Awards (SLNQA) Ceremony, at the Sri Lanka Foundation Institute recently.
The SLNQA recognises Sri Lanka's top established and emerging businesses that have dedicated themselves to excellence. The SLNQA program is managed by the SLSI and is implemented based on the stringent and globally recognised criteria used in the Malcolm Baldrige National Quality Awards of the USA (MBNQA).
These awards provide many benefits to recipients and the wider community, apart from esteem and prestige, as they incentivise further development and improvement of quality standards and performance excellence through knowledge sharing. Participants also receive detailed reports and evaluations, along with recommendations, which they can use to further up their game. The main awards were presented by the chief guest, State Minister of Technology Kanaka Herath. Chairman of Sri Lanka Standards Institution, Asanga Ranasinghe, Director General Dr. (Mrs) Siddhika G. Senaratne were also present.
Dr. (Mrs.) Senaratna said, "The primary objective of the SLNQA program is to promote awareness about quality standards and an understanding of performance excellence as a process and journey, as these are important tools in enhancing competitiveness.
"It helps to demonstrate to the business community that companies that adopt such models empower themselves to reach goals, improve results and become more competitive, and ultimately more recognisable and profitable.
"The winners are also able to come together as a community to share knowledge and inspire others to follow a roadmap towards performance excellence. We are very pleased with the outcome of the event this year and take this opportunity to thank all those who participated and contributed to this valuable endeavour," she said. In stage one, applicants are evaluated by three to six examiners in an independent individual desktop evaluation. In stage two, the desktop consensus is reviewed and evaluated collectively by the examiners. During stage three, site visits are conducted to verify and clarify all assertions and data forwarded during stage two. Stage four consists of reviews and recommendations by the Review Committee to the Panel of Judges, and in stage five, a judging panel, comprising experts, selects the winners based solely on merit.
Winning an SLNQA entitles the recipient to publicise this fact and enjoy the benefits of such publicity for up to five years, while also empowering them to act as role models for others and share best practices.