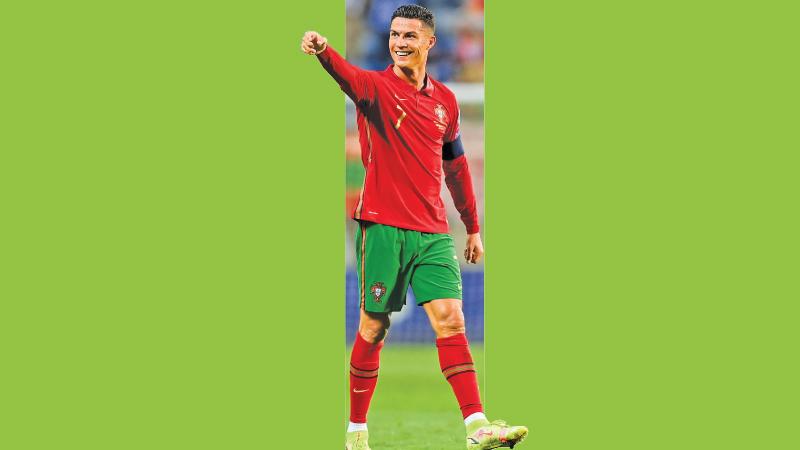 Cristiano Ronaldo, the captain of Portugal achieved the historic milestone of becoming the first footballer to score in five FIFA World Cups (2006, 2010, 2014, 2018 and 2022) when he netted a goal in Portugal's opener at the World Cup Qatar 2022 against Ghana on November 24, 2022. He surpassed the greats, Uwe Seeler (Germany), Pele (Brazil), Miroslav Klose (Germany) and Lionel Messi (Argentina) who have scored in four World Cups.
Ronaldo, one of the greatest players of all time, with 118 goals in 193 matches and counting, has scored the most goals in international football in the men's game. His eighth goal in 18 World Cup matches against Ghana at 37 years and 295 days made him the second oldest goal scorer in the World Cup history. Ronaldo is one of the few players to have made 1,177 professional career appearances and has scored 837 official senior career goals for club and country.
He has won five Ballon d'Or awards (2008, 2013, 2014, 2016 and 2017) and four European Golden Shoes. He has also won 32 trophies, including seven league titles, fiveUEFA Champions Leagues, and UEFA European Championship. He holds the records for the most appearances (183), the most goals (140), and the most assists (42) in the Champions League andthe most goals in the European Championship (14).
He made his international debut for Portugal in 2003 at 18 and has since become Europe's and Portugal's most-capped player. He is also the nation's all-time top goal scorer. Ronaldo has played in and scored at eleven major tournaments; he scored his first international goal at Euro 2004, where he helped Portugal to reach the final. He assumed captaincy of the Portugal team in 2008. In 2015, he was named the 'Best Portuguese Player of All-Time.'
Ronaldo began his senior career with Sporting CP in Portugal, before signing with Manchester United in 2003, at eighteen. Ronaldo was the subject of the then-most expensive football transfer when he signed for Real Madrid in 2009 for €94 million. In 2018, he signed for Juventus in a transfer worth €100 million, the most expensive transfer for an Italian club and for a player over 30 years old. He returned to Manchester United in 2021.
He led Portugal to victory in the inaugural UEFA Nations League in 2019, and later received the Golden Boot as top scorer of Euro 2020. One of the world's most marketable and famous athletes, Ronaldo was ranked the world's highest-paid athlete by Forbes in 2016 and 2017 and the world's most famous athlete by ESPN from 2016 to 2019. He is the first footballer and the third athlete to earn US$1 billion in his career.
Player Profile
A versatile attacker, Ronaldo can play on either wing as well as through the center of the pitch. While right footed, he is extraordinarily strong with both feet. Tactically, he has undergone several evolutions throughout his career. While at Sporting and during his first season at Manchester United, he was typically deployed as a traditional winger on the right side of midfield, where he continually looked to deliver crosses into the penalty area.
In this position, he was able to use his pace and acceleration, agility, and technical skills to take on opponents in one-on-one situations. Ronaldo became noted for his dribbling and flair, often displaying an array of tricks and feints, such as the step overs and so-called 'chops' that became his trademark; he has also been known to use the flip–flap.
As Ronaldo matured, he underwent a major physical transformation, developing a muscular body type that allowed him to retain possession of the ball under pressure, and strong legs that enabled an outstanding jumping ability. His strength and jumping ability, combined with his elevation, heading accuracy and height of 1.87m, give him an edge in winning aerial duels.
These attributes allow him to function as a target-man and make him an aerial goal threat in the penalty area; consequently, most of his goals have been headers. Allied with his increased stamina and work-rate, his goal scoring ability improved drastically on the left wing where he was given the positional freedom to move into the center to finish attacks. He has also increasingly played a creative role for his team, often dropping deep to pick up the ball, participate in the build-up of plays and create chances for his teammates, courtesy of his vision and passing ability.
In his final seasons at Manchester United, Ronaldo played an even more attacking and significant role, functioning both as a striker and as a supporting forward, or even as an attacking midfielder on certain occasions. He developed into a prolific goal scorer, capable of finishing well both inside the penalty area and from distance with an accurate and powerful shot, courtesy of his striking ability. An accurate penalty kick taker, he also became a set piece specialist, renowned for his powerful, bending free kicks.
At Real Madrid, Ronaldo continued to play a more offensive role, while his creative and defensive duties became more limited, although not entirely diminished. Initially deployed as a center forward, he was later moved back onto the left wing, though in a free tactical role; this position allowed him to drift into the center at will to get onto the end of crosses and score or draw out defenders with his movement off the ball and leave space for teammates to exploit.
Birth and Growth
Cristiano Ronaldo dos Santos Aveiro was born on February 5, 1985, in the capital of the Portuguese island of Madeira, and grew up in nearby Santo Antonio. He is the fourth and youngest child of Maria Dolores dos Santos Viveiros da Aveiro and Jose Dinis Aveiro. He grew up in a Catholic Christian home with his siblings Elma, Liliana and Hugo.
Ronaldo played for Andorinha from 1992 to 1995 and later spent two years with Nacional. In 1997, at 12, Sporting CP signed him for a fee of £1,500. He subsequently moved to Alcochete, to join Sporting's youth academy. By 14, Ronaldo believed he had the ability to play semi-professionally and agreed with his mother to cease his education to focus entirely on football.
At 16, Ronaldo was promoted from Sporting's youth team and became the first to play for the clubs under sixteen team onwards and the first team, all within a single season. A year later, he made his debut in the Primeira Liga in 2002.Manchester United paid Sporting £12.24 million for Ronaldo's move in 2003. His transfer fee made him, the most expensive teenager in English football history. He helped United win the 2008 FIFA Club World Cup.
Ronaldo became the first Premier League player to be named the 'FIFA World Player of the Year,' in 2008.His match-winning goal against Porto in 2009 that travelled at an astonishing average speed of 103 kilometers per hour, earned him the inaugural 'FIFA Puskas Award,' presented by FIFA in recognition of the best goal of the year, which he later recognized as the best he had ever scored. Ronaldo ended his time in England with nine trophies, as United claimed their third successive league title and a Football League Cup.
Ahead of the 2009-10 season, Ronaldo joined Real Madrid for a world record transfer fee of €94 million. His contract was worth €11 million per year and contained a €1 billion buy-out clause. Ronaldo captained Madrid in 2013 and later signed a new contract to extend his stay up to 2018, with a salary of €17 million net, making him briefly the highest-paid player in football.
In the 2015-16 season, Ronaldo became the Madrid's all-time top scorer, first in the league, and then in all competitions. He also became the all-time top scorer in the Champions League. On September 30, 2015, he reached the milestone of 500career goals. He won the inaugural 'The Best FIFA Men's Player,' owing to his success with Portugal in winning Euro 2016.
In 2018, Ronaldo signed a four-year contract with Italian club Juventus after completing a €100 million transfer, which included an additional €12 million. The transfer was the highest ever for a player over 30 years. In 2021, Manchester United reached an agreement with Juventus to re-sign him and the transfer costed an initial £12.85 million.
Ronaldo has had six children and is currently in a relationship with Argentine-born model Georgina Rodriguez. He neither consumes alcohol nor has any tattoos as he regularly donates blood and bone marrow. He has made significant contributions to charity throughout his career.
Ronaldo was named the world's most charitable sportsperson in 2015. He donated the entirety of his €600,000 Champions League bonus to charity after Real Madrid won the Champions League in 2016. Also, Ronaldo launched CR7Selfie, a selfie app for charity to help Save the Children that lets participants take a selfie with him.
FIFA World Cup 2006
Ronaldo began his international career with Portugal under15 in 2001. During his international youth career, he would represent the under15, 17, 20, 21 and 23 national sides, amassing thirty-four youth caps and scoring eighteen goals. At 18, he made his first senior appearance for Portugal in a 1-0 win over Kazakhstan in 2003. He scored his first international goal against Greece.
Ronaldo was Portugal's second-highest scorer in their qualification group with seven goals. He scored his first World Cup goal against Iran and at 21 years and 132 days, became the youngest ever goal scorer for Portugal at a World Cup finals. Following the 2006 World Cup, he would go on to represent Portugal in four qualifying games for Euro 2008. A day after his 22nd birthday, Ronaldo captained Portugal for the first time against Brazil in 2007.
He scored eight goals in the qualification, the second-highest tally, and a goal in the tournament, netting the second goal of their 3-1 win against the Czech Republic and was named Man of the Match. After Portugal's unsuccessful performance at Euro 2008, Ronaldo was made the permanent Captain in July 2008.
FIFA World Cup 2010
Ronaldo failed to score in the qualification for the 2010 World Cup, as Portugal narrowly avoided a premature elimination from the tournament with a play-off victory over Bosnia and Herzegovina. In the group stage, he was named Man of the Match in all three matches, against the Republic of Côte d'Ivoire, North Korea, and Brazil. His only goal of the tournament came in their 7-0 rout of North Korea. Portugal's World Cup ended with a 1-0 loss against eventual champions Spain in the round of sixteen.
Ronaldo scored seven goals in the qualification for Euro 2012. In the last group stage game against the Netherlands, he scored twice to secure a 2-1 win. He scored a header in the quarter-final against the Czech Republic to give his team a 1-0 win. He was named the Man of the Match against the Netherlands and the Czech Republic.
FIFA World Cup 2014
During the qualification for the 2014 World Cup, Ronaldo scored eight goals. A qualifying match on October 17, 2012, against Northern Ireland, earned him his 100th cap. His first international hat-trick also came against Northern Ireland on September 6, 2013. After Portugal failed to qualify during the regular campaign, Ronaldo scored all four of the team's goals against Sweden. He subsequently became his country's all-time top scorer on March 5, 2014.
Ronaldo played the full 90 minutes of the opening match against Germany but failed to prevent a 4-0 defeat. His 50th international goal made him the first Portuguese to play and score in three World Cups. Ronaldo scored five goals, including a hat-trick against Armenia, in the qualification for Euro 2016. With a goal against Armenia on November 14, 2014, he reached twenty-three goals to become the UEFA European Championship's all-time leading goal scorer. With two goals against Hungary, he became the first player to score in four European Championships.
In Portugal's first knockout match, Ronaldo's goal secured victory against Croatia. He became the first player to participate in three European Championship semi-finals. In the final against hosts France, Ronaldo lifted the trophy. He was awarded the Silver Boot and was named to the team of the tournament for the third time. Following the Euro 2016 success, Ronaldo played his first match on his home island of Madeira against Sweden on March 28, 2017, at 32.
FIFA World Cup 2018
On August 31, 2017, Ronaldo scored a hat-trick in a 5-1 win in a 2018 World Cup qualifying match over the Faroe Islands. His tally of 29, made him the highest scorer in UEFA qualifiers, and the highest goal scorer in World Cup qualifying and finals matches combined with 32 goals. On June 15, 2018, Ronaldo became the oldest player to score a hat-trick in a FIFA World Cup match, helping Portugal secure a 3-3 draw against Spain. In doing so, he became the first Portuguese to score in four World Cups.
On June 20, 2018, Ronaldo scoring a goal against Morocco, broke Ferenc Puskas' record as the highest European goal scorer of all-time, with eighty-five goals. He played in the inaugural Nations League Finals in June 2019, becoming the first player to score in ten consecutive international competitions.
On September 10, 2019, Ronaldo scored four goals in a 5-1 win over Lithuania in a Euro 2020 qualifying match, becoming the player with most goals in the UEFA European Championship qualifying, setting a record with twenty-five goals. He also set a record for scoring against the most national teams, 40, while also completing his eighth international hat-trick. On October 14, he scored his 700th senior career goal for club and country in his 974th senior career appearance.
On September 8, 2020, Ronaldo scored his 100th and 101st international goals in a 2-0 away win over Sweden in a 2020–21 UEFA Nations League match. On June 15, 2021, he scored twice in Portugal's 3 - 0 win against Hungary, becoming the oldest player to score two goals in a match in the European Championship, and the oldest player to score for Portugal at a major tournament.
On September 1, 2021, Ronaldo scored two goals, in a 2-1 win against Ireland in a World Cup qualifier, which saw him pass Ali Daei's international record of 109 goals to become the sole record holder. On October 9, he scored the opening goal in a 3-0 win over Qatar in his 181st international, overtaking Sergio Ramos's record for the most international caps by a European player. On October 21, 2021, Ronaldo scored a hat-trick against Luxembourg in a 5-0 win to become the first player to score ten hat-tricks in men's international football.
(The author is an Associate Professor, International Scholar, winner of Presidential Awards and multiple National Accolades for Academic pursuits. He possesses a PhD, MPhil, and double MSc. His email is [email protected])