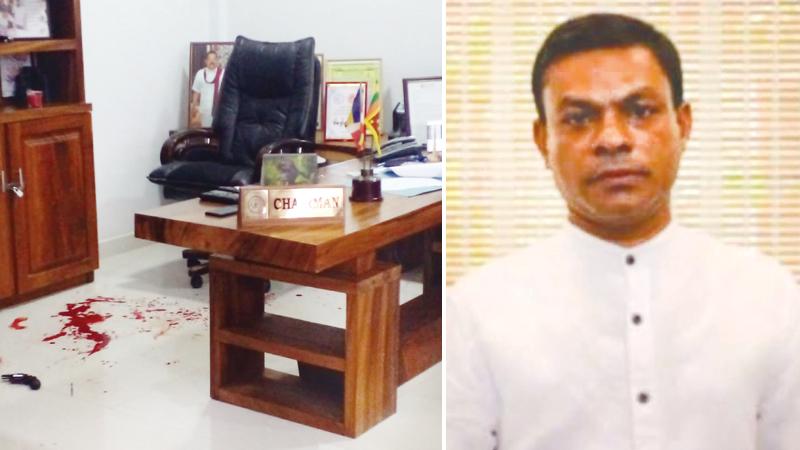 Powerful businessman Mangala Gunawardena also known as 'Digana Mangala' is a well known name in Kandy. A resident of Kengalla, Pallekelle his businesses were centred around the city of Digana, earning him the moniker 'Digana Mangala'. Known as a money lender, people had also taken to calling him 'Poli Mangala' away from his presence.

According to many, Gunawardena was a loan shark. While he often requested either a land, other property or vehicle be handed over as a surety for loans given, more often than not the borrower would lose this property to the notorious money lender.
Borrowers
It was only recently that Gunawardena had set up a car sale business to sell vehicles belonging to borrowers who had failed to pay back loans given by him.
Many powerful Ministers and MPs were seen at the opening of this new business venture.
Agency
In addition to the car sale, Gunawardena also owned a motorcycle showroom in Digana while also running the Highland Agency in the area. This agency was located in a three-storey building in Rajawella, Digana where his main office 'Gunawardena Enterprises' was also located. It was from this office that Gunawardena controlled his business empire spread across the town of Digana.
Gunawardena was known to be close to many politicians and even senior police officers. He was often surrounded by a group of men, hired to protect him. It was these same brutish men sent to collect interest on loans given as well as to possess properties set up as sureties.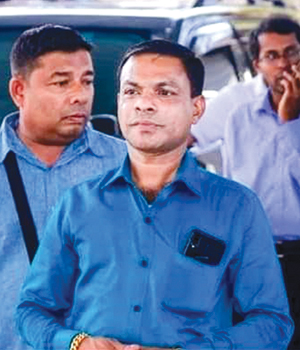 But on November 16, it was reported that Mangala Gunawardena had committed suicide after shooting himself at his office in Rajawella leaving many people curious and perplexed as to what transpired leading the businessman to take this drastic step.
Despite the doubts of the people, the police following investigations has confirmed that Gunawardena had in fact died by suicide and ruled out any foul play concerning his death especially as there were three staffers present as eye witnesses during the incident.
Licensed firearm
According to the police Gunawardena had shot himself using a licensed firearm belonging to him. It was found by the police on the scene.
Though it was first suspected Gunawardena had died by suicide due to business troubles caused by the economic crisis, the police has now been able to unravel the truth about the incident.
According to the investigators, it appears Gunawardena had chosen to end his life in this unfortunate manner due to a lovers tiff.
Distressed
Investigators said Gunawardena had treated his paramour well, even giving her a plot of land. However, it appeared she had decided to enter into a marriage with another in December. This had left Gunawardena highly distressed. He had opposed her decision leaving both his lover and her family anxious and worried.
On the day of his death, Gunawardena had first visited his car sale and spent around 30 minutes at the location. He had then visited his office in Digana, expecting to travel to Panwila later in the day to inquire into a plot of land in the area.
It is reported that after he arrived at his office, a female staffer had entered his cabin with a stack of files for his signature. The young woman, a resident of Hanguranketha, was a recent recruit, the police said.
Gunawardena's paramour was also a staffer in his office. The 31- year-old, a resident of Menikhinna had been working for Gunawardena for around nine years. It is said she had inside information on Gunawardena's business dealings.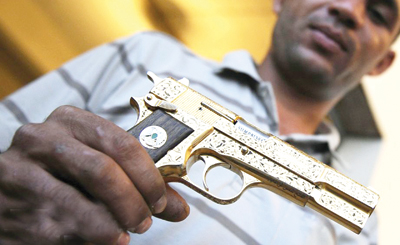 Oblivious to all of this, his wife was a homemaker and took care of their three children. It is unknown if she was aware of Gunawarden's illicit affair.
According to police, Gunawardena's lover had taken offence to the new female staffer spending what she felt was an unreasonable time in his cabin and had burst into his office.
As she had gone on to scold Gunawardena, it was only later she had realised the two were not alone in his office. In fact Gunawarden's driver was also present and a witness to these events. What moved Gunawardena to take the next step will remain unknown.
Witnesses said he had stood up, taken his revolver and then shot himself in the presence of the three.
Information has revealed that Gunawardena had collected money in the Teldeniya, Digana and Ambakote areas during 88-89 for armed groups operating at the time. While he was later nabbed by a team of police officers led by SI Gamini Seneviratne during a crackdown, it is said his life was spared by a police sergeant called Ananda.
Armed groups
Intelligence officials said Gunawardena commenced his business using the money he had syphoned away from the proceeds collected for the armed groups.
He had later come into prominence after becoming close to many politicians in the last decade. It is believed many had even invested in his business.
However, all this has now come to an end for the businessman at the age of 53.