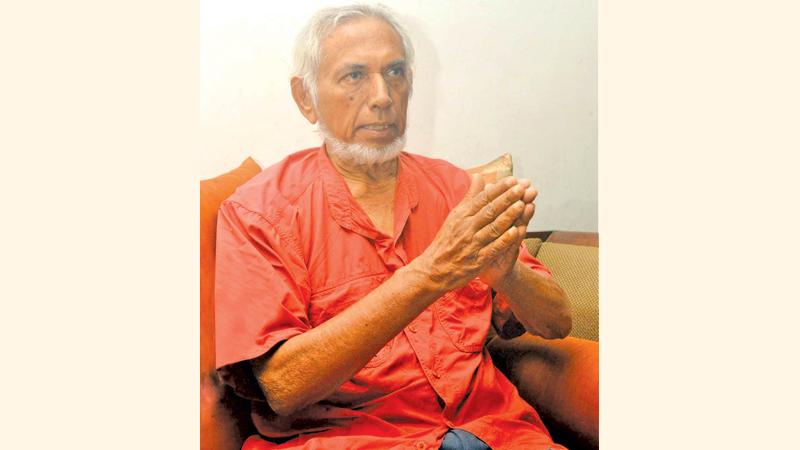 Q: As professor of two universities, you are now completing 80 years. Looking back, do you believe you were stuck within one political frame during this time?
A. No, I do not think so. We were able to somewhat serve the working class people. We secured some wins and also faced some losses due to acts of certain saboteurs. As shown in Marxism, it is through the struggle of the working class and the capitalist class that countries move forward.
Even in developed countries, the working class is very powerful. Progress of a country happens with the help of working people. Social equality is what brings success to a country. Therefore, this philosophy must continue in a new way.
Q: Are you now a member of the United National Party?
A. No, I am not. I am still the leader of the New Sama Samaja Party. On certain occasions, I have conveyed some difficulties I faced to President Ranil Wickremesinghe. He has helped me and I have also helped him in return. I contested under his party banner but I was not able to win. He came into power and in the end, was appointed as President.
It is only because he became President that the country has recovered to its current state. He has always remained in his capitalist ideology. But he has now become successful and is working democratically with the international community.
Q: What is your agreement with him?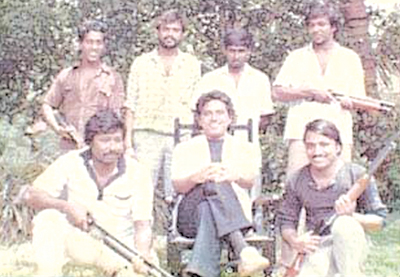 A group of NSSP activists who fled from the 1989 attacks pose for a photograph with Dr Vikramabahu at a leisure  moment.
A. He is a realist. I handed over our manifesto to him. He studied it. We also saw his success. Because of this, I inspired others to support him.
Q: Ranil Wickremasinghe, who was the Minister of Education at that time, once fired you from the position of professor at the University of Peradeniya but now you have expressed your support to him. Why is that?
A. That is politics. Things like these are common. You fall during a struggle. Then you get back up again. Therefore, you must act with understanding. We watch him as he works, and if he is right or wrong we will directly express our opinion. President Ranil Wickremesinghe's way of working in practice is correct and successful. I am only giving it the support it needs.
Q: You once said that Ranil is someone who accepts liberalism against fascism?
A. President Ranil has a realistic liberal philosophy. Even if it is not socialism, the country is capable of maintaining it without any disturbance. When the power of the working people increases, there is a possibility of going back to socialism.
Q: You have been involved in politics since you were a university student. Why did you not join Ranil and work together during that time?
A. Ranil Wickremesinghe only emerged as a leader recently in quite a different manner from before. I only got to know him closely and came to the realisation recently. It is only because of his realistic vision, the collapse of the country could be prevented. Only he can move the country even a step forward from the current situation.
Q: Based on your experiences, why did our country end up in this situation?
A. There was a corrupt regime in power for a lengthy period of time. Mahinda Rajapaksa is my good friend. Although he was a good ruler, others with him were thieves. Because of this, the country declined. Because his brothers had no vision, the country collapsed.
Q: You claimed on several occasions that Mahinda Rajapaksa served this country well?
A. Yes, I have praised him on several occasions. He did some progressive socialist work. In the end, it was others around him who ruined the country. Ranil Wickramasinghe works democratically and realistically to develop the country along with international participation.
Q: But the people accuse the Rajapaksas of being thieves. They blame the former rulers for the crisis faced by the country today?
A. The vision that Mahinda Rajapaksa had was not what others had. There was no vision when they were elected to rule the country. I am not saying that they are thieves. Their emissions were the reason for that. It was during their time that our country became a State with no forward-thinking vision.
Q: But you also led the movement against the Rajapaksas in a bid to oust them?
A. Yes. I expressed that the country should be saved from these people. It was successful.
Q: Protests have commenced against President Wickremesinghe. Will you support these as well?
A. What will we do if we oust Ranil? If so then we must discuss who we can appoint next. Even though there may be shortcomings we can still rectify these and then continue forward.
Q: Apart from President Ranil Wickremesinghe, do you see a leadership that can rebuild the country from this situation?
A. Sajith Premadasa is not a leader. There is no clarity to his views. However, he does have a voter base because of his speeches. But he has no vision.
Q: What are your proposals to solve this crisis?
A. We must hold an election to know the people's opinions. It can be either a general election or a local Government election. We must prepare for this.
Q: What will be the position of the left-wing parties in the people's struggle?
A. As left-wing parties, we can also go among the people and build our power. I am already discussing with the left parties how to make it effective.
Q: There appears to be no rise in the Janatha Vimukthi Peramuna. Why is this?
A. JVP is not a left-wing party. They engaged in communal politics. It is difficult for that party to take a big step and it is difficult to have discussions with them.
Q: What are your thoughts looking back on your political career?
A. Although I am 80 years old, my political life is 50 years old. My journey was pleasant. I am taking some time off now.
Q: Do you think it would have been more productive if you had spent time as a professor at the university itself?
A. I did not abandon the university. It is where I conducted my politics. There were many who followed me. Even today many like to listen to my speeches. I am happy about my past.
Q: Are you involved in active politics much less now?
A. I find it difficult to run around now. But I still do some work such as writing articles.
Q: Once a busy man, how do you spend your day now?
A. I do my part as party leader and I visit the party office. From time to time I visit our home in Kandy with my wife Mangalika. Otherwise, I spend more time at my daughter's house in Pelawatte. I enjoy my time with my grandchildren. My wife, daughter and her husband are all lawyers.
Q: Are you not ready to give the leadership of the new Sama Samaja Party to someone else?
A. I have given the necessary powers to the party committee. There are several comrades who are capable of uplifting the party. It is up to them to do that. The new Sam Samaj Party was formed after a group of radicals of the Lanka Sam Samaj Party were expelled at the party Congress held in 1972 due to a conflict within the party against the then Government coalition.
The organisation of this radical group started after a discussion held on December 5, 1970 in Akbar Hall of Peradeniya University.
Dr Vikramabahu Karunaratne, Dr Nalinda Silva, Lecturer Sumanasiri Liyanage and others from Peradeniya University joined this group and a magazine named Marxwadi was also launched. A group of professors such as Dr. Kumar David, and Dr. Shanta de Alwis joined this radical group which operated under the leadership of Dr. Vikramabahu.
The left trending group that came out after the 1972 conference of the Sama Samaj Party was Vasudeva Nanayakkara, Homagama Edwin Kothalawala, Ratnapura Dr. R.S Kularatnam and A.K Annamaley.
In 1977, this group gathered at Wellawatte Saraswati Hall and called themselves the New Sama Samaj Party Leadership. In 1979 it was announced as a new political party and Vikramabahu became its general secretary.
Born on March 8, 1943, in Badulla Lunugala, Wickramabahu Karunaratne received his primary education at Ananda Shastralaya in Matugama and then at Ananda College in Colombo. His parents were Wimala Kotalawala and Mudiyanse Karunatatne. He was one of a family of five.
He obtained a degree in electrical engineering from the University of Peradeniya going on to become a professor after his studies at the Universities of Cambridge and Oxford.
He became a lecturer at the University of Peradeniya in 1970 and was given the sack of initiating the Black flag protest against the new Constitution brought forward by the then UNP Government.
Though he was reinstated in 1982, he was once again dismissed in the same year. Despite a decision being taken to reinstate him in 2002, it did not take place till 2014.
Following a 50-year political career, Vikramabahu who completes 80 years is the leader of the New Smaa Samaja Party. His wife Mangalika Dodamwala and daughter Thiloka Karunaratne are both lawyers by profession.