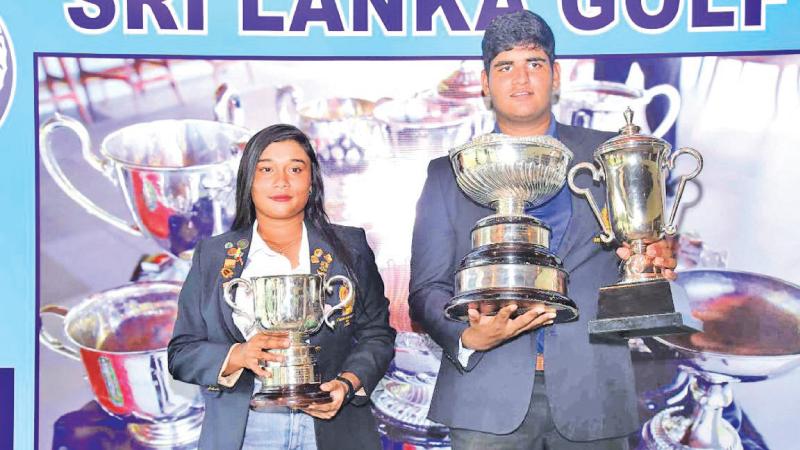 Nirekh Tejwani at 16-years became the youngest golfer to win the 132nd Sri Lanka Amateur men golf championship played at the RCGC course on Saturday (10).
Taniya Balasuriya repeated her performance of last time to emerge the ladies golf champion after a close win over her sister Sherin Balasuriya in the final. This finished in a close contest with Sherin leading and it was only in the final hole that Taniya played excellent golf to end up in front.
Nearly a hundred golfers including two from India participated in this championship.
After 32 golfers made the cut after the initial rounds, Nirekh Tejwani teed off with defending champion Chanaka Perera over the 36 hole final.
After a ding done battle teenager Tejwani had a slender lead of 2 up going around at the 18th hole.
A large gathering was entertained to some sizzling golf with Tejwani holding on at the top to pip Chanaka Perera at the post.
Tejwani said that he was happy that the course was in fabulous condition on the last two days.
"I have learnt to stay calm and a lot of deep breathing helped me to keep my mind clear and concentrate well," said the champion.
Fresh from his satisfactory showing at the Junior Open in Scotland, Nirekh played wonderful golf displaying maturity beyond his age. He thus became only the second member of the Royal Colombo Golf Club to secure the championship after 53 years when legendary Pin Fernando reached that feat.
Taniya Balasuriya along with her younger sister Sherin made it to the finals creating yet another record for the history books.
The women's final too went to the wire with the experienced Taniya pipping Sherin in the final hole.
------
Other winners:
Women's results:
Leonard Peiris Cup (1st round best gross score)
Winner: Taniya Balasuriya: 73 gross
Lilamini Weeraratne Trophy (best aggregate gross score over two rounds)
Winner: Taniya Balasuriya (73 + 74 = 147)
Firestone/Jepson Cup (1st round best Nett Score)
Winner: Shayanika Fernando (72 nett)
Seniors event best gross score over 2 rounds
Winner: Sumithra Ukwatta (98+100=198)
Senior event best Nett Score over 2 rounds)
Winner: Sumithra Ukwatta (77+79=156)
FB de Mel Challenge Cup
Winner: Danushi Wanasinghe
Runner-up: Sumithra Ukwatta
Pin Fernando Trophy; (best aggregate nett score over 2 rounds)
Winner: Dhevinka Isvaran (76+70=146)
Runner-up: Taniya Balasuriya (73+74=147)
---
Men's results:
Pin Fernando Trophy (Individual gross score on 2nd round)
Winner: Amrith de Soysa 69 (B/B 9)
Runner-up: N. Amarapathma 69
Illankoon Trophy (Individual Nett score on 1st round)
Winner: Jaya Prakash 68 (B/B 9)
Runner-up: Chalith Pushpika 68
Victoria Cup (Individual Gross score on 1st round)
Winner: Chalith Pushpika 69
Runner-up: Amrith de Soysa 70
SLG Trophy (Individual nett score on 2nd round)
Winner: A. Danaranjan 68
Runner-up: Chalith Pushpika 69