Sri Lanka Cricket stepped in to bat for the country's neglected sportsmen and women who won medals at the Commonwealth Games in Birmingham, England as well as the Asia Cup winning netball team by financially rewarding them at a felicitation ceremony held on Friday night.
The netball players who won their sixth Asia Cup but had very little or nothing to brag about in the past, received Rs. 2 million each while the Commonwealth Games Silver medallist Palitha Bandara was rewarded with Rs. 10 million.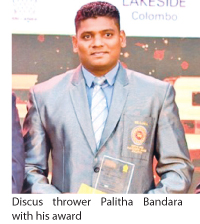 Teenage wrestler Nethmi Fernando and weight lifter Dilanka Isuru received Rs. 5 million each for winning Bronze medals while their coaches also received financial benefits.
President Ranil Wickremasinghe who graced the occasion as chief guest made no secret of the fact that the netball team over the years had been a neglected lot and said that no room should be left to endure any more shortcomings.
"I have learnt of the shortcomings you face. It is our duty to deal with it so that it does not happen again. I will take care of that in the future, especially if you are developing a game you should be completely dedicated to it. Committing to it halfway won't work," said Wickremasinghe.
Sri Lanka Cricket also donated Rs. 180 million to the cancer hospital in Maharagama to overcome a shortage of medicines. The donation was made by SLC president Shammi Silva.
Sri Lankan cricketers, who are the richest and highest paid sporting icons in the country, were also felicitated with trophies following their victory at the Asia Cup which marked the sixth occasion the team won the final since 1986.