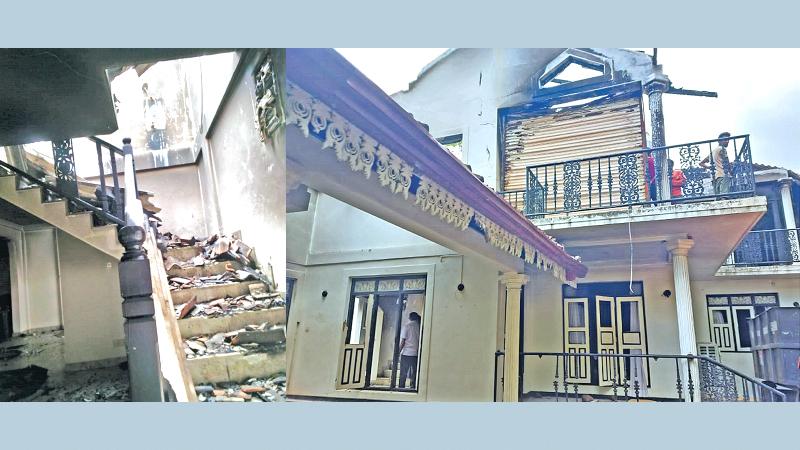 The Ministers and parliamentarians of the Government became the main targets of certain violent elements in Sri Lankan society during the wave of violence that swept through the country on that fateful May 9.
In the central province, one of the political figures who first came under attack on the day was former Cabinet Minister Janaka Bandara Tennekoon.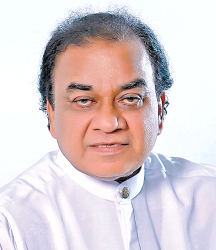 Janaka Bandara Tennekoon
The incidents of violence in the central province that began in Kandy on the day soon spread to Dambulla. Around 600 people gathered around the Dambulla clock tower and made their way to Tennekoon's house in Yapagama in Dambulla around 7.15 p.m.
Recalling the day's events Tennekoon says he was in Colombo that day only to be informed of things heating up near his residence. "I was told my house was set on fire. I asked the Dambulla HQI to prevent it but the Police had simply watched as it was put to the torch. I have photographs sent to me which show the HQI just standing and watching my house being set on fire," he said.
According to Bandara receiving these images, he called on HQI and questioned him on why he was not carrying out his duty. "He merely kept silent," he said. Tennekoon said he was forced to call the Dambulla SSP and only then the police personnel were deployed to his residence. "However, it was then too late. Everything had been destroyed," he said.
"Even though I was informed of the incident I did not understand its severity at first. I returned to Dambulla three days after the violence. I was devastated to see my wife crying after she witnessed the devastation. I was heartbroken and I found it difficult to remain patient. Even those around visited the house and tears welled up in their eyes. This was the house where they had gathered on many previous occasions. They were provided with free food and drink. This is how we treated those who visited us. Whenever I remember or question why we were treated this way I feel great pain in my heart," he said.
With no roof over their heads, Tennekoon said his family returned to Colombo that very day. "My house was old fashioned and built lovingly by my wife and myself. She kept the house beautiful. Mahinda Rajapaksa loved this house. But we were left with nothing. I know who carried out this attack. But I will not seek revenge in the belief that those involved will be punished by mother nature someday. I am still devastated by this," he said.
Tennekoon said a Janatha Vimukthi Peramuna local Government member and 14 others were arrested by the Police in connection to the incident and they were later bailed out.
"This is the first time I experienced such an incident in my 29-year-long political career. I have never been defeated. I was always with the people. Even during the Covid-19 pandemic, I took the risk to be with my people and work for them," he said.
Tennekoon had joined politics following his father's footsteps many years ago. "He believed I would go far in politics. He was right," he said.
Full Name - Janaka Bandara Tennakoon
Date of Birth - April 13, 1953
School Attended - Dharmaraja College Kandy.
Educational Qualifications - Diploma holder in Business Management, Mass Communication and Information Technology.
First career - Joined the Sri Lanka Police as a Sub-Inspector in 1973 and completed 19 years of service while serving as a Headquarters Police Inspector.
1993 - Elected as a Member of the Central Provincial Council
1994 - Elected as a Member of Parliament for the first time
Minister of Lands and Land Development
Minister of Public Services, Provincial Councils and Local Government
His father, T.B Tennekoon, was born on March 16, 1912 in Gunnepana in the Central province. The senior Tennekoon was a talented poet, writer and dancer.
Joining a printing press, Tennekoon soon started printing poetry leaflets and books and whiled the time away reacting to the poems penned by him. He later started the Kandy Youth Poets Society and even became the Secretary of the Sinhala Maha Sabha Branch in Kandy formed by S.W.R.D Bandaranaike. This is how the senior Tennekoon first entered Sri Lankan politics.
Tennekoon was elected as a local Government Councilor of Deiyyanwala in 1946 and was a founding member of the Sri Lanka Freedom Party. He entered Parliament in 1956 and remained an MP till 1977.
It is said that T.B Tennekoon made five parliamentary speeches in poetry format during budget debates in violation of the orders of the Speaker. He passed away on January 28, 1980. His son, Janaka Bandara Tennekoon has replicated his father's political success.
Janaka Bandara Tennekoon was born as the eighth child in a family of nine. He is an old boy of Darmaraja College, Kandy and held many captaincies in various sports such as cricket, football and athletics during his school days going on to place a record in the 100 metre sprint.
Tennekoon recalls that 15 students in his batch applied to the Police but only he managed to get through the interview going on to join the department in 1973.
Tennekoon met former Prime Minister Sirimavo Bandaranaike in 1993 which became a turning point in his life. "I once met her due to a duty engagement in uniform. She said I looked just like my father and asked if I would like to become the Dambulla organiser. I was taken aback but she handed me the appointment letter at that very moment. But I was later transferred by President Ranasinghe Premadasa to Kankesanthurai so I resigned.
I then contested the Local Government elections in 1993 and got the most number of preferential votes in the area. I was elected to Parliament in 1994. I was able to develop Dambulla into its economic town it is today. I found great joy in serving the public. May 9 is the single most devastating incident in my life", he said.
Tennekoon has held many ministerial portfolios since 1994. He met his wife Lasitha while serving in Kurunegala as a policeman. She was the daughter of the Kurunegala HQI at that time.
"We have been married for 45 years. She has been by my side all along. She was shocked by the incidents of May 9 but bottled up her emotions so not as to upset me. My wife has never discouraged me and I am who I am today because of her", he said.
The couple are parents to four children Pramitha, Pramudi, Prasadi and Pramukha. Pramitha has followed his father and his grandfather into politics.
Tennekoon says nature will punish those who destroyed his home. "People were tricked and they became hasty. They carried out many unwise acts. They destroyed themselves including the country. People must be mindful about their actions of the country will only fall into a deeper abyss", he said.