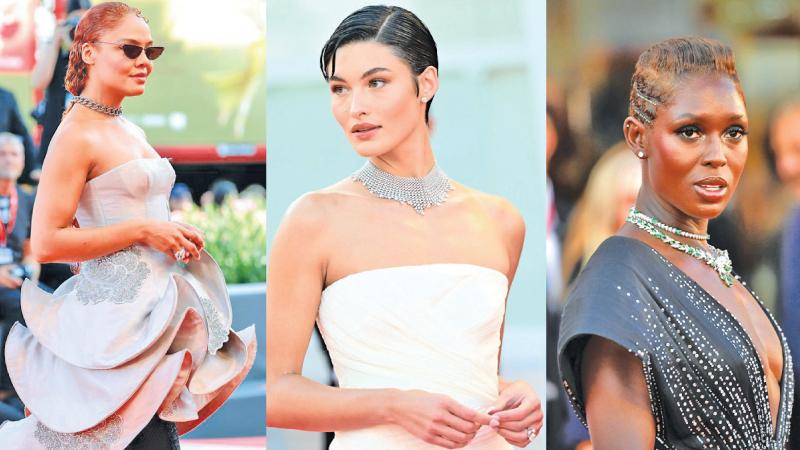 "Who are you waiting for?" the elderly American man asked a clutch of tweens on the street in front of the Sala Grande, the Venice Film Festival's main theatre on the Lido, early Monday afternoon.
"Harry Styles!" they all chirped, their purple umbrella blocking the midday sun.
"Is he American?"
"English!" the girls said in unison.
"Can you sing one of his songs?"
Elena Bufalari, the oldest of the bunch at 14, broke out into Styles's hit "As It Was".
"Ah yes, I think I know his music," the man said.
Six hours before the premiere of 'Don't Worry Darling', a stylish psychological thriller starring Styles, Florence Pugh and Olivia Wilde – the movie's director and Styles's romantic partner – there was a sea of teenage girls camping out in the street, thousands of them, waiting to get a glimpse of pop's number one heartthrob. Elena and her 13-year-old cousin Gaia rose at 5am, and had Elena's mother drive them five hours from their home in Marche, in central Italy, to Venice. The girls both had Harry Styles's "Love On Tour" T-shirts, as did their new camp-out friend, Marta Franceschini, a 13-year-old from Lucca. All three were wearing Converse All-Star high-tops. All three had seen Styles's show in Bologna in July.
And all three were "super excited" that Styles was returning to the silver screen, following his role in 2017's 'Dunkirk'.
"I know this was his dream," said Gaia.
"And I know he'll do a great job," said Elena. "Because he's Harry Styles."
Pandemic
If there was any question that the pandemic was over in the public's mind, it evaporated during the Venice Film Festival this year. Since its opening on 31 August, the theatres have been packed, and despite the pre-screening announcement strongly encouraging mask-wearing, hardly a soul has donned one.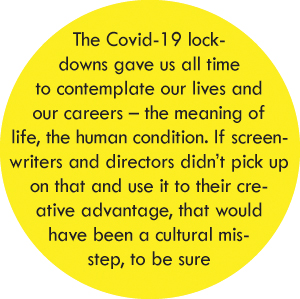 The fan crush for Timothée Chalamet on Friday night for the premiere of Luca Guadagnino's cannibalism love story 'Bones and All' – yes, you read that right – was mighty impressive, with hordes of mask-less teenagers not only lining the barricades along the red carpet, but also on the bridge above the canal where his boat arrived, and in the hotel corridor they thought he might take to the theatre. When he appeared in his scarlet Haider Ackermann halter top and skinny pants, their screaming reached Beatle-mania volume.
Every night there is a flurry of merrymaking on the Lido and in Venice: crowded cocktail parties, glam black-tie dinners, disco dance balls. Gone are the "intimate gatherings", the alternate seating in cinemas, the fan-blocking walls, the red-carpet social distancing and demands to show vaccination "green passes" that were de rigueur at Venice the last two years.
For this year's edition – the 79th – the festival's atmosphere isn't simply pre-pandemic "normal". It's as over-the-top and electrifying as a Styles concert. Everyone – fans, media, executives and stars alike – is dolled up in their finest, shiniest fashion. So much sparkle! Glasses are brimming with Prosecco or Champagne. So much fizz! Bars, cafés and snack stands are blaring happy music. So much dancing!
Sadly, the films that unspooled here are, overall, as much of a downer as the atmosphere is festive. From the opening night's picture, Noah Baumbach's 'White Noise', with Greta Gerwig and Adam Driver (who stepped off his boat at the Hotel Excelsior in a visibly grumpy mood) to Wilde's 'Don't Worry Darling', the theme seems to be the existential crisis. Which makes sense after a two-year pandemic. The Covid-19 lockdowns gave us all time to contemplate our lives and our careers – the meaning of life, the human condition. If screenwriters and directors didn't pick up on that and use it to their creative advantage, that would have been a cultural misstep, to be sure.
But it makes for heavy-going cinema. Baumbach's White Noise, based on a Don DeLillo novel of the same name, set the festival's tone: it follows a family of rapid-fire-speaking intellects in full marital meltdown as they are caught in an airborne toxic event.
Then came 'Bardo', Alejandro González Iñárritu's three-hour Surrealist rumination on the life of an award-winning Mexican journalist who questions his raison d'être – what journalist doesn't, ever? – and Todd Field's 'Tár', a fictional biopic of a trailblazing female maestro caught up in a #MeToo scandal. The role may well earn Cate Blanchett her third Oscar – her performance is as masterful as the symphonies she conducts – and the movie received a six-minute standing ovation at the close of its gala premiere. But 'Tár' is a niche film of more than two-and-a-half hours about a highly unpleasant woman who is self-imploding. Fun times. Not.
Cannibalism
Guadagnino's 'Bones and All' is not for the squeamish. A fair number of the black-tie premiere's attendees spent the cannibalism scenes looking down at their laps and plugging their ears. But if you can get through the gruesomeness, the romance of these two young lost souls, played by Chalamet and Taylor Russell, may win you over. Like it did with the young woman next to me: she was sobbing when the lights went up.
'Master Gardener' is the third in a trilogy of films by Paul Schrader about what he called the "lonely man in the room", following last year's 'The Card Counter' and 2017's 'First Reformed'.
It stars Joel Edgerton as the gardener who is a former Proud Boy white supremacist, Quintessa Swindell as his biracial apprentice, and the commanding Sigourney Weaver as the young woman's racist aunt and regal owner of the Southern plantation where they work. Weaver, too, should earn some award nods for her performance.
Schrader, who in his 50-year career has written scripts for Martin Scorsese's Taxi Driver, Raging Bull, and The Last Temptation of Christ, and directed more than 20 movies, including American Gigolo, received the festival's Golden Lion for Lifetime Achievement on Saturday. And this film fits well into that canon: in it, Schrader beautifully uses horticulture to explore racism and human conflict. But even he admitted to the Hollywood Reporter, it's "a nasty gumbo".
Martin McDonagh's 'The Banshees of Inisherin', starring Colin Farrell and Brendan Gleeson, starts out as a delightful study of lonely life on a remote island off the coast of Ireland during the Irish Civil War in the 1920s – the banter between village mates will make you laugh out loud, like in McDonagh's 'In Bruges', which also featured these two actors. But the story soon turns as dark as the looming rain clouds off the coast, as it picks apart the meaning of true friendship. Effectively so: the film received the festival's longest gala screening ovation so far – a full 13 minutes – and there is loads of Oscar talk about it.
Role of his career
'The Whale', Darren Aronofsky's drama based on a play of the same name, about a self-loathing obese man trying to reconcile with an estranged daughter as he faces imminent death, gives Brendan Fraser the role of his career, following a years-long retreat after revealing he had been a #MeToo victim. The gala premiere audience rewarded Fraser with a six-minute standing ovation, which brought him to tears.
But none of that darkness, dread, self-hate or self-questioning dampened the hopped-up mood of Harry Styles fans on Monday.
By the 7pm screening time, the crowd had overtaken the streets and sidewalks to the beach, and the entire foyer of the theatre, too. Phone cameras were hoisted in the air, and when Styles arrived, dressed in his pale blue Gucci suit, the shrieks rolled up the red carpet like a tidal wave.
"I'm so nervous," gasped one gala attendee, waiting in the crush inside. "I hope I don't faint."
She didn't.