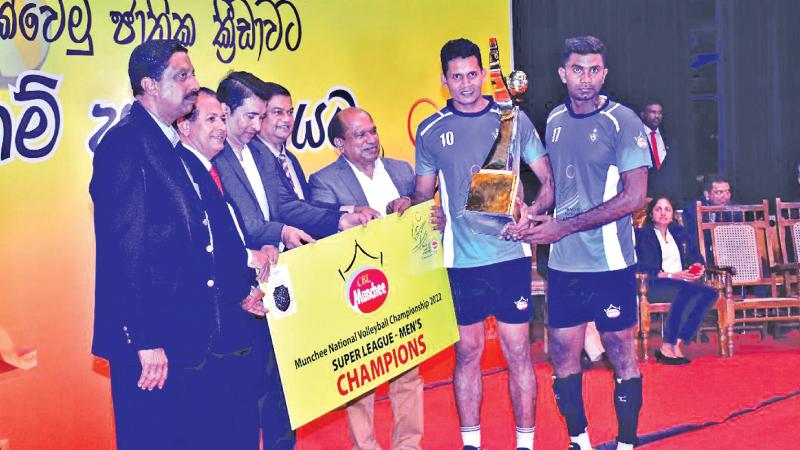 Skipper of the Air Force volleyball team M.M.M. Rifky receiving the coveted Munchee National Super League Trophy from Roshan Ranasinghe - Minister of Sports and Youth Affairs after defeating Ceylon Electricity Board 3-0 in the final. Also in the picture are A.S. Nalaka General Secretary SLVF, IM Khan Group General Manager Sales CBL Dr. Amal Harsha de Silva Secretary Ministry of Sports and Youth Affairs, Kanchana Jayarathna President SLVF and Anuththara Sandamali SLAF
Air Force men and women created history by winning the Munchee National Volleyball Championships in both categories last Sunday at the National Youth Services Council Indoor stadium in Maharagama.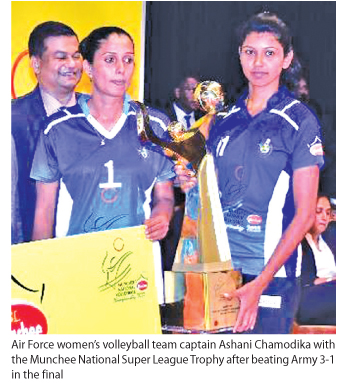 In the women's final Air Force won the game beating their arch rivals Army 3-1 (17-25, 25-21, 25-23, 25-20).
Air Force women came on to the court with the intention of posing a big challenge to their opponents. This they did from the beginning and went on until the set was completed in favour of them at 25-21 to come to terms 1-1. They took the third with high morale and moved steadily but Army women too fought well and came closer before losing the set with a narrow margin of 2 points.
Air Force women's morale was at its highest and they came out for the fourth set expecting to finish the set and the game early but the Army women put up a brilliant performance in the early part of the set going six all at one stage and was in front collecting 12 points against their opponents who had six points.
Air Force women made a change to their playing style and took control of the set and finished at 25-20 to take the most prestigious title.
The men's final saw Air Force men gain a three sets to nil win over Ceylon Electricity Board after a tough battle. Set one began with CEB taking control over the Airmen to take a slender lead 6-4. Air Force using all they had in store came up brilliantly to pose a big threat and challenged their opponents to be on the run. This battle continued until the Airmen leveled the se at 24-24 but CEB too fought well and could not get over the Air Force score and the set finished after extra time with CEB losing at 27-25.
The second set too was a keen contest with both teams fighting to maintain supremacy. Here too the set came to equal terms at 18 points each and again at 22 points each. However, Air Force did not allow their opponents to go beyond that and sealed the set at 25-22 to take a firm lead.
The third se saw the Airmen come out to the court with a big morale to go by and made a fine start moving ahead gradually collecting points at every opportunity they gained. CEB's efforts to return to the contest failed as their opponents were at their best leaving no room for them to score as they expected during this set. Air Force won this set at 25-22 to win the set and the match to carry away the coveted Munchee National Super League 2022 title to achieve a double on this day for Air Force sports history.