Sri Lanka Rugby has appointed Panduka Keerthinanda who is said to be an expert in sports law as its legal officer.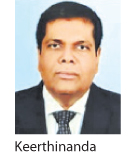 Keerthinanda holds a bachelor's degree from the University of Colombo and is a senior practitioner at the Bar specializing is criminal and civil law.
He is a former chairman of the Sugathadasa National Sports Complex Authority, member of the National Sports Council and legal consultant to the Sports Ministry (2010-2015).
"We are extremely happy that we appointed a very keen sports enthusiast and legal person who has tremendous experience in civil law and sports as our legal officer. I am confident that Panduka will deliver the rest for the benefit of sport," said Sri Lanka Rugby president Rizly Illyas.