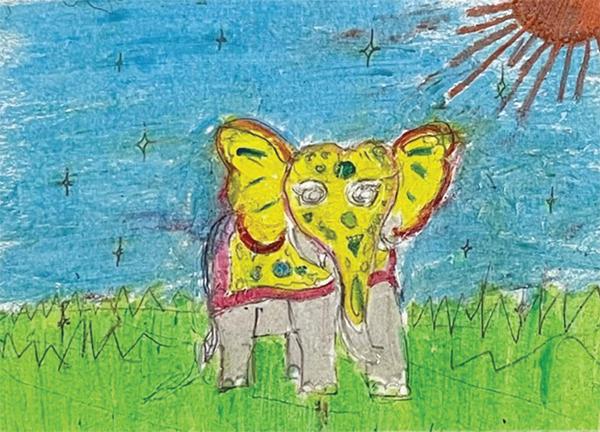 Hello, I am Gamunu Raja; the youngest of the tuskers at the Temple of the Sacred Tooth Relic in Kandy. I was born in the Dalada Maligawa and I'm nine years old. My mom and dad always wished to go in the Dalada Maligawa perahera and the wish came true.
So now, my dream is to carry the Sacred Tooth Relic one day in the Kandy Esala perahera as Nadungamuwe Raja did. My mom says I can make my dream come true as I'm a tusker.
Last year was very special to me, because it was my first perahera. I saw how my uncles and aunts walk in the parade with so much of pride and happiness but also calmly. I went in the front of the perahera with so much delight and danced a little with the drummer uncles for the Gajaga Wannama melody. At that time, I was waiting for my turn, and I was so excited!. uncle Banda is my mahout. He is the one who dressed me beautifully for the perahera. My costume was made of yellow, blue, and red colours. I liked my costume very much! My ankles were decorated with small bells too. That day was my best day ever.
One day, I want to carry the casket with the Sacred Tooth Relic in a calm manner and to see the observers pay respect by standing from their seats.
May the Sacred Tooth Relic shower the blessings on all Sri Lankans.
Irdhi NimtharaThilakaratna
Grade 4 B
Musaeus College
Colombo 7