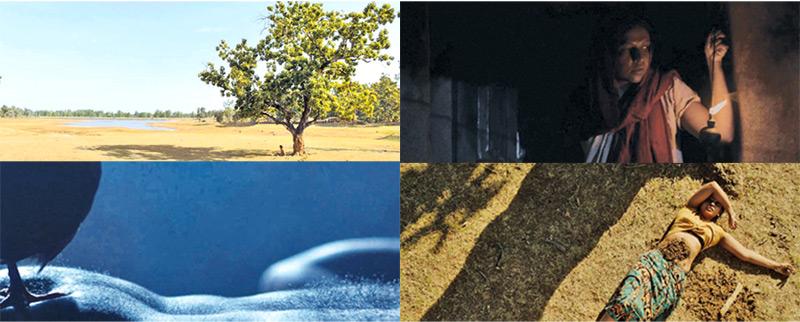 Among the fistful of film makers who reign supreme for decades there will be another name to elevate the Sri Lankan cinema up to the international level.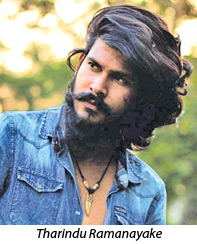 Recently, proving versatility and mettle for film making on the world stage, Tharindu Ramanayake cemented his name in cinema. The Sunday Observer caught up with him to discuss his cinema and achievements. Winding the clock back to his childhood, being a movie buff Tharindu used to watch movies with an enthusiasm even from his childhood. No doubt that Tharindu who already mastered his art is still learning and exploring new dimensions to broaden his capacity.
On one hand, we can say that his fate had prevented him from continuing his studies in the maths stream. So to say, when he was pursuing his studies in the maths stream, he began to feel his inner film maker. This is why he decided to sit for his examination in the arts stream.
"I felt my passion for images and movies and decided to sit for my A/L's in the arts stream." Surprisingly, he switched to the arts subjects including Sinhala ,Logic and Drama and passed the examination with flying colours within six months. He was selected to the Sri Pali University where he got a scholarship to study drama and theatre at RBU in 2011. After his graduation, he started his career as a teacher at a Government school. Never had he wanted to let his inner film maker die and he took a step forward in achieving his goal.
Tharindu quit his teaching career and returned to India to pursue film direction and screenplay writing at SRFTI in 2016 on a scholarship from the Indian Council for Cultural Relations.
First Sri Lankan film maker at the Satyajit Ray Film and Television Institute (SRFTI)
No doubt that versatile film maker Tharindu belongs to the calibre of rare film makers for several reasons. First is that he wants to disturb audiences through his cinema, which means what he wants to portray something burning and disturbing in the hearts of people.
The second is, as you already know that he brought fame and pride to his motherland by becoming the first Sri Lankan film maker at the Satyajit Ray Film and Television Institute (SRFTI) where his cinematic creation Andaja was screened.
Speaking of the plot of the movie, that Andaja is a depiction of the disrupted socio political environment of Sri Lankan is clear. After the terror in Sri Lanka, one of the Sinhalese soldiers returns home with a Tamil guerrilla woman who was gang raped by him and his mates.
The traumatised girl finds different ways to take revenge but things get brutal when she gets pregnant. As stressed by Tharindu , Andaja swerves from the images which our eyes are familiar with, which means that he came to us at the time when we wanted to break away from the familiar technical veneers of movies. Andaja reflecting the terror between the minority Tamil community and the majority Sinhalese would be a novel cinematic experience for audiences.
"The film Andaja is based in rural Sri Lanka with the recently finished terrorist war in the backdrop. This film is a depiction of the conflicts between the Tamils and the Sinhalese. Back in 2009 the 32-year-old battle ended claiming the lives of thousands of innocent people. Again back In 1971 we passed another bloodshed era. Sri Lanka saw the JVP insurrection. In 1983, the battle broke out between the Tamils and the Sinhalese.
In 1987-89, there was a second JVP insurrection. In 2004, a tsunami lashed the shores of the eastern coastline, causing massive destruction of lives and property. Recently, we faced another catastrophic situation. The Easter Sunday attacks that rocked the country, claiming the lives of around 300 people.
Evidently, people's lives are in an uncertainty and can be vulnerable to any disastrous situation at any time. They don't know when it would be their turn to go." Film maker Tharindu said. "Significantly, he has portrayed nuances of areas through symbols in his creation. One best example for this is chickens symbolising people whose lives are hanging in the balance." I have compared chickens with people. Because chickens only live till they are chopped down for food. Such continuous acts of violence had broken the people and traumatised them for life. Their moral believes have changed. In this backdrop they have become more violent", Tharindu said.
Dehumanisation and insensitivity prevailing in people's mindsets have crept into society. Asked about the storyline Tharindu said, "This change in mindset has impacted on the society at large. This story is a depiction of how that violence creeps into the family and destroys it gradually, devastating it's members and their relationships with each other."
Andaja film cast: Niranjani shanmugaraja, Kaushalya Fernando, Koralage Saman and John Dinesh Sandaruwan.
Crew
Writer and Director - Tharindu Ramanayaka. Producer - Kartik Vijayvergiya. DOP - Sasmit Bagchi. Editor - Sidharth Raj. Sound - Abhilash KG.
His creations
As the medium of expression he used cinema to articulate his vision. With the intention of giving his best to the cinema, he mastered his art by exploring more styles and sharpening his creativity. Interestingly, being a young promising film maker he always brings surrealistic images and absorbs elements of Buddhism for his films. Matured in cinema field, he has eight years' experience. His creations would go down as "Mandala", "Krimikosh", "Andaja" and "Weeping Angel." Most of his films have been screened at many international film festivals and some of them went on to win several awards.
Awards and official selection
Krimikosh – short film best film (9th agenda 14 short film festival)
Sixth Jaffna International Cinema Festival official selection for the international competition section.
A. Royal stag large short film festival 2019– short film of the week.
B. Agaadhi- Music Video. Cefalu Film Festival Italy 2019 official selection.
C. Music Shorts Film Festival Dublin 2019, Official Selection.
D. Bengaluru International Short Film Festival 2019, official selection.
E. Dadasaheb Phalke International Film Festival 2019, official selection.
F. Mediawave-another Connection International film and Music Gathering 2019.
Official selection first – Time Filmmaker Sessions 2019
A. Weeping Angel– short film
B. 10th agenda14 short film festival official selection for the competition section.
C. Third South Asian short film festival, 2020 official selection for the international competition section.
D. Red Tears – Documentary
E. Assim Vivemos award at Brazil's International Disability Film Festival 2019.
Our film industry
Speaking of Sri Lanka's film industry Tharindu said that it is possible to develop our film industry through the Tamil films. Had there not been a crisis in the country people would have watched films at film halls. "It would be incorrect to say that people don't like to watch films at film halls. Economic problems hamper their life -style. That is why they cannot find free time to go to a cinema. But, we can start this trend again with the Tamil films. It does not mean that we have to make only commercial movies forgetting artistic ones."