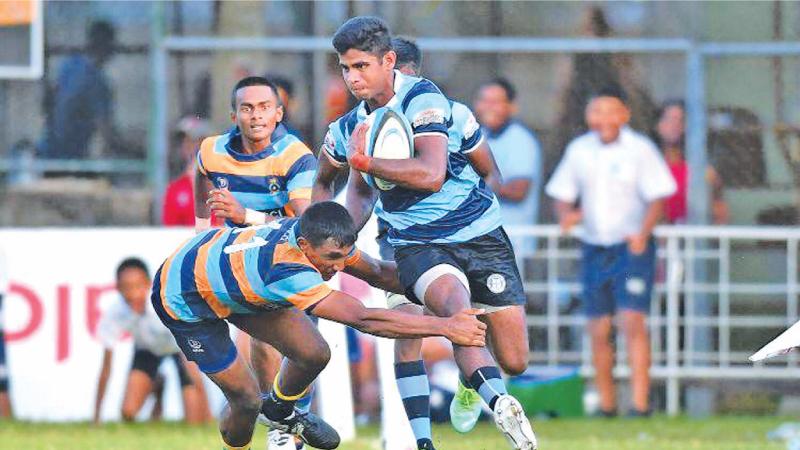 Wesley made a rousing start to their ambitious rugby season when they trounced Vidyartha College by 38 points (6 tries, 4 conversions) to 7 points (a try, a conversion) in their Dialog Schools rugby tournament match played at Longden Place yesterday.
A team that is looking forward to a successful season got their act right having fielded their best outfit at the start of the match. They dominated over a clueless Vidyartha outfit and occupied their territory for most of the game.
However, there was too much kicking by both sides that reduced the sparkle of the game a little.
Wesley opened scoring early in the first half when scrum half Rigesh Muralidaran found a gap and went through for a try.
Shaveen Jayawardena looked confident with his kick at goal to obtain full points.
They scored again in the 11th minute through winger Isuru Perera who received the ball near the touch line but managed to find his way to the goal line.
Jayawardena was on target with his conversion, 14-0.
Wesley scored two more tries through prop forward Hafiz Thabeeth used his big frame to go through from close range.
Jayawardena was accurate with the conversions as Wesley led 28-0 at half time.
Wesley introduced some fresh players in the second half and was held by the visitors for a long period after the turn around. Their first score in the second half came in the 51st minute through an unconverted corner flag try by Sheal Samuel.
Vidyartha scored five minutes later when their centre Arosh Ratnayake hit the gap from 25 metres for a try which was converted.
Wesley scored their final try ten minutes later when Nithala Rodrigo went through on the far left with Shane Hopwood failing to convert it.