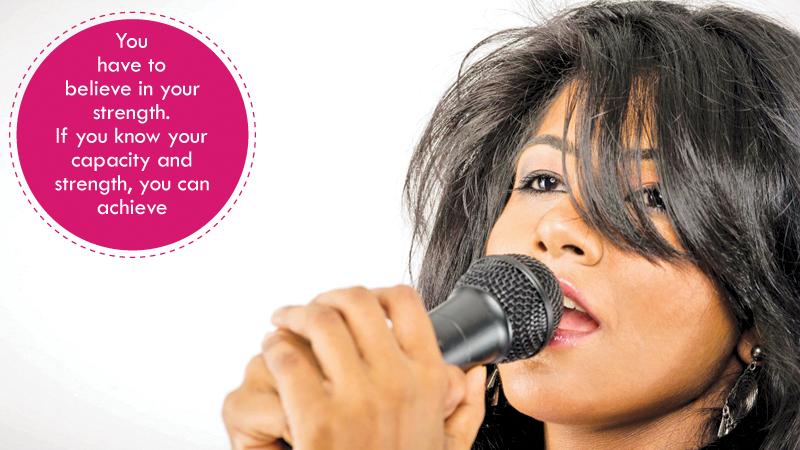 If you ask someone who gave a modern look to that innocent village girl 'Tikiri Mali', the answer is none other than Sashini Iddamalgoda who added colour to the song.
Sri Lanka's flagship youth magazine, the Youth Observer which always directs the country's younger generation on the right path spoke to Sashini to share her ideas with you.
Born on October 2 in Hanwella, Sashini as a little girl began to display her skills to her parents and teachers. "I was selected to the Bakthi Geetha group of the Sunday School (Dhaham Pasal). Then, I sang songs at various events. I joined our school music band as well." Going down her memory lane she took us to her school days. "I studied at two schools. First, I studied at Boralugoda Maha Vidyalaya, Kahahena and after the Grade Five Scholarship Examination, I entered Rajasinghe College, Hanwella. "
Support
Can we expect a tomorrow without the Sun? Of course we can't. Can we expect giant rivers without tributaries? No, we cannot. That is why we have to extend our gratitude for those who watered our feet during droughts.
"A big thank you should go to Rukman Ayya. Rukman is my elder brother's friend. My elder brother introduced me to Rukman who was conducting music classes. I learnt to play the keyboard under his guidance. Later, he started an institute for music bands. I began to play drums thanks to the support I got from Rukman.
"Later, I formed my own music band in collaboration with five girls. The band was called 'Super Daughters'. However, at that time, my parents did not like me playing drums on stage. So, I stopped playing drums but continued singing songs.
"I thank my parents, my Sunday School teacher Vishaka for selecting me for the Bakthi Geeta team, and my school teachers Nuwangi teacher and Saman Premalal sir for guiding me to stay in the music field. I should remember the support from Sagara Bandara and those who comment on my songs.
"Speaking of the duet 'Tikiri Mali', I thank late Ronnie Leitch. I sang the song with him. The music for the song 'Tikiri Mali' was composed by Shenal Maddumage and the lyrics were penned by Manuranga Wijesekara," she said.
School Cricketer show
Already, we know that the Sunday Observer Mobitel School Cricketer event has created giants for the country's cricketing world.
Fortunately, Sashini Iddamalgoda was given an opportunity to perform at the event. The song 'Tikiri Mali' which Sashini sang with Ronnie Leitch had adorned the whole event.
"It was an amazing experience for me. The audience praised my performances. My special thanks must go to the former chairman of Lake House late Bandula Padmakumara and veteran journalist Editor-in-Chief of the Sunday Observer Dinesh Weerawansa for fuelling my enthusiasm to perform at the event," she said.
Her songs
Speaking of her songs we can say that she sings songs with the aim of creating a positive change in listeners' minds. "I love to sing joyful songs and don't like sad ones. I want to make people think of their sad incidents in a positive manner through my songs. I express positivity through the songs that I sing," she said.
"Music can change our mind either in a negative or positive manner. Therefore,we have to choose only the positive ones to fill our minds with positivity. Songs sung by Sashini such as 'Losinjare', 'Tikiri Mali', 'Double Game' are examples of her meaningful songs. Sashini always uses simple words and simple rhythms for composing her songs because everyone can understand it effortlessly.
Sashini who does not confine herself to one style or genre loves to sing songs of different styles in such a way that she can attract more fans. That is how the song 'Double Game' was released.
Motto
"My motto is 'Never Give Up'. Giving up is easy but gaining what we need is difficult. We should be committed to what we love, only then can we gain success," she said.
You have to believe in your strength. If you know your capacity and strength, you can achieve any target in your life.
Speaking of the obstacles in her life, when Sashini entered the music field as a budding artiste, a fistful of singers said to be pop stars had attempted to exploit her innocence. However, music, which is the most sacred subject in the world, is not for such unscrupulous music producers.
To my question about her future plans, she said, "I plan to release more songs. I have already completed three tracks. I am working on them."
Message
"At present, the country is going through a tough time. We all know that our economy has collapsed. But I call upon all of you to be stronger than ever before to face problems in life. Don't be mentally weak," she said.
Indeed, the country is facing a trying situation. When pressure mounts like this, we tend to give up our dreams. As noted by Sashini, we should be strong and determined to overcome all the problems.
"My message to other budding artistes is that we can see new singers in this field. But some of them cannot stay in the music field for even a few months. It is because they have failed to establish a unique identity for themselves. That is the main issue. They don't come up with new concepts.
"Our audience always expects new concepts from artistes. If we fail to deliver it, they will stop enjoying our songs. I focus on lyrics, themes, music and the message before singing the song on a stage. If you have an idea of entering the music field, build up a uniqueness and bring new concepts. Sadly, the whole country is in a crisis, but I hope that there will be a better era for all of us. Be strong," Sashini stressed.