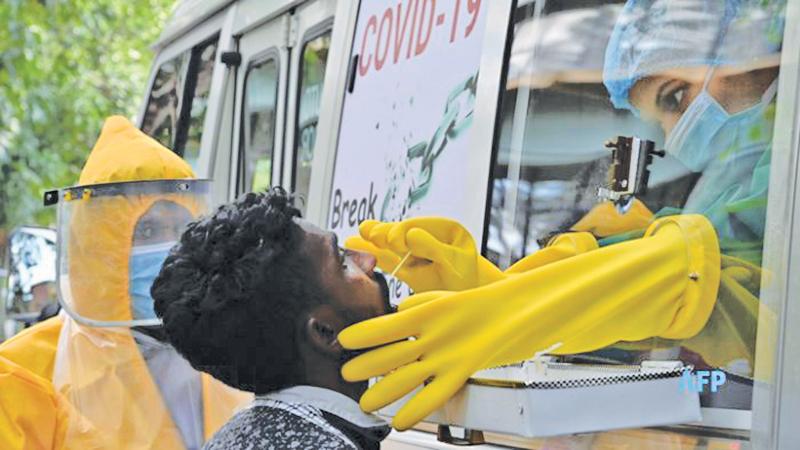 Chief of the National Operation Centre for Prevention of Covid-19 Outbreak and Army Commander General Shavendra Silva said the authorities are considering implementing a home quarantine system for asymptomatic Covid-19 patients.
"The health authorities are discussing the matter. A final decision would be made in this regard soon," he said.
Since Sri Lanka reported the first Covid-19 case in January last year, the steady increase in the number of patients and their close contacts has resulted in the authorities facing difficulties due to the limited number of beds in hospitals and quarantine centres.
However, the country has stuck to a strict quarantine regulation where Covid-19 patients and their close contacts are either directed to hospitals for treatment or to quarantine centres to wait out the quarantine period.
Health Ministry sources said last week that patients will now have to stay at home for two days before being taken for treatment due to insufficient space at hospitals and treatment centres.
Limited capacity
According to the Public Health Inspectors' Union (PHIU), nearly 200 patients infected with Covid-19 in the Gampaha District had not been taken to hospitals by Wednesday afternoon and therefore, had to stay in their homes.

The patients, who were confined to their homes in the Gampaha district, were diagnosed with the virus after January 18. PHIU Secretary Mahendra Balasuriya said the number of Covid-19 patients has exceeded the capacity of the treatment centres.
"Patients have to stay at home at least for two days. This is obvious when an average of 700 Covid-19 patients is being reported daily," he said.
Thirty-five-year-old Chamara Sampath said he had tested positive for Covid-19 in last November. While he had felt he had a high temperature, on the same day, the fever had subsided.
He had no other symptoms. But on a hunch, he had undergone a PCR test and found he had tested positive for Covid-19 several days later. His wife tested positive as well. She too was asymptomatic. But their child, only a few years old, had tested negative.
As health officials prepared to take him and his wife away for treatment, the couple faced a difficult decision. "We did not know where to leave the child as my family members were also quarantined," he said, adding that when asked, an official had said the couple should resolve this problem on their own.
After numerous attempts, his wife was allowed to take the child with her for treatment. "But we were worried as he did not have Covid-19, but had no other option," he said. If they had been allowed to quarantine at home, he said they would have taken every precaution to keep the child safe, but would have also been able to care for him without difficulties.
Chamara was transported to a hospital for treatment despite showing no serious symptoms. He said many other patients in his ward did not show symptoms and seemed to be in good health. "We were given Panadol and vitamin C during our stay there and that was it," he said. The experience was frustrating to many.
"One patient's granddaughter had tested positive after him, but none of the other family members had. He was crying and upset as it looked like she would be taken away alone," he said. Having to stay in the hospital for nearly two weeks without any symptoms had frustrated other patients as well.
Army sources said patients and those in quarantine had damaged property of the centres perhaps due to frustration.
Chamara said implementing the home treatment system being followed abroad could be more helpful for the authorities and the patients.
"Some people are reluctant to leave their houses, some houses were robbed when the people had left, this could resolve many issues," he said.
In many countries, only elderly and severely ill cases are admitted to the hospital for treatment while others are called upon to quarantine at home and rest until they recover.
Best option
Minister Dayasiri Jayasekara who recently tested positive for Covid-19 after his release from the treatment centre said that Sri Lanka too should adopt a similar system for treatment. After being discharged, he called upon asymptomatic Covid-19 patients to be quarantined at their homes instead of being transferred to a treatment centre.
He said that this would also reduce government costs and the strain on the country's health system as well as the staff. "If an asymptomatic patient is found, it is better if the patient is referred to the area Public Health inspector (PHI) and make him undergo self-quarantine at home," he said.
A number of countries including the US and European countries has implemented the home quarantine system for asymptomatic patients, while those with severe conditions are being treated in hospitals and treatment centres.
But with a number of patients attempting to escape from treatment centres, others have questioned if the patients who are quarantined at home will stay in. "What assurance do we have they will not roam around," a member of the public questioned, adding that if some measure to ensure they stay at home can be implemented, perhaps, home quarantine would be an acceptable option to the people.