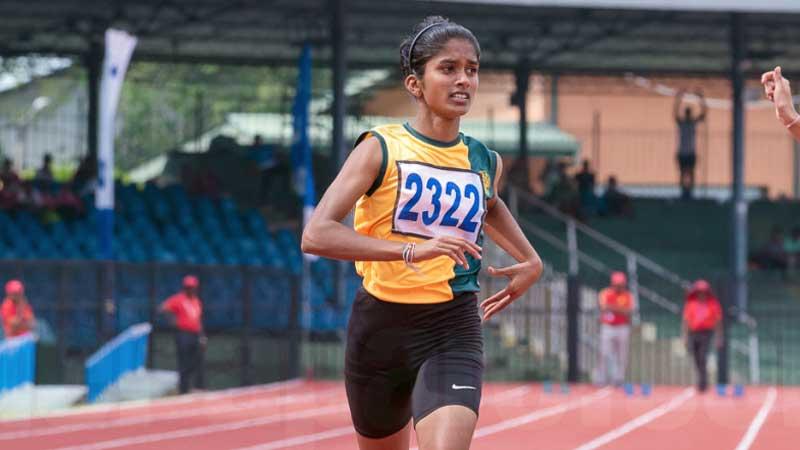 The fastest woman at the recently concluded National Athletic Championship Amasha de Silva stole the limelight as she clocked 11.55 seconds to win the 100m.
The 21 year old sprinter produced by Swarnamali Girls College Kandy and presently studying at the Sri
Jayawardenapure University has to balance her studies with sports in order to reach the top.
It marked her first competition since last year's South Asian Games at this National championships. She was placed first at the heats clocking a personal best of 11.64 seconds and that achievement was a boost to improve her timing at the finals which ended with a 11.55 seconds win.
She had to compete with Rumeshika Ratnayake another champion sprinter who was in action after the injury.
In the final Amasha renewed her personal best and became the fourth fastest woman in history in the country behind Rumeshika Ratnayake, Damayanthi Darsha and Susanthika Jayasinghe. Rumeshika clocked 11.88 seconds to finish second while Amasha's teammate from the South Asian Junior Championship in 2018, Safiya Yamic, came in third clocking 12.05 seconds.
Amasha was elated after winning the 100m final with her personal best ."It was a tough year for everyone. I'm now studying at the University of Sri Jayawardanapure and was balancing both studies and training when the COVID-19 pandemic forced us to stay indoors where I lost about two months of training. But when the lockdown was imposed due to the second wave it gave me a better opportunity to train," she said.
This time it also marked the fastest by a female athlete since Susanthika Jayasinghe's 11.33 seconds in 2006 and second fastest overall for the past 12 years, only behind Rumeshika Ratnayake's 11.51 in Australia in 2018.
The promising sprinter Amasha, coached by Sanjeewa Weerakkody, had good records at international meets with the highlight in 2018 when she won four Gold medals at the South Asian Junior Championship in the 100m, 200m, 4x100m and 4x400m.
She then went on to win two Silver medals in the 100m and 200m at the Asian Junior Championship in Japan the same year while also representing the 4x400m Bronze medal team.
She also represented the country at the World Junior Championship the same year and qualified for the semi-finals. But 2019 did not go her way as she could not do better although she managed to win a Bronze medal in the 100m and then anchored the 4x100m relay team to win the Gold medal at the SAG before the pandemic halted her progress.
Amasha's time has qualified her to be included in Sri Lanka's Elite pool of athletes and also achieved the qualification standard set by Sri Lanka Athletics for the Asian Championship 2021, which is 11.60 seconds, though there will be another selection trial for the Asian Championship next year.