The Government in March 2020 decided to halt the import of vehicles aimed at protecting the country's economy as the Sri Lankan rupee plunged and the economy took a free fall owing to the Covid-19 pandemic and the 2019 Easter Sunday attacks. Then again in November the same year the Government again extended the ban on all non-essential imports including vehicles. While it was a body blow to the country's vehicle importers many, however, faced the situation bravely understanding that it was a necessary policy decision in the better interest of the country.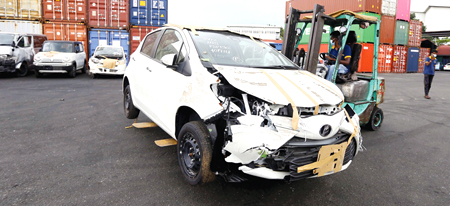 Though vehicle imports were banned the Government however allowed the imports of spare parts, machinery, and household appliances. However a few shrewd racketeers found a way to profit from the situation. While some sold second-hand vehicles at exorbitant prices others found another way to circumvent the import as recently discovered by the Customs authorities.
On Wednesday, officers from the Customs Risk Management Unit found a dozen vehicles that had been imported illegally to the country. The vehicles included five cars and six vans of different types and models and valued at Rs. 550 million. The vehicles were later shown to the media. The vehicles had been imported from Singapore in three separate containers and arrived at the Colombo Port on December 23, Customs Spokesman Sunil Jayaratne said.
To avoid detection the shipment had been registered in the name of an employee working in a diplomatic mission in Colombo and related documents claimed that the containers were loaded with electrical appliances for generators, he said. According to Jayaratne the illegally imported vehicles are later put on the roads with registration chassis numbers taken from vehicles damaged during the battle against terrorism the tsunami and other natural disasters that goes on to indicate the existence of a well organized racket. A person allegedly connected with the racket was produced in court and remanded until January 20th. There are many more similar rackets in the country at present that has caused billions of rupees in tax revenue losses to the Government coffers.
In September last year officers from the Peliyagoda Crimes Division (PCD) uncovered a similar illegal racket after a person in Buthpitiya Miriswatta, Gampaha was arrested along with five vehicles that had been illegally imported into the country and registered with doctored documents. The Government for its part has decided to hand over such vehicles to state agencies, including the Army and a Cabinet Paper towards this end was submitted by Prime Minister Mahinda Rajapaksa in July last year.