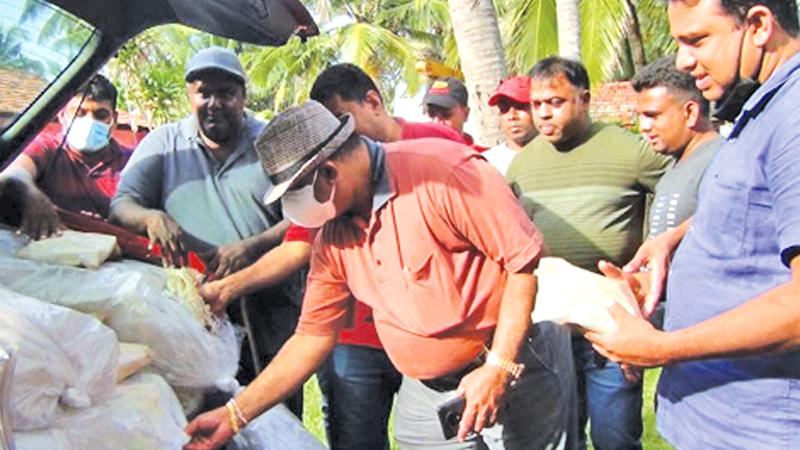 The Police have intensified their search to arrest the mastermind behind the drug haul of 100 kg of ICE and 100 kg of heroin estimated at Rs. 200 million seized by Department of Excise officers with the assistance of the State Intelligence Service (SIS) and the Navy in Thoduwawa, Marawila on December 7.
According to Police spokesman DIG Ajith Rohana, the Police will seek the assistance of Interpol to arrest the mastermind of the smuggling ring, who is believed to be in Dubai. "We will ask for Interpol assistance to get him repatriated to Sri Lanka to face drug smuggling charges," he said.
Sources said the man has been identified as a Sri Lankan named Jude who is operating the drug smuggling ring from overseas. The sources said the man while in Sri Lanka had been remanded for nearly two years on drug-related charges. He had fled to Dubai after being released on bail. With the arrest of leading figures in the drug trade, Jude is attempting to recommence his drug smuggling operations, according to sources.
DIG Rohana said law enforcement has stepped up its efforts to combat the drug menace in the country since November 2019. "Some 2,000kg of heroin have been seized from November 19 to date," he said.
According to Excise Department Commissioner General A. Bodaragama, the haul of 100 kg of heroin had been sent to a local smuggler from Dematagoda. "The ICE was to be distributed according to orders received," he said, adding that the smugglers had planned to operate from a hotel in Marawila from November 30. They had hidden the drug haul in a generator to transport it to Colombo when law enforcement officials swooped in on them.
Four suspects including a Christian priest, have been remanded on being produced beforeMarawila Magistrate's Courts. Investigations by the Kelaniya division crime unit had revealed that the priest was also involved in human smuggling. According to the Police, the priest had led the drug smuggling racket locally while Jude operated in Dubai to send the drugs to Sri Lanka. Investigating officers arrested the suspect while hiding in Mannar.
The Police have also uncovered evidence that the two other players in the drug smuggling ring, Maldivian and Pakistani nationals had used the proceeds to fund extremist terrorist activities in Sri Lanka.