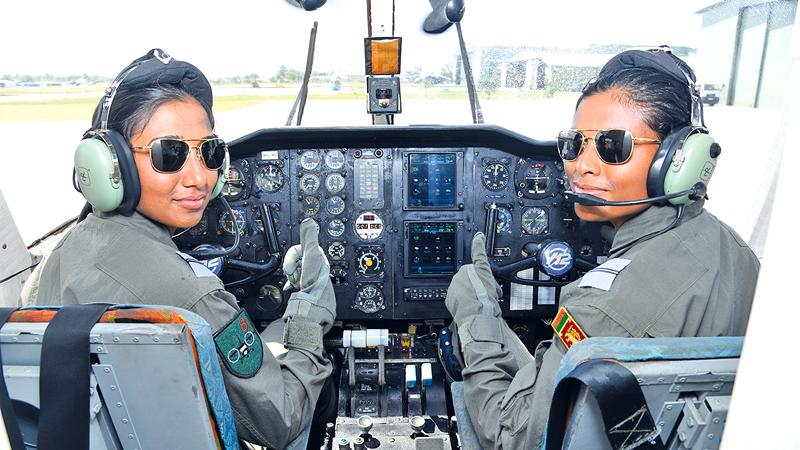 On November 16 in China Bay, Trincomalee, Sri Lanka Air Force (SLAF) Pilot Officers Rangana Thathsarani Weerawardana and Pavithra Lakshani Gunarathne made history by conquering the skies.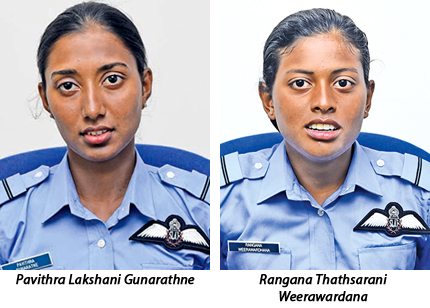 In the Sri Lanka Air Force's 69-year history Weerawardana and Gunarathne became the first two female pilots to earn their wings and be awarded the Flying Brevet to be commissioned as pilots of the SLAF. The honour was bestowed on the officers during the Commissioning and Wings Parade of the 61st Intake of Officer Cadets held on the day.
But the duo's achievements did not stop there. In yet another first, Pilot Officer Rangana Weerawardana became the first female SLAF officer to be awarded the prestigious 'Sword of Honour' awarded to the Officer Cadet who has achieved the highest results in both academic and professional studies, and who has shown the best all-round performance throughout the course. Adding yet another proud moment to the start of her military career, Weerawardana was also chosen to become the first female SLAF officer to command a parade with the President's Colour.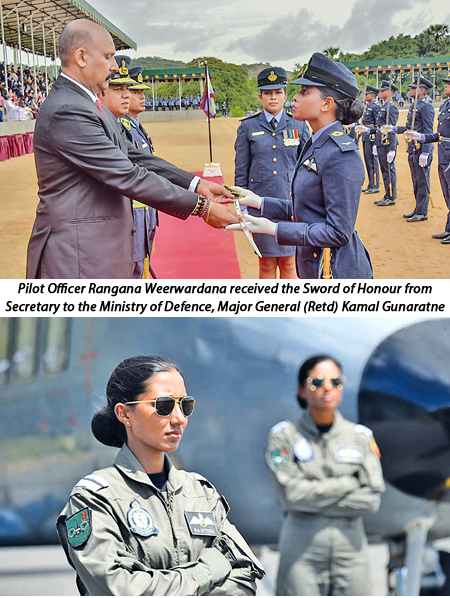 For the 23-year-old Pilot Officer, Rangana Thathsarani Weerawardana joining the SLAF itself was a dream come true. Born to Harishchandra Weerawardana and E.A.C Iranganie from Divulapitiya, as the second child in the family, Weerawardana said she had the ambition to join the military, specifically the Air force.
"At the time I signed up I did not think of becoming a pilot, but I just wanted to join the Air Force," she said.
According to her family, Weerwardana who was educated at Bandaranaike Central College, Veyangoda and Ratnavali Balika Vidyalaya, Gampaha had always excelled in studies and was also a talented air rifle shooter even been placed as the 1st runner-up in the 2013 All Island Championship. Despite wanting to become a doctor as a child, later a career in the Air Force had beckoned her.
Joining her in making military aviation history on the day was Pilot officer Pavithra Lakshani Gunarathne. The 24-year-old from Ampitiya, Kandy said like Weerawardana, that she too had the ambition to join the SLAF from a young age. A past pupil of Hillwood College, Kandy and Pushpadana Girls College, Kandy she along with Weerawardana had joined the Air Force on July 19, 2017, as part of its 61st officer intake along with 51 other officer cadets.
Though initially not having given much thought to becoming pilots, presented with the opportunity Weerawardana and Gunaratne had jumped at the chance.
"When applying for the intake we heard that the SLAF was looking to recruit female pilots for the first time," Weerawardana said. Both then choosing to apply for the General duties pilot branch, they were interviewed and subjected to relevant aircrew medical tests before being given the go-ahead for pilot training.
Having cleared the first hurdle, the journey of becoming the first female pilots of the SLAF would only become tougher for Weerawardana and Gunaratne. Their achievement would only come after nearly three years of intensive training and hard work in Sri Lanka and abroad.
The duo along with other officer cadets began their initial training at the Combat Training School in Diyatalawa for 21 weeks and at the Kotelawala Defence University for almost three years subsequently following Basic Administrative Courses and branch training at the Flying and Ground Training Wings in China Bay and the Combat Training School at Diyatalawa. Weerwardanaa and Gunarathne had also undergone grueling training for one year at the Indian Air force Academy in Hyderabad as well as an eight-month training of advance flying at the Light Transport Squadron in Ratmalana.
According to Weerawardana the initial training at Diyatalawa was tough. "The transformation from civilian life to a military was difficult," she said adding that the training period in India was also difficult. "Everyone there was supportive but it was difficult to live in another country and not be able to see my family," she said.
For Gunaratne while the training in India was exciting, being away from Sri Lanka for a year at times became difficult. "I couldn't understand the language there and everything felt alien to me. Sometimes, I wanted to see my family but I couldn't. It was a difficult time" she said. According to Gunaratne as expected at first she did feel some fear. "But as training progressed that just wore away" she noted.
However, despite the popular belief that the male-dominated military environment is tough on females, Weerawardana and Gunaratne said they were given a lot of support by the SLAF. "Flying instructions were given by solely male qualified flying instructors but they were always helpful and encouraging," Weerawardana said. Gunaratne said that this does not mean they were given any preferential treatment just because they were women. "We were treated just as our male counterparts were," she said.
Despite the many trials and tribulations, Weerawardana and Gunaratne are proud of their achievement. "There were many challenges and everything was new, but we made it," Weerawardana said triumphantly. The duo is now able to fly PC -7 Mk II and Y12 air crafts.
But having taken decades for Sri Lankan females to finally become military pilots, Weerawardana said perhaps it is the reluctance of women to take up such jobs that are holding them back. Gunaratne thinks perhaps the cultural aspects prevent women from seeking non-traditional employment as still some families are reluctant to allow their daughters to join the military. "I hope as the first female SLAF pilots we are able to inspire other women in the country to follow suit," Weerawardana said. "If they put their minds to it women are able to achieve so much. They should not give up at any point and should pursue their dreams" Gunaratne added.
Pix: Air Force Media Unit