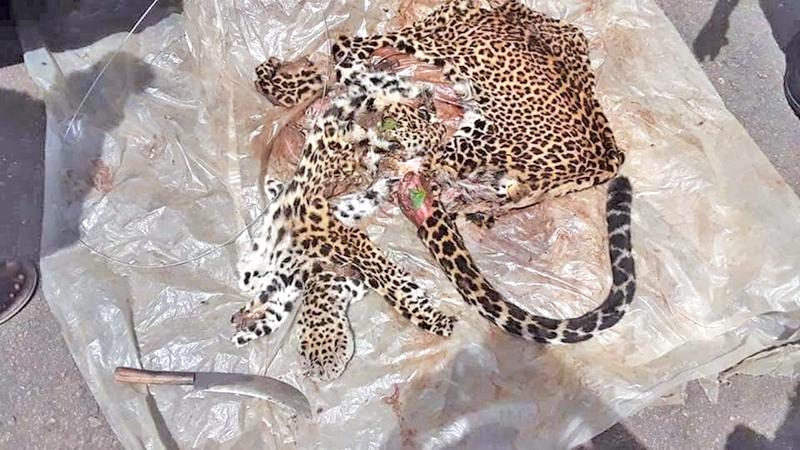 Environmentalists have now raised concern that an illegal trade of leopard parts may have continuously gone undetected by the authorities after the police nabbed three suspects on Friday, September 25, while transporting a butchered leopard in Ududumbara. According to the police, the suspects had intended to sell parts of the leopard to willing buyers.
The leopard had been killed and dismembered into parts by the suspects and its meat had also been prepared for sale. According to environmentalist and lawyer Jagath Gunawardana it is either this illegal trade may have lurked beneath the surface throughout or may have been revived recently after being stamped out many years ago. In the past nine months eight leopards have lost their lives due to human activity. While a majority of them were killed after being trapped in illegal snares meant for other animals, the recent incident has revealed the flourishing trade of wildlife parts in Sri Lanka. The teeth and claws of animals such as leopards are often smuggled by poachers and bought by people to be used for amulets.
illegal sale
But to many, the illegal sale of leopard meat has been unheard of. However, according to Gunawardana there have been reports of people consuming leopard meat in the belief it has either aphrodisiac effects (libido boosting effects) or therapeutic value. It is said that in some villages people hold the belief that leopard meat can cure asthmatic patients. Some persons use the animal's parts for various other shamanic rituals. "However these are all mere myths," he said, adding that similar incidents were reported many years ago but not in the recent past.
In fact, some time ago, the Department of Wildlife foiled a network in the hill country where leopard meat was being sold illegally. To those involved it had been a thriving business till the authorities eventually clamped down on it. "The officials did a great job to put an end to it at the time," Gunawardana said, adding that however he now fears it may have continued undetected or has either been revived by some persons recently.
According to Gunawardana, either way, the network should be dismantled and the suspects dealt with under the law.
The leopard is a strictly protected animal under S. 30 (2) of the Fauna and Flora Protection Ordinance. "Accordingly, it is an offence to either kill, injure, be in possession of a leopard's carcass or parts or display for sale or sell these" he said. Also, according to Section 67A of the Act, suspects can be arrested without a warrant. These powers are vested in the Police and the Forest Department under Section 66 of the Act enacted in 1947.
"However, when public officials act on a crime, they have been empowered by a number of other acts as well" he said. "However, for them to function properly, the organisational structure and manpower must be provided" he added.
Organised wildlife crimes
Gunawardana said most wildlife crimes in Sri Lanka are organised and suspects be revealed through investigations. "In such cases, it is common for suspects to plead guilty and the court has often imposed severe punishment on such offenders in the past" he noted. According to the environmentalist organised wildlife crimes cannot be prevented merely by getting the suspects to admit guilt and sentencing them. "To stop organised wildlife crimes, further investigations must be conducted into those crimes and suspects" he said. In the light of the recent incident, Gunawardana said it is important to find out if this is a one-off incident or a larger network instead.