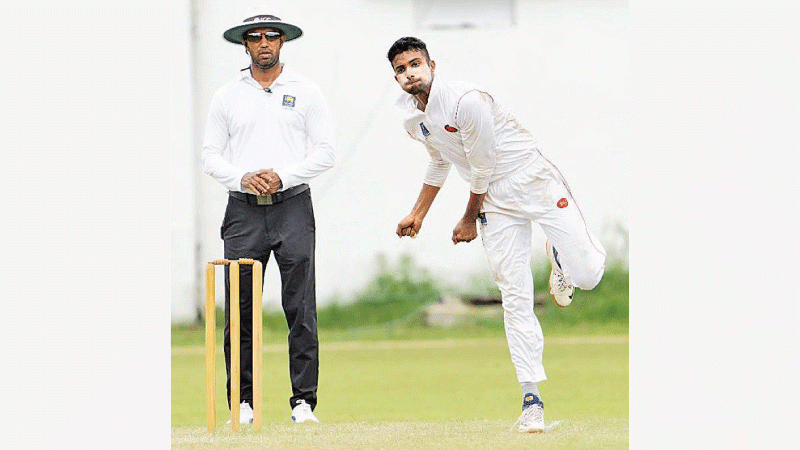 Duvindu Tillekaratne, the son of former Sri Lanka captain and Test batsman Hashan, has come of age as he plucked a rich haul of 61 wickets at the concluded inter club Premier championships while playing for the Burgher Recreation Club (BRC).
Tillekaratne played in just nine matches for an average of 19.06 for the 61 scalps as he outsmarted the big names on the domestic set-up with his slow left arm orthodox spinners and has put himself on course to come under the microscope of the selectors.
"I feel very happy and satisfied with the way things have worked for me this season and this should boost my confidence to do better. It gave me a new experience," the soft spoken Tillekaratne told the Sunday Observer in an interview.
The 23-year old Tillekaratne kept his spirits alive despite the lockdown from the coronavirus and maintained his fitness levels and focus while staying at home to do justice to his talents as one of the most promising players in the country.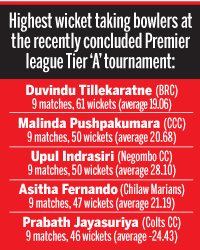 He took five five-wicket hauls and three match bags of 10 wickets which spoke volumes of his perseverance from last year when he took just 35 wickets from nine matches.
His best figures of 8 for 147 came against Colts CC while his best match bag of 13 wickets (6 for 63 and 7 for 55) was against NCC.
"Wicket-taking is not an easy job for any bowler and when you succeed you know it gives you that inspiration," said Tillekaratne.
He started his career at S. Thomas' College along with his twin brother Ravindu playing in the Under-19 age group before crossing over to Trinity College to represent the First Eleven U-19 team on an invitation from the school coach Sampath Perera.
"It was a life-changing decision to move to Trinity," said Tillekaratne.
"At S. Thomas' I bowled medium pace and I took to my present form of slow spin bowling at Trinity after a back injury forced me out of the game for five months. It was coach Sampath Perera who gave me the right advice," recalled Tillekeratne who played three seasons for the Kandy school.
He has a second brother, Rajindu, who plays junior cricket for the Thomians.
Being the son of a famous Sri Lanka cricketer, the junior Tillekaratne gets plenty of advice from his father Hashan who has been a driving force.
"My dad would point out the mistakes I make in a match and I have learnt much from him. To have a father like him, gives me so much of confidence. He always wanted me to build on my talents and not force me to become a batsman. But this is not to say that I don't like batting.
"I am working of my batting as well and I already have two half centuries in First Class cricket," said Tillekaratne.
But despite becoming the best bowler in the 2020 season, Tillekaratne said he has much to learn from the senior bowlers like Malinda Pushpakumara and Prabath Jayasuriya besides learning some tips from veteran Rangana Herath when he entered the club scene.