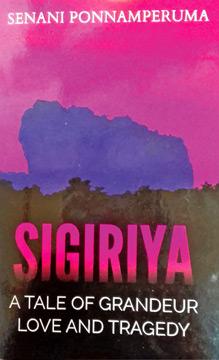 SIGIRIYA: A Tale of Grandeur,
Love and Tragedy
Author: Senani Ponnamperuma
Pages: 368.
Panique. 2019.
Sigiriya: A Tale of Grandeur,
Love and Tragedy
Overview
The author is not new to this story. He has cleverly leveraged material from his previous nonfictional book The Story of Sigiriya. This time, in this novel, Ponnamperuma humanizes Kasyapa and helps us understand the man, the world he lived in, his motivations and demons, and the passion that drove him to build Sigiriya.
Ponnamperuma introduces us to the story through the eyes of a haughty British army officer who discovers the ancient ruins of Sigiriya deep in the impregnable forests of Sri Lanka. The reader then gains a glimpse into Kasyapa's humble origins shortly before he is whisked away to the royal palace by his estranged father, King Dhatusena. While in his father's palace, we learn of his struggles against loneliness, rejection, guilt, and the status quo. Over time, we watch Kasyapa develop into a young man with an unquenchable desire for redemption; a need which sweeps through his entire life, leading to his accession of the throne and the construction of Sigiriya. You will be hooked by the suspense of each detail Ponnamperuma reveals, especially, during the final, heart-rending moments that ultimately lead to Kasyapa's death and the abandonment of Sigiriya.
The crafting of characters
Though the book is a work of historical fiction, based on true events and people, the dialogue and characters are skilfully executed. Individual personalities, linguistic nuances, and internal motivations are unique to each character. Not only is this difficult to achieve in historical fiction, but it requires a particularly high level of skill in a work with as many important figures as this one. For this, Ponnamperuma should be applauded.
Each of the character's personalities explodes right off the page. The most obvious of these, no doubt, is our protagonist, Kasyapa. We first discover him as a six-year-old boy.
Through the author's skilful prose, we are soon transported into his world; one of confusion, loss, and loneliness. How could our hearts not go out to him as he tries to come to terms with his mother's death? How could we not empathise with him when he is plucked from his little village and brought to a royal palace devoid of parental love? Our affection for him flourishes as he grows older and deals with prejudice, rejection, guilt, and the status quo, all of which deny him the recognition he surely deserves.
How could we not rejoice in his triumphs and the goodness of his heart, or share in his happiness and love? Then, when his end comes, we are shattered and left hollow with disbelief and grief. Our story is made even more interesting by an assemblage of other well-crafted characters that readers would either love or hate.We learn of Nila, the gentle giant and the king's bodyguard, who tutors Kasyapa in the art of war but instils in him a deep commitment to nonviolence.
Then there is the rotund Chamberlain who takes this lonely little child under his wing and nurtures him as though he were his own son. Who could forget the somewhat pompous Sthapati who exposes Kasyapa to the ways of the world and opens his mind to art and culture which would be the genesis of Sigiriya? How could we not loathe the despicable Migara, Kasyapa's nemesis, whose short temper and infuriating callousness set most of the tragic events of this tale into motion? And oh, who could forget the beautiful Amira's rags-to-riches narrative that undeniably enlivens the plot.
This is not only due to her ethereal beauty but also because of her childlike innocence and graceful heart that leave her trembling with love for Kasyapa. Amira's love for the king makes the tragic end to the tale all the more difficult to bear.
Artful imagery
Perhaps the most impressive factor in Ponnamperuma's work is his dedication to truthfully spelling out the historical events surrounding Kasyapa's life while simultaneously taking creative liberties to propel the story forward.
This is primarily achieved through the author's graceful writing style and picturesque imagery, all of which remind readers just what a cultural jewel Sigiriya is. It is easy for readers to think of the novel itself as a royal palace, and the author's descriptions of love and grandeur as the kaleidoscopic gems glistening in its infrastructure. Stunning examples of dazzling imagery include the descriptions of the graceful, bejewelled ladies of Sigiriya's harem. I felt like I was dancing with Amira and the ladies of the king's harem when Ponnamperuma delved into a colourful, flowing description of their carefree exuberance and rich attire. The description of the breath-taking scenes from the Sky Palace at sunset is another stunning illustration of Ponnamperuma's talent. I felt goosebumps when Nila reveals to Kasyapa the deep love his estranged father Dhatusena had for his mother, a beautiful village lass he had discarded.
Details such as these seemed especially joyous and colourful in contrast with the dark truths of politics, violence, and a king's insatiable need for redemption that are central pieces of this story.
This is artful storytelling at its finest with a rich narrative tapestry full of eloquent prose and poetic imagery. The book will keep you enthralled from beginning to end and leave you with a fuller appreciation of the man Kasyapa and his masterpiece - Sigiriya.
About the author Senani Ponnamperuma
Senani Ponnamperuma was born in Sri Lanka, educated in the US and now resides in Australia. He is a member of the illustrious Ponnamperuma family that include scientists Cyril, Felix and Lakshman Ponnamperuma. Prior to commencing his career as an author, he was the Chief Information Officer of two large Australian retailers and spent many years as a senior IT Consultant.
He is acknowledged as being the first to successfully introduce barcode scanning technologies into Australian supermarkets.
Senani's two previous non-fiction books, The Story of Sigiriya and The Story of Anuradhapura, were well received and are in the British Library, Library of Congress, Stanford, UCLA, Cornell, Columbia, and numerous other libraries. His website, Trishan's Oz, has been visited by over 25+ million people. Recently, Ponnamperuma's book The Story of Sigiriya was presented at the Beijing Book Fair on behalf of the Sri Lanka Embassy, as this work has been deemed an important insight of Sri Lanka's literary and cultural heritage.