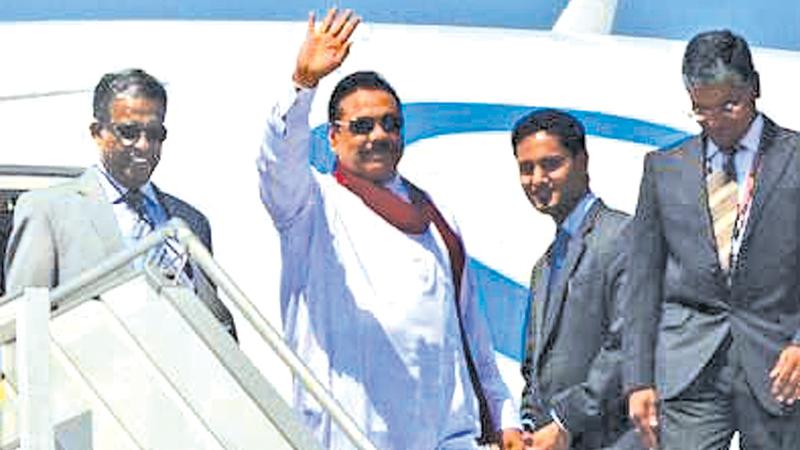 The allegation levelled last Tuesday by several opposition MPs led by former President Mahinda Rajapaksa was as incendiary as it could be. Speaker Karu Jayasuriya, they charged, had secretly embedded a paid American agent in Parliament through an alleged front for a major foreign intelligence agency, to subvert Sri Lanka's sovereignty.
Compounding the scandal, they charged that this nexus allegedly involving the Speaker, the US Central Intelligence Agency (CIA) and other unnamed foreign interests, may have interfered in the 52-day political crisis and acted as a hidden hand behind the drafting of the 19th Amendment to the Constitution.

The allegation is the most extraordinary allegation against a senior politician in recent months that has been made with innuendo and without evidence to support it. The only known fact is that former Foreign Secretary Prasad Kariyawasam serves as a paid consultant to the US-based Development Alternatives Incorporated (DAI), working inside the Parliament complex as part of a foreign aid project.
Opposition MPs have taken this fact and metastasized it into a political hot potato, claiming that Kariyawasam is a foreign agent, that DAI is a front organisation for the US Central Intelligence Agency (CIA) and that the Kariyawasam appointment therefore presents a grave threat to the sovereignty of Parliament.
To hear Mahinda Rajapaksa, Dinesh Gunawardena and Wimal Weerawansa tell it, the UNP government has allowed DAI, a CIA front organisation, to entrench itself inside Sri Lanka's Parliament and independent commissions, placing the national security and sovereignty of Sri Lanka at risk. As with most purported threats to sovereignty and national security, the danger only arises when such acts are performed under a UNP government.
According to records reviewed by Sunday Observer, DAI has been operating in Sri Lanka from as far back as 2004, at that time under a USAID agreement reached with the government of President Chandrika Kumaratunga and Prime Minister Mahinda Rajapaksa. That aid project continued through the Rajapaksa presidency, running its course in 2009.
DAI is a private corporation based in the United States, that is often contracted by USAID and other international development agencies to execute foreign aid projects on the ground. While it cannot be disproven that DAI or any other international organisation has links to foreign espionage groups, DAI's heavy presence in Sri Lanka did not raise red flags from Defence Minister Mahinda Rajapaksa or Defence Secretary Gotabaya Rajapaksa during their earlier engagement.
Similarly, DAI has handled projects on the ground in countries including Indonesia, Pakistan, the Philippines, Ukraine, Egypt, Brazil, Hungary, Mexico, Poland, Vietnam, and the Russian Federation. In Russia, DAI aid projects included assistance to reform the state budget, drafting regulations for development ministries, and reforms to public sector assessment, accountability and audit systems across every level of the Russian government.
After the 19th Amendment strengthened the power of the legislature with the introduction and immediate activation of the Constitutional Council and Independent Commissions, the government and Speaker Karu Jayasuriya made it a priority to strengthen the legislature and put in place systems and procedures for the legislature to exercise accountability over the Government.
DAI, through USAID was one of many foreign aid groups enlisted to assist with this strengthening of parliamentary oversight mechanisms. After months of consultations with government, parliamentary officials and MPs from all parties, USAID in November 2016 launched the "Strengthening Democratic Governance and Accountability Project" (SDGAP), a three-year program to strengthen all facets of the work done by the legislature and independent commissions.
As a part of the project, DAI was assigned an office in Parliament, along with other foreign assistance groups including the United Nations Development Program (UNDP). DAI officials were issued Parliament identification and worked closely with MPs of all parties in a variety of efforts aimed in particular at increasing the autonomy and ambition of Parliament's Sectoral Oversight Committees. MPs were empowered to get used to summoning and questioning Government officials, creating a culture in which the Government truly was accountable to Parliament.
As a part of the process, SDGAP funded several Parliamentary delegations, to the United States, Canada, India and Switzerland, to study the legislative oversight mechanisms in those countries. From the UPFA, Nimal Siripala De Silva, Kumar Welgama, Sudharshani Fernandopulle and several other MPs participated in at least one of these study tours. (See graphic for details)
In 2018, DAI and the Secretary-General of Parliament Dhammika Dasanayake reached an agreement to add a consultant to the DAI team in Parliament, in order to help increase the effectiveness of the project's work with strengthening Sectoral Oversight Committees and to assist with Parliamentary foreign affairs.
It is into this role that Prasad Kariyawasam was nominated to DAI by Parliament. Kariyawasam had resigned as Foreign Secretary in October 2018 and was one of the most experienced and renowned retired diplomats available from the foreign service. Prior to 2009, he was tasked by the Rajapaksa Government with several initiatives to garner international cooperation to interdict LTTE gun-running operations.
In 2009, President Mahinda Rajapaksa hand-picked Kariyawasam to serve as Sri Lanka's High Commissioner to New Delhi. At the expiry of his five-year term in 2014, Kariyawasam was not re-assigned to Colombo on rotation, as is custom for career diplomats. Instead, President Rajapaksa immediately assigned him in July 2014 to be Sri Lanka's Ambassador to Washington D.C., creating significant jealousy and grumblings of favoritism among the ranks of the foreign service.
After the presidential victory of Maithripala Sirisena in January 2015, Kariyawasam was not recalled, but instead kept on in Washington by the new Government. Politics aside, both Presidents Rajapaksa and Sirisena had recognized and rewarded his talent and ability.
In August 2017, barely two years into his term in Washington, Kariyawasam was brought back to Colombo for promotion as Secretary to the Ministry of Foreign Affairs. At the time, his appointment did not give rise to any objection or accusations that he was a foreign intelligence agent. Indeed, it would have looked foolish for the leader of the same regime that entrusted Kariyawasam with two of Sri Lanka's most critical strategic diplomatic postings to reverse course and suddenly charge that he was a foreign spy.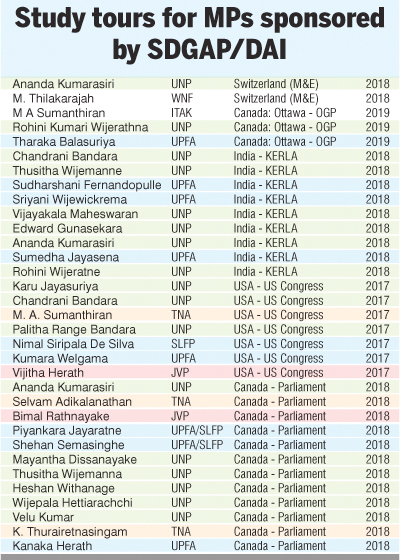 However, this is exactly what happened to Prasad Kariyawasam this week, with Mahinda Rajapaksa, Dinesh Gunawardena, and Wimal Weerawansa stating that because his salary was paid by a foreign entity affiliated with the US Government, that Kariyawasam's presence in Parliament was a threat to democracy.
The about-face was in similar vein to the campaign launched by Rajapaksa loyalists against ACMC leader Rishard Bathiudeen last month. Bathiudeen, who had served as a cabinet minister under President Rajapaksa for over 10 years, suddenly found himself being branded by his former cabinet colleagues as a terrorist, in the wake of the Easter attacks.
In a statement issued earlier this month, Finance Minister Mangala Samaraweera called out this political duplicity in stark terms. "Everyone should know how Rishard Bathiudeen earned the ire of the Podujana Peramuna. When they tried to illegally overthrow the government last October 26, they pleaded with this very same so-called terrorist Rishard Bathurdeen to join their government. They tried bribing him. They tried threatening him."
"Mark my words. Had he supported Mahinda Rajapaksa in Parliament last year, there would not have been a no-confidence motion against him. He would not be called a terrorist. This is a man who served as a Cabinet Minister under them for almost a decade, who we are supposed to believe suddenly became a terrorist overnight after he stood by the UNP and by democracy."
The political opportunism at the root of this sudden attack on Kariyawasam and Speaker Karu Jayasuriya is equally blatant. The Speaker's stature both in Sri Lanka and around the world has grown since the 2018 political crisis.
The strength of his relationships with the President, UNP leadership, opposition parties, civil society leaders and diplomats were exposed through his role in mediating a resolution to that crisis last year. His independence was demonstrated in his lack of hesitation in reallocating the post of Leader of the Opposition to Mahinda Rajapaksa in the immediate aftermath of the crisis.
Given the recent disarray in the ranks of the Podujana Peramuna caused by the failure of various groups to incite communal divisions, and that party's presidential election plans concurrently coming under a surgeon's knife and into the crosshairs of a judicial gavel, MPs allied to Mahinda Rajapaksa have now taken a set of innocuous facts previously and widely known in Parliament, and attempted to blow it into a scandal aimed at rattling the Speaker and putting the country's chief statesman on the backfoot.
But the holes in their paper-thin argument are plain to see. Kariyawasam's appointment through DAI was never a secret, from the time he was hired in March 2019. His employment contract is one with DAI, which corresponded with the office of the Secretary-General of Parliament in setting up his work arrangements. Kariyawasam's own office in Parliament is in the area of the Parliament Complex assigned to DAI.
In his work with MPs of both the Government and opposition, Kariyawasam has been introduced as a DAI consultant working in Parliament. He has met with MPs and held meetings in this capacity about work being done on Sectoral Oversight Committees. None of this work had ever been cause for scrutiny, until several Opposition MPs began to suspect that the former foreign secretary had grown close to Speaker Karu Jayasuriya and that a close relationship between the two increased the threat posed to their presidential ambitions.
While Jayasuriya has been clear that he will not hanker after the presidential nomination of any party, his stature would be a towering force to be reckoned with whoever the candidate put forward by the Mahinda Rajapaksa faction. No opportunity to try to attack the speaker was too juvenile to pass up on.
When DAI and Prasad Kariyawasam were fostered and promoted under President Mahinda Rajapaksa, the former was a valued international aid donor and the latter was a top-class diplomat entrusted with the country's most critical foreign missions. But when Rajapaksa sits in the opposition, DAI is a CIA front sent to subvert our democracy, Kariyawasam is a foreign agent with suspicious allegiances, and the two together are a threat to national security. There is an element of truth in the fervent panic expressed by these MPs. What is true is that they are indeed very afraid. But they are not afraid of DAI, or Kariyawasam, or of threats to Sri Lanka's sovereignty or national security. Jayasuriya is fast emerging as one leader who might once again torpedo Rajapaksa plans to recapture state power. Given Jayasuriya's pivotal role in derailing his attempt to seize the premiership last year, going toe-to-toe with the Speaker once again appears to be a truly terrifying prospect.