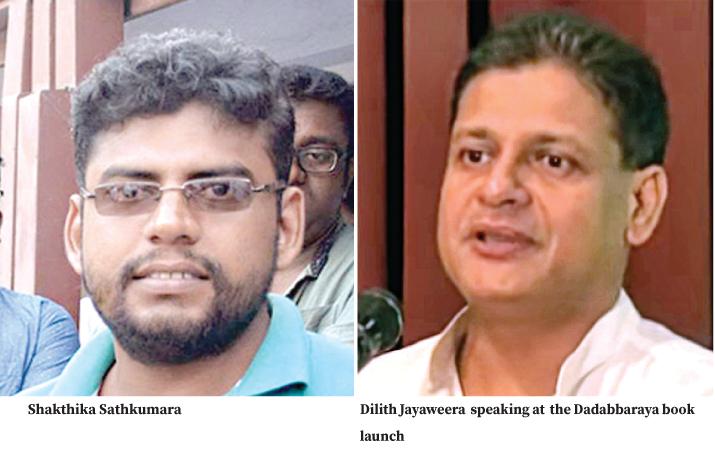 After two Fundamental Rights (FR) petitions were filed at the Supreme Court for what human rights activists and legal officers claim is a dire abuse of the International Covenant on Civil and Political Rights (ICCPR) Act, the Organised Crimes Division (OCD) of police has called the Chief Executive Officer of Derana TV station to record a statement over a speech he made during a book launch several months ago.
Dilith Jayaweera who addressed a gathering at the launch of Dadabbaraya by author Dilshan Pathiratne is now in hot water after he said Buddhism exemplifies 'aathal concepts' (fun concepts) and that Siddhartha (a young prince who later became the Buddha) continuously led an 'aathal' lifestyle.
Jayaweera further said that there is an enigma behind who Siddhartha really was and posed questions about it.
The contents of Jayaweera's speech did not sit well with Buddhist leaders. According to a Facebook post published by author Pathiratne, he was called to the (OCD) on Thursday (20) to record a statement with regard to Jayaweera's controversial speech. Colombo Chief Magistrate's Court has thus summoned him to record when and where the book launch was held, and also details about the persons who attended the event.
In his post, Pathiratne cited Buddhist Information Center Executive Director Agulugalale Sri Jinananda Thera as the complainant. He goes on to
say that the incident is seriously affecting the freedom of speech. Last week two FR petitions were filed for the release of multiple award-winning author Shakthika Sathkumara who was arrested for publishing a short story he wrote about sexual abuse and paedophilia involving a member of the Buddhist clergy on Facebook, and Abdul Raheem Masaheena, a 47-year-old mother of one from Mahiyanganaya, who was arrested for wearing a kaftan depicting a ship's helm, mistaken by police in Hasalaka as a Dharmachakraya (a Buddhist symbol of the Dhamma and Enlightenment).
Ironically both arrests were made under the ICCPR Act that was originally introduced to promote and protect civil and political rights of people.
The ICCPR Act based witch-hunt of writers and journalists took a bizarre turn when the (OCD) went after senior journalist Kusal Perera when his article 'From Islamic terrorism to marauding Sinhala Buddhist violence' was published in a newspaper on May 17.
He was to be arrested under the ICCPR Act on Monday (17), but was assured by President Maithripala Sirisena personally over the phone on Sunday that he would not be arrested.
Perera told the Sunday Observer that President had informed acting Inspector General of Police (IGP) Chandana Depal Wickramaratne to proceed with the investigation without his arrest.
Perera said he would file a FR petition at the Supreme Court tomorrow (24) challenging the (OCD)'s decision to arrest him over an article that 'does not instigate religious hatred or extremism'. He said there is a trend of the ICCPR being used to oppress writers.
"State agencies and political interests go after journalists for their petty needs and agendas," Perera said. However, writers such as 33-year-old post-modernist novelist Sathkumara, father of two, who was arrested on April 1 after a group of monks from Polgahawela took offence to the short story he wrote and published on Facebook. The Sunday Observer learns that Sathkumara withdrew the short story when it was attacked by fellow Facebook users. The fictional story was not available on his page at the time of his arrest. His case is due to be taken up at Kurunegala High Court on Wednesday (26).
Sathkumara's wife, 32-year-old Yanusha Lakmali who is also a part time writer and poet, says that the ICCPR was misused to charge her husband.
"I still don't understand what happened. How can anyone be arrested for literary work?" she asked. Lakmali says that she is undergoing psychological trauma due to the arrest. The most affected in the family is their four-year-old baby who was first told that their father was in Colombo to publish a book. When he demanded that they take the bus to Colombo to see his after, he was told that Sathkumara had gone abroad. Now he wants to talk to him over the phone.
Member of the Editors' Guild and activist K. W. Janaranjana says it is absurd that Political authorities got involved to protect one journalist, while another is still in remand. "Who is deciding who should be arrested and who should not be?" he asked.
He said the clear abuse of the ICCPR Act poses a grave threat to the media.
Janaranjana said earlier the journalists were jailed by misusing the criminal defamation law which has since been repealed. "But now we see that the ICCPR Act is being used to do the same.
Writers and journalists are arrested just because religious leaders are offended by what they write." The Police Legal Division said that an arrest is made under the ICCPR only on reasonable grounds.
PEN International, a London based writers group with representation in 100 countries has launched a worldwide campaign to get the Sri Lankan writer Shakthika Sathkumara released from detention.
"PEN International is deeply concerned by the arrest and ongoing detention of award-winning writer Shakthika Sathkumara, charged with inciting religious hatred and violating international human rights law," a release from the charity stated.
On Friday (21), the Center for Policy Alternatives (CPA) had written to acting IGP Wickramaratne calling for investigations into statements made by Chief Prelate of the Asgiriya Chapter Most Ven. Warakagoda Gnanarathana Mahanayake Thera for advocating racial and religious hatred.
In his speech, Ven. Gnanarathana Nayake Thera said people should abstain from eating food from shops owned by Muslims as the food contains poison, these shops are attempting to ruin the Buddhists in Sri Lanka, that some say the doctor who harm hundreds and thousands of Buddhist children should be stoned. "Though I don't say it should be done, that is what needs to be done," the Thera adds. The CPA cites the section 291A of the Penal Code that says "whoever, with the deliberate intention of wounding the religious feelings of any person, utters any word or makes any sound in the hearing of that person, or makes any gesture in the sight of that person, or places any object in the sight of that person, shall be punished with imprisonment of either description for a term which may extend to one year, or with fine, or with both" and Section 3 of the ICCPR Act could be applied to the Thera's case as his statement is very serious in nature.
Explaining the legal provision, Attorney-at-Law Thishya Weragoda pointed out that Section 291B of the Penal Code and Section 3 of the ICCPR Act are similar in concept, however, there is a difference in their application.
The ICCPR Act is intended to protect, promote and foster rights of the public, including the right of free speech, and it is not intended to curtail rights in any manner. He pointed out that it is fundamentally flawed thinking to use the ICCPR Act to curtail free speech.
Since inciting religious hatred is a subjective offence, the Criminal Procedure Code sets out that the Attorney General (AG) has to sanction an arrest under the Penal Code. This is designed to ensure that overenthusiastic Police officers don't arrest citizens at the whims and fancies of religious leaders and fanatics.
"We saw this section being resorted to by the Police, when a foreign woman with a Buddha tattoo was arrested at the BIA, and we all know how that ended up. The State and the Police Officers had to pay 800,000 as compensation to the foreigner. Now to overcome that situation, they are using the ICCPR Act and remanding people indefinitely."
In the case of writers, such as Sathkumara, the police could have sought sanction from the AG under 291B of the Penal Code that says 'whoever, with the deliberate and malicious intention of outraging the religious feelings of any class of persons, by words, either spoken or written, or by visible representations, insults or attempts to insult the religion or the religious beliefs of that class, shall be punished with imprisonment of either description for a term which may extend to two years, or a fine, or both'.
Weragoda also questioned the involvement of the (OCD) in the case of the Daddabaraya book launch. "What is the organised crime there? This is just a random witch-hunt," he said adding Sri Lanka is becoming a 'Buddhist Shariya' as the Buddhist leaders are dictating what people should say and do, the very ideology Shariya is condemned for.
His views resonated when Free Media Movement's convener Viranjana Hearth said the approach to all such incidents needs to be changed.
"The ICCPR Act that was introduced to protect civil and political rights is used to oppress freedom of expression and also the freedom of the media," he said showing that it is very problematic.
Co-Convener of the Puravesi Balaya (Citizens' Power) Gamini Viyangoda said any citizen has the right to have an opinion of a religion.
"The issue is that the temple and the church have come into the state, and are trying to govern the people," Viyangoda said adding that the International Covenant on Civil and Political Rights (ICCPR) Act is being abused to oppress the people from having different opinions.
Viyangoda added that in a healthy governance a controversial speech would be debated, and the the author or the speaker would not be arrested.
"Also, if Jayaweera is arrested for his speech, then the Chief Prelate of the Asgiriya Chapter Warakagoda Gnanarathana Thera should be 'arrested 10 times more' for advocating national racial and religious hatred with his recent speech calling people to boycott Muslim shops and stone a Muslim doctor for a crime he is not convicted of.