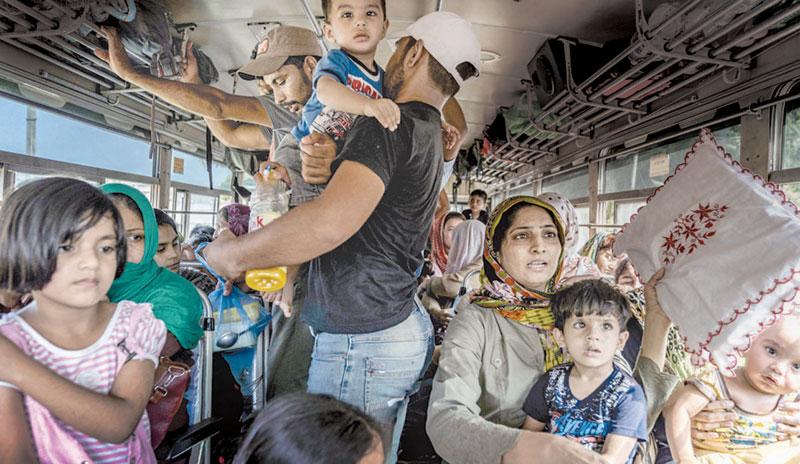 The Negombo Police was a strange sight last week with children, women and men camped out in the garage, on rough floor with no walls and proper sanitation facilities. They were there as they had no other safe place to go.
These were some of the refugees and asylum seekers, who had fled persecution in their own countries. They are not allowed to work, their children don't go to school, but they are allowed to live here temporarily, based on an agreement between the Sri Lankan government and the UN High Commissioner for Refugees.
In the aftermath of Easter Sunday bombings, mobs in Negombo had broken into some of their residences and beaten up some of them. People who had been letting out rooms had also been pressured to ask the refugees to leave immediately. With no place to go, they had to rush to the Negombo Police station.
Appeals were made to various church institutions and other groups to host these refugees. Most were scared and declined. A few dared, but angry local mobs turned up and insisted that the refugees should be evicted. On one occasion, the mob had arrived even before the refugees got there. The police and the armed forces couldn't assure them safety, so they were displaced yet again.
It was from one such shelter that two buses with tired, scared faces arrived at the Negombo Police station on Friday evening. But the police refused to host them, didn't allow them to get down from the buses and insisted we take them 'somewhere else'. A few of us including a Catholic nun and three priests tried to make the police understand that they have no homes to go to and insisted we can only move them with an assurance of safety. Appeals were made on the phone to government officials. Finally, the police agreed to let them stay the night, without a solution as to where they would have to stay in the days, weeks and months to come.
Some of the house owners who had been compelled to evict these refugees, had visited them to see how they were faring and with some bringing food. The police had allowed them to use their washrooms providing them sanitation facilities. A policeman on night duty had given up his fan to provide some comfort to children not falling asleep and another had made milk for crying children. But how long can an already over-streched police host a refugee camp?
It's the duty of the State with the UNHCR, to protect and support this vulnerable community, who had suffered so much. If Negombo and the sourroundings are not safe, other options should be considered.
As we grieve the lives lost in the bombings, support the injured and their families, we must also stand in solidarity with asylum seekers and refugees. It's an opportunity to extend social and political hospitality to those in need and most vulnerable. It is not enough to open our hearts, we must open our doors as well.