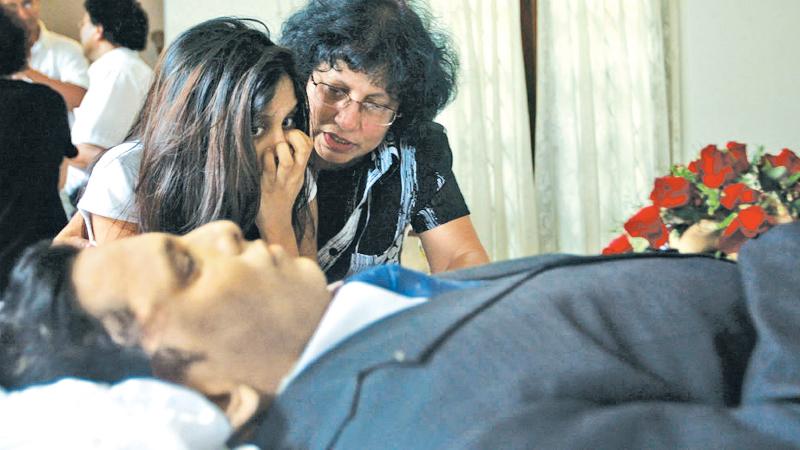 Gotabaya Rajapaksa, arguably once Sri Lanka's most powerful man, faces legal battles in two countries after separate civil lawsuits were reportedly filed in the United States of America last week for allegedly instigating torture and extra judicial killing during his tenure as Defence Secretary.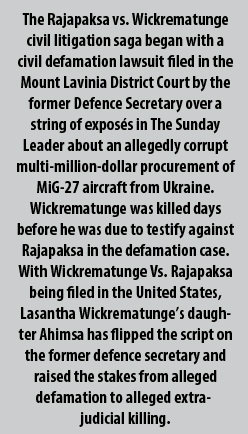 The fresh legal trouble followed Gotabaya Rajapaksa to his hometown of Los Angeles, California last week, when he was noticed in a grocery store parking lot that the daughter of a journalist slain during his tenure as head of the defence establishment was suing him for damages in the District Court of California.
Dressed casually in a red cardigan, with his wife Iyoma Rajapaksa accompanying him, Rajapaksa had just finished shopping at the grocery store Trader Joe's in Pasadena, California, when he was served notice in the case filed by Ahimsa Wickrematunge. The civil action lawsuit accuses the former Defence Secretary, a citizen of the United States, of "instigating and authorizing" the murder of her father.
The notice was served by Licenced Process Servers last Sunday (7) evening.
Ahimsa is the 27-year old daughter of Lasantha Wickrematunge, the founding Editor of The Sunday Leader newspaper who was bludgeoned to death on January 8, 2009. The murder occurred in broad daylight, meters away from a high security zone as Lasantha Wickrematunge drove himself to work. His daughter is seeking punitive and compensatory damages from Gotabaya Rajapaksa in the civil suit filed in a US court, fearing that her father's killers may never be brought to justice in Sri Lanka.
Swift denials that he had been served notice followed from Rajapaksa's aides and extended family, including his nephew Namal Rajapaksa who used Twitter to deny the reports. But Premier Group International, one of the private investigating firms tasked with tracking the former Sri Lankan official down posted an image on social media, of Gotabaya Rajapaksa being handed documents purportedly at the Trader Joe's parking lot on Sunday evening.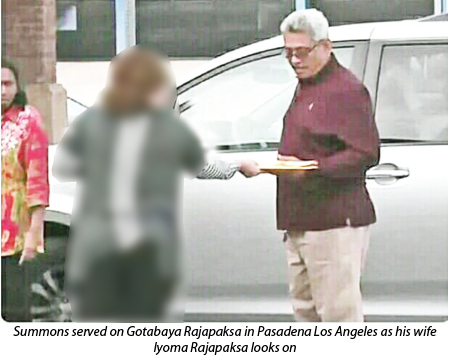 Last Friday morning (12), Gotabaya Rajapaksa and his wife Ayoma returned to Colombo, flying first class from Los Angeles to Colombo via Dubai, on Emirates flight EK650. Jarred by reports that the ex-Defence Secretary was facing prosecution in the US, amidst claims that he was set to renounce his American citizenship ahead of contesting presidential elections in Sri Lanka, Gotabaya Rajapaksa's supporters were invited to the Bandaranaike International Airport on Friday morning, to give him a hero's welcome. Rajapaksa loyalists have already begun to denounce the two civil suits as attacks on the former Defence Secretary by the LTTE to prevent him from becoming Sri Lanka's next president.
Gotabaya Rajapaksa, now 69 years old, was in charge of the country's military apparatus at the time of Lasantha Wickrematunge's murder.
The Ahimsa Wickrematunge Vs. Nandasena Gotabaya Rajapaksa case has reportedly been filed under the US Torture Victim Protection Act and the Alien Tort Statute.
The US Torture Victim Protection Act allows civil suits to be filed in the US involving foreign human rights abuses, including torture and extrajudicial killings committed in a foreign country. The San Francisco based Centre for Justice and Accountability (CJA) filed the case on behalf of Ahimsa Wickrematunge, reportedly in California's Central District Court. However, since the case is under seal, no further information about Ahimsa Wickrematunge's complaint against Rajapaksa has come to light since news broke that the former Defence Secretary had been served notice in California. According to District Court rules in the State of California, if such a case has indeed been filed, the defendant has up to 21 days after notice is served to respond to the charges.
Gotabaya Rajapaksa was also served notice in a separate case filed by the International Truth and Justice Project. The two cases have been filed separately and are being handled by different law firms, but serving notice on both cases was coordinated because "Rajapaksa was tough to pin down," sources told the Sunday Observer. Once the case is unsealed, proof of notice being served and all other documentation will be made public.
The CJA which is handling Ahimsa Wickrematunge's case is an advocacy firm that specializes in civil litigation on behalf of victims of human rights violations that occur in places outside the US, under the US Torture Victim Protection Act and the Alien Tort Statute. The CJA has a remarkable success rate. One of the San Francisco-based law firm's most famous cases was the successful suit brought against a former military officer serving the Pinochet regime in Chile, for the murder of Chilean singer and academic, Victor Jara. The Victor Jara Vs. Pedro Barrientos case was filed by the CJA on behalf of Jara's wife and children in Florida, US in 2016, some 43 years after the singer's murder.
Over a decade, Wickrematunge's family and friends have pursued justice for his killers in Sri Lanka. Marred by cover-ups and a string of wrongful arrests, the murder investigation headed nowhere until after the defeat of Presidnet Mahinda Rajapaksa in January 2015 and the exit of his brother Gotabaya as Secretary to the Defence Ministry.
When the CID established a link between Bulathwatte's platoon and Wickrematunge's murder in December 2010 less than a year after the assassination, Rajapaksa whisked the case away from the CID and handed it over to the Terrorist Investigation Division. Amidst a hotly contested presidential election in January 2010, Rajapaksa also ordered then Foreign Secretary Palitha Kohona to transfer Major Bulathwatte to Bangkok, Thailand as a diplomatic officer within a fortnight. After his brother won the election on January 26, 2010, Gotabaya Rajapaksa cancelled the transfer order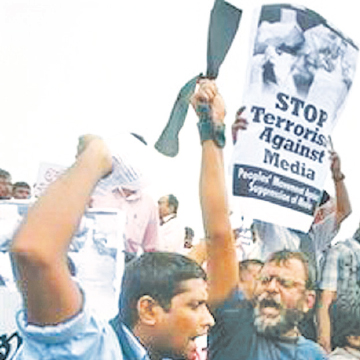 Investigators broke the murder case wide open in 2015, after Rajapaksa's tenure as Defence Secretary ended. They linked Wickrematunge's murder to a shadowy military intelligence unit known as the Tripoli Platoon, headed by Major Prabhath Bulathwatte. At the time, by his own admission in several forums, Gotabaya Rajapaksa had brought the country's entire intelligence apparatus under his explicit purview, in order to coordinate the activities of these units better during war time. Despite investigative breakthroughs, the CID's work on the Lasantha Wickrematunge murder probe and several other cases involving attacks against journalists have been stymied by the political patronage Gotabaya Rajapaksa has continued to enjoy four years after his brother's fall from power.
His legal team has also managed to win incredible leniency from the country's highest courts, which have blocked his arrest in several high profile corruption investigations including the controversial MiG deal probe that investigators believe could be linked to the Wickrematunge murder, although such a link is yet to be proven.
Days after reports emerged that civil lawsuits had been filed against the former Defence Secretary senior officials at the Attorney General's Department received phone calls from high levels of the current Government, urging them to ensure public officials were not available to testify in civil suits filed in foreign countries.
Rajapaksa is currently on trial at the Permanent High Court at Bar for misappropriating state funds to build a memorial to his late parents in Medamulana Hambantota. He is also implicated in several other corruption probes. He has assembled a formidable legal team, led by President's Counsels Romesh De Silva and Ali Sabry, which is mired in different types of litigation to delay investigations or trials involving their client.
His lawyers will now be compelled to begin fire fighting in a foreign jurisdiction as a result of the two civil lawsuits, compounding Gotabaya Rajapaksa's legal troubles as he mulls a presidential run.
The Rajapaksa vs. Wickrematunge civil litigation saga began with a civil defamation lawsuit filed in the Mount Lavinia District Court by the former Defence Secretary over a string of exposés in The Sunday Leader about an allegedly corrupt multi-million-dollar procurement of MiG-27 aircraft from Ukraine.
Wickrematunge was killed days before he was due to testify against Rajapaksa in the defamation case. With Wickrematunge Vs. Rajapaksa being filed in the United States, Lasantha Wickrematunge's daughter Ahimsa has flipped the script on the former defence secretary and raised the stakes from alleged defamation to alleged extra-judicial killing.
---
Brother of Sri Lanka ex-President sued over alleged torture and killings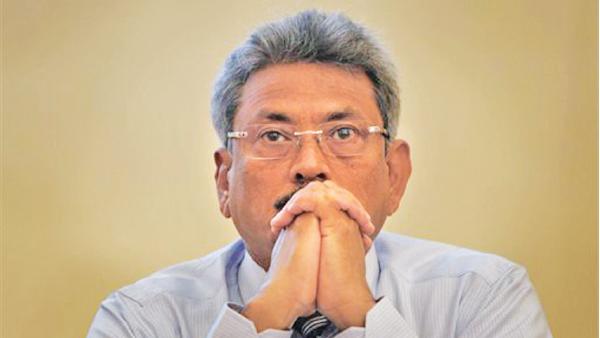 The brother of the former Sri Lankan president Mahinda Rajapaksa is being sued in a US court over alleged extrajudicial killing and torture, by the same lawyers who successfully brought a civil suit against the Syrian government for the killing of the Sunday Times journalist Marie Colvin.
Gotabaya Rajapaksa was Sri Lanka's defence secretary during the final years of the country's civil war against the Tamil Tigers until his brother lost the presidency in 2015, and has been mooted as the family's presidential candidate in this year's election.
He is believed to have directly overseen the country's police and military, which have been accused by the UN, human rights groups and Sri Lanka's own investigative agencies of crimes including torture, arbitrary detention and extrajudicial killings both during the Tamil conflict and in the years since it ended in 2009.
Private investigators working on behalf of the legal teams tracked Rajapaksa down on Sunday night to a Trader Joe's car park in the Californian city of Pasadena, where he was formally served with notice of the civil suits. One relates to Roy Samathanam, a Canadian citizen of Tamil origin who a UN human rights committee has concluded was detained by Sri Lankan counter-terrorism police and tortured for three years on baseless accusations of aiding the Tigers.
The alleged torture included beatings, painful handcuffing and being forced to witness rapes by security forces. "Sexual assaults were normal on women inside the prison," Samathanam told a press conference in London on Tuesday.
"The images I saw, the girls who were there and the guys were being sexually assaulted, I can still remember their faces and I can still remember what happened."
A second suit alleges Gotabaya "instigated and authorised" the extrajudicial killing of Lasantha Wickrematunge, a veteran journalist who prophesied his own death in an editorial that ran a few days after he was gunned down while driving to work in 2009.
Gotabaya, 69, was a US citizen at the time of the alleged offences, but would have to give up his American citizenship if he ran for president later this year. "So this was probably the last chance for a long time to begin to hold him accountable," said Yasmin Sooka, the executive director of the International Truth and Justice Project, the group bringing the torture suit.
Gotabaya has been contacted for comment. Should he defend the case and lose, or choose not to contest it, he could be ordered to pay compensation that might be extracted from any assets he owns in the US.
The torture suit is being led by Scott Gilmore, who in January won a civil case against the Syrian government for the extrajudicial killing of Colvin, a Sunday Times war correspondent. The court ordered Syria to pay $300m (£228m) in punitive damages.
Lawyers will seek to argue that Gotabaya had "overall command and control" of the forces that tortured Samathanam, and is therefore legally liable for their conduct.
"Gotabaya made it very clear in his public statements that for many years he centralised control of the security forces," Gilmore said.
"These incidents were widely reported, documented by the UN, and the Sri Lankan government was repeatedly confronted with these allegations. So as defence secretary he clearly knew that these abuses were taking place, or allegedly taking place, but he never took the legal steps to investigate or punish the perpetrators."
Sri Lanka pledged in 2015 to investigate and prosecute human rights abuses during and after the civil war, but that process has stalled in domestic courts and the country has resisted turning over its citizens to hybrid or international justice processes.
[Courtesy: Guardian]