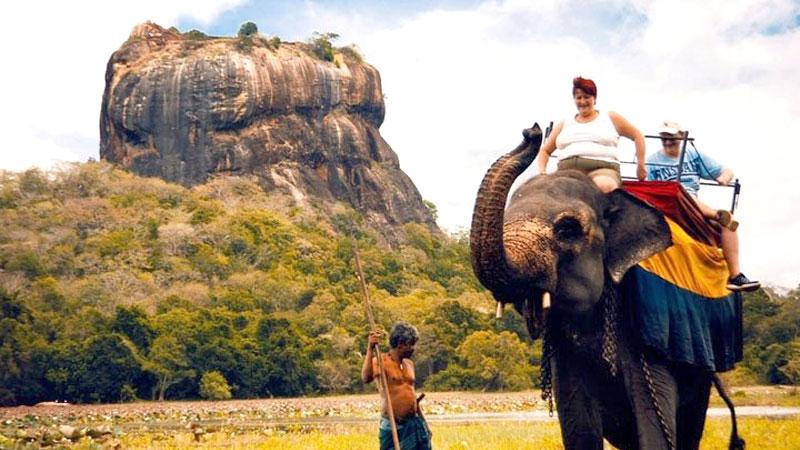 The Department of Wildlife Conservation (DWC) is drafting new regulations to incorporate into the country's Flora and Fauna Act, to ensure the protection of domesticated elephants and use of elephants in tourist related activities, Director General DWC, M. G. C. Sooriyabandara told the Sunday Observer.
The move comes as Sri Lanka emerged as the top country to travel to this year in several rankings, including the major travel guide book - Lonely Planet. Its author Ethan Gelber commenting on this states, "Already notable to intrepid travellers for its mix of religions and cultures, its timeless temples, its rich and accessible wildlife, its growing surf scene and its people who defy all odds by their welcome and friendliness after decades of civil conflict, this is a country revived."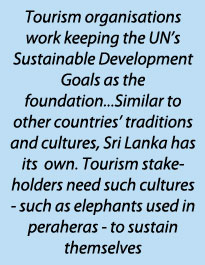 Tourism in Sri Lanka is booming. Statistics by the Sri Lanka Tourism Development Authority (SLTDA) reveal that 2,333,796 tourists visited the country last year, a 10.3 per cent growth from the previous year. The country has expressed hope to double this number by 2020. With this backdrop its new destination brand 'So Sri Lanka' made its maiden debut at the opening day of the World Travel Mart (WTM) 2018 in London early November last year.
However, the most recent allegation against Sri Lanka is levelled by the UK with a British MP Dr. Rupa Huq urging her Parliament to discourage tourism to the island nation and also to Myanmar, citing elephant cruelty. The MP questioned whether steps were taken to stop tourists visiting the nations that elephants were treated cruelly.
It was later revealed that the UK was working with the Association of British Travel Agents (ABTA) to create awareness among its clients and encouraging them to report if they see Asian elephants being treated badly.
A recent report by the SLTDA shows UK as the third largest source of tourists to Sri Lanka during the past month, while Europe became the largest source of tourist traffic to Sri Lanka with 50 per cent of the total traffic in January 2019.
The allegation by the UK MP comes following the harrowing video released last year by UK website People for the Ethical Treatment of Animals (PETA) titled 'Sri Lanka's Shameful Elephant Abuse'. It condemned the use of elephants for tourist rides, and other tourism related activities.
"Elephants used for tourist rides – which are widely advertised across the country – are typically kept tightly chained and isolated from other elephants. Forced up and down the same busy roads day after day, they're often worked to exhaustion in the sweltering heat – as soon as one group of tourists gets off, the next one gets on.
"Humans sit atop elephants in a howdah, a type of metal seat, which is strapped to the animals' delicate backs. Elephants have sharp, bony protrusions that extend upwards from their spine, so the combined weight of the howdah, the tourists, and the mahout (handler) can cause them permanent, agonising spinal damage," it said, also pleading tourists to refuse such rides. However, PETA recently came under fire for its alleged practice of euthanising pet animals.
The Asian elephant is considered to be endangered. Statistics by the DWC show that 311 elephants have died in Sri Lanka from January to October last year, and between 2013 to 2018, 1445 mostly by human activities.
National tourist guide Ruwan de Silva who has about 10 years of experience on the job said European tourists show concern regarding elephant rides often saying that the animal is 'not an entertainer'. According to Silva, who is not promoting elephant rides, some rides are priced as much as Rs.10,000 per person for an hour. Also six passengers with a maximum four adults, are thus entertained.
"These elephants work all day and are fed just coconut and fishtail palm leaves. These do not provide the elephants sufficient nutrients," he said adding that elephants work all day during the tourist season.
The same concerns were echoed by Chairperson of the Federation of Environmental Organisations, Rohan Wijesinghe. He said though elephants were used in Sri Lanka traditionally- for warfare and transport of heavy goods - elephants are not meant to be kept in captivity as they are wild animals.
He said that during ancient times the mahout had knowledge, often passed from one generation to another, about how to care for elephants, but the circumstances have changed now.
"The elephants then led apt lives than now. We see them chained and kept in closed enclosures. Elephants are sensitive animals. they sway from side to side when they are stressed, which is often seen in captive elephants these days," he said adding tourism only aggravates the issue.
He stressed that elephants should not be used to carry tourists around, as it will also impact tourism in the country negatively. If they are used in peraheras, he said, there needs to be better controls for the wellbeing of the animals.
The Kandy Esala perahera or the Festival of the Tooth is a major tourist attraction. During July and August Sri Lanka records a hike in tourist arrivals. In August 2018 there were 200,359 tourists visiting the country, July same year reported 217,829.
Newly appointed Chairman, Sri Lanka Tourism Promotion Bureau (SLTPB) and the Tourism Development Authority, Kishu Gomes told the Sunday Observer that keeping the UN's Sustainable Development Goals as the foundation.
"We are conscious about animal rights and are ready to take action against animal cruelty. We use these animals for specific purposes within boundaries," he said, adding the elephants are taken care of in the best possible manner.
He said that similar to other countries' traditions and culture, Sri Lanka has its own. Tourism stakeholders need such cultures - such as elephants used in peraheras - to sustain. He added the tourism organisations will ensure that global best practices are kept.
The country is doing much to guarantee that elephants are well protected. DWC's DG Sooriyabandara said soon the new regulations ensuring elephant protection that is due be included in the country's Flora and Fauna Act will be put for Cabinet approval.
Meanwhile, the country got its first data-based elephant distribution map, which showed that the majority of elephants share space with humans. It proposes a 'human-elephant coexistence model' that is also incorporated in the National Policy for Elephant Conservation and Management.