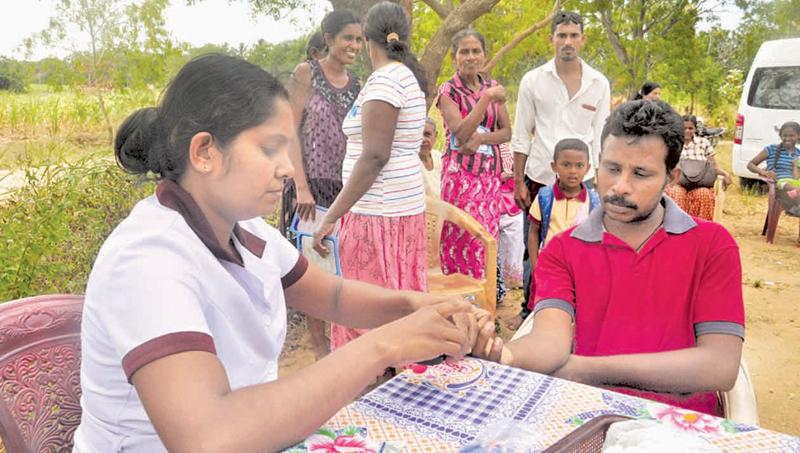 For decades Chronic Kidney Disease of Unknown Etiology (CKDu) has plagued the country, spreading at an alarming rate. Statistics by the Presidential Task Force show that 400,000 are affected by the condition, but the number is considered to be higher. The debate about its causes rages on.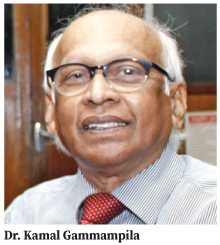 The discussions among the scientific community has been mostly divided into two segments - one claiming the herbicide Glyphosate as the root cause and others saying it is a combination of factors such as heat, water, exposure to heavy metal and food intake.
Last week the American Association for the Advancement of Science (AAAS) revoked its decision to honour Dr. Sarath Gunatillake and Dr. Channa Jayasumana for the research attempting to link Glyphosate with CKDu. The decision came after the Association was accused by fellow-scientists for awarding its '2019 Award for Scientific Freedom and Responsibility' to a research that does not stand on a strong footing.
The Chair, Horticultural Sciences Department at the University of Florida, Kevin Folta had said "The paper presented a hypothesis. There was no data. There were no experiments. It was a semi-well-crafted hypothesis that could be tested".
The venture to connect Glyphosate and CKDu has cost the country dearly. The most heavily impacted is the tea industry. The ban slapped by the Good Governance Government left tea growers and planters to opt for alternate methods to control weeds.
This resulted in higher levels of MCPA (Microbial Pest Control Agents) being detected in Ceylon Tea making it undesirable for the Japanese market. Sources in the tea industry claim that the industry is struggling to recover.
Though Glyphosate could add to the development of CKDu in the North Central Province (Rajarata), especially among the farming community, pesticide exposure and heavy metal content in water used for agricultural purposes have more scientific backing. Researchers say it is essential to conduct immediate research into it before more people fall prey to the disease.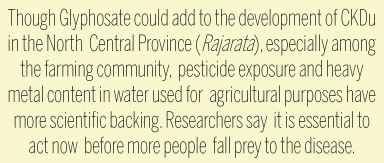 Kidneys act as a cleaner of blood, filter of toxins and food that is consumed by a person. CKDu is malfunctioning of the kidneys which gets damaged when overloaded or when there is not enough water in the body. At this stage a patient is treated in two ways - dialysis or a renal transplant.
In dialysis, a CKDu patient has to use a machine to clean his blood, three times a week. One session at a private hospital can cost around Rs. 7,000. Dialysis is free in state hospitals.
Renal transplant is also a difficult procedure, especially finding a matching kidney. Kidneys are most often harvested from a relative of a patient, and in the current situation in Rajarata and other exposed areas, the donor could be exposed to the disease too.
The Health Ministry has begun to harvest kidneys from brain dead patients, but there are limitations in this process too.
In Sri Lanka the issue has been emerging for decades, with the first CKDu case being identified in Anuradhapura in 1992. One factor that stands true is to reduce the burden of the disease by understanding its causal factors.
At present the Ministry of Health, Nutrition and Indigenous Medicine is screening patients at field level to try to contain the situation. However, most often detection is made when the kidneys are already damaged.
In certain areas in the North Central Province, entire families have been wiped out by the mystery kidney disease.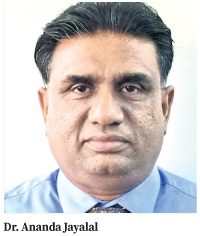 V.G. Ariyathilake, hails from a family of 12. Seven of his siblings have already succumbed to the kidney disease. Ariyathilake and three other siblings have also been diagnosed with CKDu.
He and his sister Karunawathi go for dialysis at the Padaviya Base Hospital once a week. Sparse and tiny, the Padaviya Base Hospital is home to a well-funded state of the art Renal Unit, because the far-flung hospital in Anuradhapura treats nearly 1000 CKDu patients. Padaviya is one of the worst affected regions and more than 50% of patients treated at the hospital suffer from kidney ailments.
"When I was diagnosed, my wife took our son and left for Kandy which is her hometown,"said Ariyatillake, sorrowfully. "She thinks there is something wrong with this area and it might affect the boy."
Now the families have to fight another battle. Ariyatillake said there is a stigma attached to their family now. "No one wants to marry children from the next generation – they think it's a family disease," he said.
Deputy Director General of the Dental Services at the Ministry of Health, Nutrition and Indigenous Medicine Dr. Ananda Jayalal is conducting extensive research to find out what could be causing CKDu and its implications. He was the Deputy Director General - Environmental Health, Occupational Health and Food Safety when he commenced the research.
His findings on research conducted on 77 CKDu patients' dietary patterns, point at an even graver situation. These patients, consume 2.5kg of rice, one kg of vegetables and 60g of inland fish per week.
Tests conducted on the rice consumed by the patients reveal there is a considerable amount of lead and some amounts of cadmium. Blood tests show there were substantial levels of lead.
According to calculations, these levels of lead causes 20 per cent reduction of kidney function, and 1.2 per cent increase in blood pressure. More startlingly 2.5 per cent lowering of the IQ.
The research is scheduled to be published mid this year.
"Soil on which paddy cultivation is done is contaminated. Its composition has also changed (carbonic matter disrupted and acidity of soil changed) and these factors increase the chemical absorption by plants," Dr. Jayalal said.
Changing the dietary patterns of people could be an effective method of reducing the risks of heavy metal (such as lead, cadmium and arsenic) exposure. "Having more food of animal origin will be an immediate solution," he said.
Rice consumption seems to be the main cause. This is because it takes 300-500 litres of water to produce one kilogram of rice, making it more toxic.
Independent Bio-Medical Scientist Dr. Kamal Gammampila said that the use of water originating in the hill country for paddy production is making the harvest toxic.
This is because the water contains very low levels of heavy metals, but a process known as bio-magnification makes rice sufficiently toxic through the rice-water footprint at 3000-5000 litres per kg.
He told a guest lecture held at the Sri Lanka Medical Association last week. "If we do not address this case now, almost the whole of Sri Lanka will be affected by CKDu, and in about 40 years Sri Lanka will have changed beyond recognition," Dr. Gammampila said, adding that Sri Lankans will soon be an endangered species.
However, he foresees a glimmer of hope as the authorities have started to acknowledge new findings as the gravity of the disease is being understood better.
He says there are 800,000 in CKDu prone areas. Dr. Gammampila is also conducting his own research on the issue. During his 12 day tour in the last three months in CKDu prone areas he found two brothers who were farmers, and one of them was a CKDu patient.
Interestingly, the brother sans the disease had his paddy field in Mirisyaya that uses water from Heenganga for cultivation, and the brother with CKDu had his paddy field East of the Minipe Canal and used water flowing through the Hill Country for cultivation.
Likewise he has found that CKDu and CKDu-free live in the villages of Kolonyaya, Maduweketiya and Handungannawa within about three kilometres of Rantembe along Minipe Canal.
They drink the same water from the local mountains, but rice cultivation is done with water from the Minipe Canal or from the local hills. Those who use local hill water are CKDu-free.
His findings now are cross-checked with Government records. "This clearly shows that the water that is used for paddy cultivation is the cause for CKDu, and more specifically water from the hill country," Dr. Gammampila said.