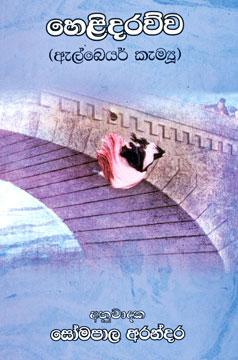 Helidarawwa
Translator: Somapala Arandara
Publisher: Godage Publishers, Colombo 10
Price: Rs 300 
Somapala Arandara's "Helidarawwa" is an authentic Sinhala translation of Albert Camus' last completed novel "The Fall" published in 1956. The original French version of the novel was "La Chute."
The narrative begins with Jean-Baptiste Clamence, the protagonist, meeting an unnamed stranger in a small bar in Amsterdam. Clamence begins a solipsistic monologue to tell the story of his personal fall. He tells the stranger that he led a self-satisfied life as a magistrate in Paris. At that time he thought he was a model citizen. One night, while he was walking by the Seine, he saw a woman jumping into the river.
Her fall triggers Clamence's own fall. Feeling guilty of not rescuing the woman from the river, he retreats from his settled life and decides to tell his story to others with the hope of awakening them to the reality. He declares himself as a "judge-penitent, both condemned and condemning." Although he seeks clemency for himself and others, there is apparently no hope in his words.
Like most people, Clamence is preoccupied with his own (im)mortality. Throughout the narrative he looks down on humanity and sneers at its delusion and failings. As a one-time judge and lawyer, he represents morality. However, his monologue reveals that there is a sharp gap between morality and the illusion of morality. In order to lead a virtuous life, the narrative confirms that falsehood is not innate but learned. Clamence, however, is beyond the grasp of virtue. He delights in condemning humanity, but he is not different from any other man.
Despair
Clamence is a man who is disconnected from the world. He has fallen into despair and is therefore scornful of existence. He finds no meaning in life because of his fractured and nihilistic philosophy. Through the character of Clamence, Camus demonstrates the relativity of values traditionally held by humanity. He creates a world in which good cannot exist without evil. On the other hand, existence is a choice when murder and suicide exist side by side.
Isolation is one way to feel free of expectations and obligations towards others. However, Clamence seems to suggest that abdication of freedom is the only way to happiness. But his own attempt to elevate himself to the position of a judge demonstrates a flaw in humanity. In a world without a transcendent deity, truth also becomes a false concept.
Clamence thinks that society is rotten to the core and absurd. In a way he exposes the indifference and anonymity in modern society. There is a gap between man's desire to find the meaning in life and his inability to find it. However, Clamence's is not Camus' voice, it is simply the reflection of modern man.
His problem is not his inability to diagnose the illness, but in choosing either good or evil. Camus would say that acknowledging the flaws in morality is not a cause to disregard morality. One becomes moral only by facing it. Before his fall, Clamence was a successful man. After the fall, he is overcome by the fear of what he sees in society. In a way, he becomes a fallen prophet.
Plot
The novel's plot seems to be secondary to the ideas it generates. In order to understand Camus' ideas properly, one has to read some of his other books, notably "The Rebel." It offers greater clarity of Camus' ideas. Therefore, "Helidarawwa" has to be read as a philosophical novel. One of the problems we encounter in reading it is that the narrative is full of diversions and observations. Some of the ideas expressed are overwhelming.
Although the narrative is a free-flowing soliloquy, it is tightly controlled. The highlights of the novel are the woman's suicide, well-developed metaphors and its overflowing intellectualism. Therefore, it will not be a waste of time to read "Helidarawwa" slowly and meaningfully.
If you read the novel slowly, you will realize that Clamence's confession is not personal. He has universalized it. It is a confession fit for a world indifferent to emotions. The protagonist, Jean Baptiste Clamence is clearly a play on John the Baptist who told of the final judgment. John the Baptist cried out in the wilderness and Clamence cries out in a world devoid of truth.
The author uses the concentric canals in Amsterdam as a metaphor to the circles of hell in Dante's "Inferno." The fog in the city is another metaphor that indicates man's narrow vision of the world.
The novel has received rave reviews from literary critics. Jean Paul Sartre described it as "the most beautiful and the least understood" of Camus' novels. We cannot disagree with his assessment because "Helidarawwa" contains a tricky text.
It seems to have been written by a man trying to appreciate the moral position in a world scarred by war and division. In fact, Camus completed the novel sometime before his untimely death. Although we do not know what Camus thought of his own work, "The Fall" and its authentic Sinhala translation "Helidarawwa" will remain his most complete and complex novel.