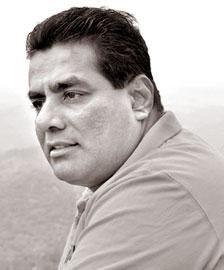 On January 8 this year, when family, friends and colleagues of the late Sunday Leader Editor, Lasantha Wickrematunge gather to commemorate his 10th death anniversary, Shan Wijetunge will also be among the crowd.
Once contemporaries who wrote political columns for their respective publications, Senior Journalist and the current Director of the Sri Lanka College of Journalism, Wijetunge has attended many similar gathering since Wickramatunge's assassination on January 8, 2009, in the hopes that justice will be delivered to Lasantha's family. But 10 years down the line, Wijetunge says it appears that all hope has faded as impunity continues to reign.
"It is unfortunate that even after 10 long years the authorities have failed to deliver justice to Lasantha's family," he says. According to him, solving the mystery behind the prominent journalist's murder is important not to the family of the slain journalist alone but to the local media industry as well. "His assassination was a fatal blow to media freedom in Sri Lanka at the time," he recalls.
Wijetunge says despite the commencement of investigations into the killing, one cannot be satisfied at its slow progress. "They had 3,650 days to solve this case and so much more could have been done in such a vast span of time" he points out. According to him this clearly proves that Lasantha and the other journalists were killed or forcefully made to disappear by those who enjoy impunity, both then and now. "This is why justice is delayed in many cases" he notes.
As for Lasantha, Wijetunge remembers him as a fellow brother in the media industry. Always willing to lend a helping hand, he says Lasantha despite working in another publication freely shared information and contacts. "He was always very encouraging and was an inspiration to many of us," Wijetunge recalls.
Meeting him often in parliament, Wijetunge says he was amazed at Wickramatunge's ability to get inside stories for his popular political column Suranimala in The Sunday Leader. "He appeared to be almost everywhere, especially in parliament," he says. Wijetunge fondly remembers bumping into Wickrematunge in the private rooms of MPs in his hunt for exclusive political news. Lasantha would often beat him to it.
According to Wijetunge what was most interesting was that Ministers who often bashed Wickramatunge publicly often met him in private. "He always had the talent to manoeuvre and handle even his ardent opponents," Wijetunge says.
But what struck Wijetunge most, was Lasantha's courage and command to even address the leaders of Government by their first names. While many journalists would address them as Sir or Madam, Lasantha preferred to call them by their name. "He was courageous enough to do that and that is why he was well known" he notes.
Recalling a dark period of media suppression Wijetunge laments the loss of a more vibrant media industry that could have been had Wickrematunge lived.
"He predicted his own death many times," Wijetunge says while remembering how Wickrematunge and his then-wife Raine, were once dragged out of their vehicle and beaten by a group in 1995. "Facing constant threats since the beginning of The Sunday Leader, Raine said that threats had become a part and parcel of everyday life," Wijetunge says pointing out that however authorities never took notice or provided him with adequate security.
According to Wijetunge, following Wickrematunge's brutal killing the local media industry changed. Though local media already published investigative stories Wijetunge says Lasantha was the pioneer in introducing proper investigative journalism to Sri Lanka. "His stories were evidenced based and backed with documentary evidence," he says adding that for the first time in Sri Lanka's media history more prominence was given to investigative journalism in Wickramatunge's newspaper The Sunday Leader.
Inspired by Lasantha while many others tried to follow his path, Wijetunge says his brutal assassination meant many journalists were left afraid and others fled the country for their safety. "His death rang the death knell for investigative journalism in the country," Wijetunge said.
According to him, Lasantha would have helped to create a better media culture if he had been allowed to live.
Nevertheless, at the Sri Lanka College of Journalism which nurtures young journalists, Lasantha Wickrematunge and his work is an often discussed topic. Having introduced Investigative journalism to the curriculum, Wijetunge says Lasantha is a paramount figure that is highlighted.
"The students are inspired by his struggles and work," he says adding that they often take part in competitive programs that remember the life and work of the late Wickrematunge.
Though investigations appear to be at a standstill and hope seems to be fading away, Wijetunge says the public still needs to know who was behind the assassination of Lasantha Wickrematunge.
"The revelation will give the local industry a much-needed boost to fight against impunity and to see its end," Wijetunge says.