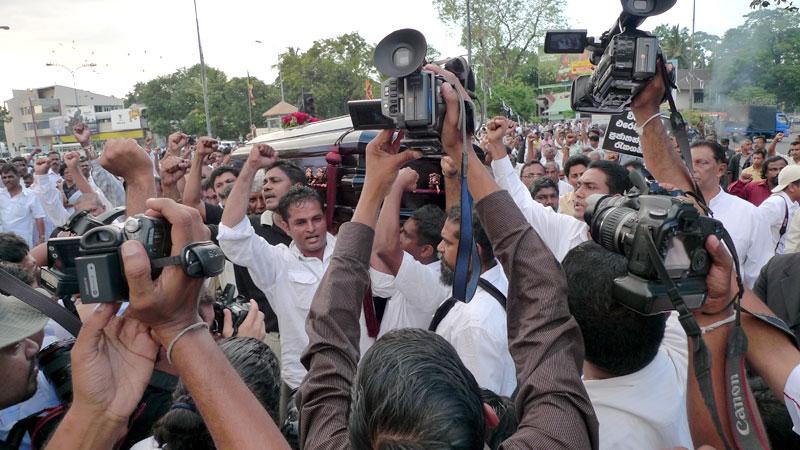 Lasantha Wickrematunge and many journalists before him were brutally silenced by their opponents, but justice has been long-elusive to their friends, families and loved ones. According to veteran journalist and former Editor of the revolutionary Sinhala weekly Ravaya, Victor Ivan, the killings of journalists such as Wickrematunge speak volumes about Sri Lanka's political decency.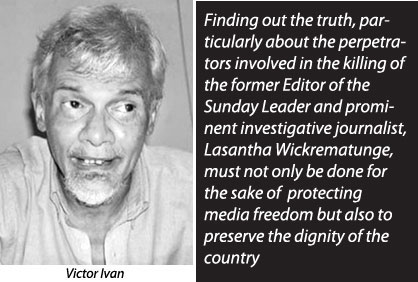 "In the country's past, it was the norm to do away with journalists who were proving to be troublesome," he said adding that "Suppressing the truth about these killings were also, unfortunately, the norm."
However, Ivan said, finding out the truth, particularly about the perpetrators involved in the killing of the former Editor of the Sunday Leader and prominent investigative journalist, Lasantha Wickrematunge, must not only be done for the sake of protecting media freedom but to also preserve the dignity of the country.
He also wants people to be mindful that it was not only Wickrematunge who lost his life in the line of duty. "We also must not forget that it was not only Lasantha who was assassinated in this manner," Ivan said.
Pointing out that many journalists were killed during various regimes in the country's past he alleges that no proper investigations were carried out into any of those killings with many cases remaining unresolved.

"Before Lasantha, Taraki Sivaram was also brutally killed and during the tenure of former President Chandrika Bandaranaike Kumaratunga journalists such as Rohana Kumara lost their lives," he said.
Ivan said that it is the responsibility of both society and the government to delve into these killings in a bid to find the reasons and most importantly, the killers.
While journalists such as Wickrematunge were killed for their courageous writing, Ivan said now there is a question if the media is fulfilling its duty and responsibility to society. "On observation both issues only go to prove that we do not live in a civilised society.
"The duty of the media is at times to act as a teacher to society. However, local media is not fulfilling this duty any more.
Instead, many exist as mere business ventures that continue to deceive the public."
According to Ivan, Sri Lanka is a country that has faced large-scale destruction and damage. "During the tenure of former President Mahinda Rajapaksa and even after his defeat the agenda for many was to dig into acts of terror and corruption which occurred during his time". Ivan said that is all fine but it does not mean such acts did not take place prior to Rajapaksa's time.
"There is no basis to say all these corrupt acts took place during his tenure alone," he said.
While Ivan says terror and corruption may have however increased during the Rajapaksa regime, the country for many years before had a less than decent environment.
Therefore, the veteran journalist said one can only hope that a change in society and the media industry may occur to take the country on a different path.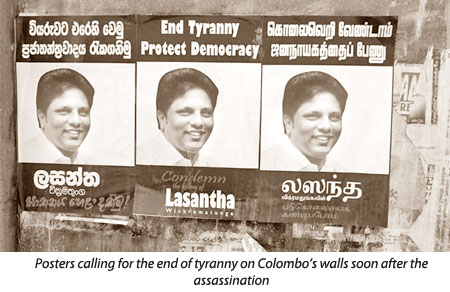 "The media has a great role to play in ensuring the development of society," he said, adding that, however, today the media field is stuck in a rut, merely working along the lines of narrow political interests and agendas. "This keeps the public ill-informed" he said.
As the country remains in what he calls a regressive state making justice still an elusive concept, it is up to the people to make a change.
"For that, we must change our outlook and stop making judgements based on narrow political party or on religious lines".