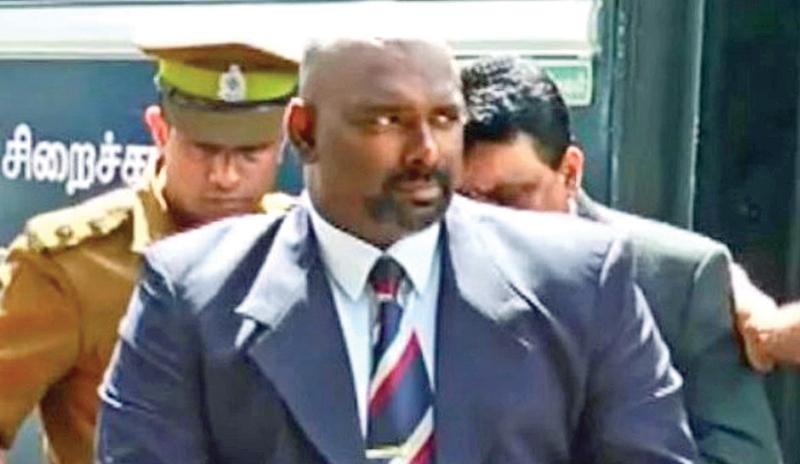 Kasun Pussawela, a journalist and author of '12-11-10 Welikada' which details the horrors that took place in the Welikada Prison was forced to lodge a complaint with the National Authority for the Protection of Victims of Crimes and Witnesses this week following continuous threats and harassment against him.
According to Pussawela, the main suspect of the Welikada prison massacre which left 27 inmates dead, Inspector Neomal Rangajeewa, formerly of the Police Narcotics Bureau has been acting in an intimidating manner towards him, witnesses of the case and their families, especially on social media after he was released on bail by the Court of Appeal on September 26.
Social media intimidation
In his complaint, Pussawela details the various acts of intimidation by Rangajeewa on social media since 2017, while also alleging that the policeman had posted photographs of Pussawela on his Facebook account along with messages that can be deemed as threatening and some can even be construed as death threats.
According to Pussawela, Rangajeewa had meted out similar treatment to witnesses and other activists who have been involved in the case against him.
Despite various threats since 2017, Pussawela said he did not lodge a complaint with the police as they had never been directly made to him.
"I was once informed by a senior journalist, that a main suspect in the case had mentioned I should be killed as what I have written about the case are lies," Pussawela said.
Pussawela
Among the many journalists who have followed the Welikada massacre closely, Pussawela has stood out due to his continuous reporting for the past six years. Fearing no justice will be done, he submitted a complaint to the Human Rights Commision and wrote a book on the incident in 2017.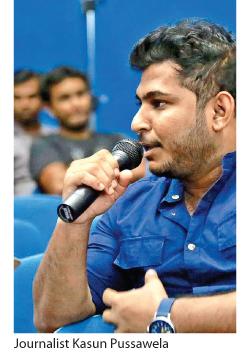 "Even then, many prominent figures attacked me and spread lies on social media claiming the book was concocted and was untrue," Pussawela said adding that they had accused him of being either an NGO or Government stooge.
But it was his article in our sister publication Resa, reporting on the imminent arrest of Emil Ranjan Lamahewage, the Former Commissioner of Prisons and IP Neomal Rangajeewa of the Police Narcotics Bureau who were named as main suspects in the case that earned him the wrath of Rangajeewa.
"Since then he has been attacking me on social media saying I will be dealt with," he said. According to Pussawela, many responses to these posts were threatening as well.
Following the change in government on October 26, Pussawela said, Rangajeewa's indirect threats on social media increased. Posting a lengthy message on Facebook recently regarding his transfer out of the PNB,Rangajeewa ends it saying his opponents will eventually have to plead for mercy.
Complaint
But it was another post that went viral on December 23, that finally moved Pussawela to lodge a complaint. While the writer of the post remains anonymous, it claimed two powerful minister's in the UNF government were being funded by drug dealers and they had paid Pussawela to write against Rangajeewa who has been portrayed as a crusader against the drug trade in Sri Lanka. "He had shared this article and there were comments on it as well" Pussawela claims.
Having had enough, he said he decided to file a complaint in a bid to preserve media freedom, to prevent threats to the court system and witnesses to legal cases.
Pussawela also questions how Rangajeewa was reinstated in his position along with the possible conflict it gives rise to, with him being allowed to continue with his threats and intimidation against those involved in the case.
Pussawela has not been the only person at the receiving end of threats issued by suspects of the Welikada case. In early April, the wife of one of the main witnesses in the case, Chamila Buck, was threatened with a gun by two men. She said a gun was pointed at her head at her residence in Kiribathgoda, with the men cautioning her and threatening to shoot her dead.
Chamila said she has previously been threatened on social media, by a user whose name appeared as 'Ranga' who sent her pictures of her own family which she perceived as a threat.
This incident had occurred several days prior to Rangajeewa and Lamahewage being arrested in March. Following the two arrests, Chamila's house was raided by police in civvies without a legal search warrant. While officers on that day had refused to answer her questions pertaining to the sudden raid she said later, she was told the police had acted on a tip-off that Chamila was brewing illicit liquor.
According to Lawyer Senaka Perera who represents several witnesses in the Welikada case, the house of yet another witness, Sudesh Nandimal Silva was attacked while Perera himself had received a number of threatening calls.
"He is known for using social media to issue threats to others," Perera said adding that these can only be perceived as efforts to discourage activists involved in the case. "Kasun Pussawela has done a great service by writing about the case and the accused know it is people such as him who are pushing this case along," he said.
Perera also lamented the fact that Sri Lanka still has no proper mechanism to protect those such as Pussawela and himself. "We lodged a complaint on a radio program against us to the Witness protection division of the Police," he said adding that two years on theyhave heard nothing from the Police.
But with several other incidents of intimidation being reported against witnesses, lawyers and activists of important criminal cases by the accused suspects, Perera said a protest has been planned to bring these incidents to the notice of the public. According to him the Government too must sit up and take note of these complaints. "If not justice can never prevail," he said.