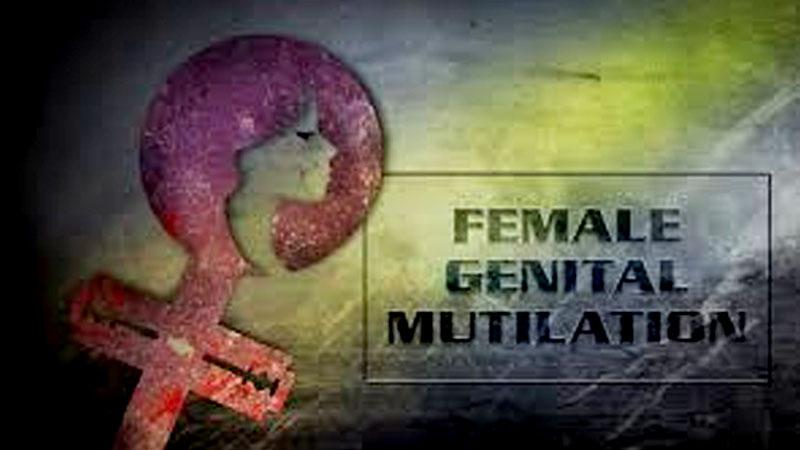 "So, at last I've blurted it out," she tells me, tears streaming down her face. I'm stunned. Let's call her Aysha, though that's not her real name. We have known each other for years, shared our lives, valued each other's opinion, agreed, disagreed and worked together through hard times. A calm persona, I'd never seen this woman in tears, ever. The scars run deep. Against the tirade of emotion charged words, I mumble a feeble sorry. "Whatever the name they call it, it is all the same. However minor they say it is, it is never so for anyone who undergoes it," she continues, "It is a despicable crime." Honoured to be trusted with the 'secret' of her lifetime, weighed down with the task of sharing it with the public, I can only nod.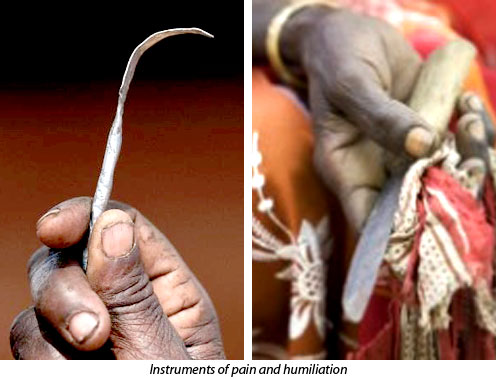 What brought this levelheaded, late fifties woman holding a responsible managerial position to breakdown in tears? Female Circumcision (FC) is also known as Female Genital Cutting (FGC) or Female Genital Mutilation (FGM). It is a highly secretive practice in Sri Lanka mainly among the Moor, Malay and Dawoodi Bohra ethnic communities.
Girls 40 days old to about seven to eight years are chosen to go through this procedure. Some bleed to their death through shock whether it is carried under hygienic conditions or not. Most do not happen under hygienic conditions and are performed by an 'Osthi Maami' an old woman who inherited the charge of the ritual from a previous generation. Survivors suffer from infections and urinary tract problems throughout and undergo a threat to their as well as the infant's life at childbirth. Yet, those who undergo FC/FGM are rendered powerless to complain. With deep seated emotional as well as physical problems they suffer in silence, female sexuality being taboo in the community.
The Parliamentary Sectoral Oversight Committee on Women and Gender (PSOCWG) was a flicker of hope for these silent sufferers who brought their issue before the Committee. Women, though willing to present the suffering of their lives to other women, did not want their identities revealed, for fear of repercussions. "It was a series of confidential hearings of affected women and their representatives by the PSOCWG," says Human Rights activist Shreen Saroor. The findings resulted in the Director General of Health Services issuing a circular to medical practitioners, advising them to refrain from any involvement with the practice of FGM or FGC.
Erroneous belief

His circular, is in accordance with the decision of the global authority on health issues, the World Health Organization (WHO) which identifies "all procedures that involve partial or total removal of the external female genitalia, or other injury to the female genital organs for non-medical reasons," as Female Genital Mutilation. It also warns medical practitioners who hold the "erroneous belief that the procedure is safer when medicalised," not to engage in FGM. According to WHO, FGM while internationally recognised as a violation of the human rights of girls and women is also a violation of the rights of children, as it is often performed on minors. According to WHO, FGM has no health benefits but harms women and girls in many ways, for removing and damaging healthy and normal female genital tissue, interferes with the natural functions of girls' and women's bodies.
Film maker, Fathima Majitha and her colleague (who didn't want to reveal his name) had travelled around the country extensively to produce a documentary on FGM. They have spoken with women and girls who were subjected to FC/FGM and 'Osthi Maami's who perform the ritual. Hygiene is not considered and sterilisation never mentioned in the village communities, explains Majitha. "I've heard some saying that they use their nails. They call is just a 'nick', which bleeds a little and could be cured with eau-de-cologne and powder and sometimes even ash is sprinkled on the wound. Their belief is that this cut allows the inside organ to grow out." However, some women and girls who had gone through the procedure at an older age, reported traumatic memories of blood and pain and of being violently pinned down while the privacy of their bodies were being violated and which had left deep etched emotional scars, she commented.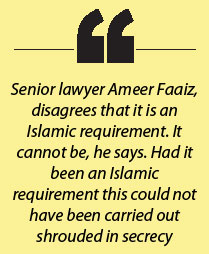 FC/FGM is mistakenly identified as an Islamic practice. Mainstream scholars of Islamic thought have long ago declared it as a practice which has nothing to do with Islam, reveals Majitha's colleague. A trend had started among conservative factions belonging to the Shafi tradition of Islam of pushing this practice through society. "In some parts of the island, with predominant Shafi ideology this practice prevails extensively. On the other hand, in the Wahhabist dominated ideological arena this particular practice is dying. According to their understanding of Islam, which they proudly declare as an unadulterated version of Islam, this is considered as Bidah (a practice the Prophet didn't permit.) This is the most ironical part of this phenomenon," he adds.
Senior lawyer Ameer Faaiz, disagrees that it is an Islamic requirement. It cannot be, he says. Had it been an Islamic requirement this could not have been carried out shrouded in secrecy as we have come to know now. This father of a 16-year-old daughter and elder brother to two sisters says that he never experienced this 'Islamic female circumcision' being practised within his household.
Although he is aware of many friends and relatives with daughters and sisters where FGM has never been part of the household, of late, Faaiz has learnt that despite not being a religious requirement that this practice has crept into some sections of the Muslim community and has been carried out very quietly. The fact that secrecy is associated with this practice reveals that there is something that is not right with that practice, he adds. Further, a mutilation cannot obviously be an Islamic requirement, he says.
Nevertheless, some all male and male dominated groups such as the All Ceylon Young Muslim Men's Association Conference (ACYMMAC), All Ceylon Jamiyathul Ulama (ACJU), Centre for Islamic Studies (CIS) and United Religions Initiative (URI) came forward recently requesting the Ministry of Health to withdraw the said circular, claiming that FC is not FGM. They wanted FC/FGM to be recognised as a medicalised practice claiming it similar to 'hoodectomy' "a legal cosmetic procedure chosen by women to improve genital hygiene and enhance their sex lives".
Hoodectomy is a cosmetic surgical procedure available in some countries to improve the aesthetic appearance of the external female genitalia. The surgery is available for adult females who can give their informed consent for the procedure. Interestingly, those who opt for hoodectomy are women who feel that the appearance has changed due to aging and childbirth; women with enlarged external genitalia unhappy with the appearance and women who find it very difficult to achieve orgasm due to little stimulation of the clitoral node.
The question is how ethical is it to force such procedure upon infants and children who neither understand nor are able to give informed consent for such practices.
Further, two renowned medical professionals in the country, Prof. A.H. Sheriffdeen, Emeritus Professor of Surgery and Dr. Ruvaiz Haniffa, Head, Family Medicine Unit, Faculty of Medicine, both from the Islamic community refuted the medical myths and errors presented by the advocates of FC/FGM in a recent newspaper article. They pointed out that what applies to males need not necessarily be applied to females as there is a huge difference between male and female genital anatomy in structure, function and susceptibility to diseases. Unlike male sexual genitalia, the external female genitalia does not get involved in sexual activity and therefore FC/FGM plays no part in protecting them from sexually transmitted diseases, or from urinary tract infections. FC/FGM is not a way to cleanliness eradicating smegma and unpleasant smells while removing the clitoris has hardly any effect on that, the two medical professionals pointed out.
Though promoted under the pretext of religion, the true nature of FC/FGM could be seen through the life of Aysha and others like her. "I lost my first two children at the last moment," she says. The pain of losing a child is something a mother carries to the grave. FC/FGM brings a lifetime of suffering to those who have undergone it.
Yet, why do men clamour for the genital mutilation of women? Whether one accepts it or not, FC/FGM has been a form of extreme control of female sexuality for time immemorial.
The origins of FC/FGM pre-dates Islam by centuries. While some researchers trace FC/FGM to Egypt in the fifth-century BC, others extend it about another thousand years to early Egyptian prosperity, where slave trade was rampant with Egyptians raiding the known world, those countries on the west coast of the Red Sea for slaves. Female slaves, especially young and virile girls were subjected to the most severe forms of FGM such as stitching the external genitalia together to stop them from engaging in sexual activity.
Ensuring chastity
The act ensuring chastity made them more desirable purchases for slave masters and fetched higher prices. Other tribal communities in Africa and Arabia who sent their women out shepherding their flocks cut the external female genitalia in varied proportions, totally or partially removing the clitoris and over exposing the nerves so that sexual intercourse became extremely painful. This was a way of stopping them from engaging in sexual acts.
FC/FGM is an "extreme form of discrimination against women reflecting deep-rooted inequality between sexes," states the WHO rightfully.
In such a context, it is our collective responsibility to discern whether such practice need continue on our land.
"The State should criminalise and administratively respond to the practice of female genital cutting and send a clear and strong message that the practice is illegal, harmful and is considered child abuse and a violation of the bodily integrity of girl children and women," says activist Shreen Saroor.
Unless we act now and abolish this archaic practice and step forward, to grant justice long overdue to a section of women in this country, they would be dragged hundreds of steps backwards by the knaves and slaves of the bearded men.