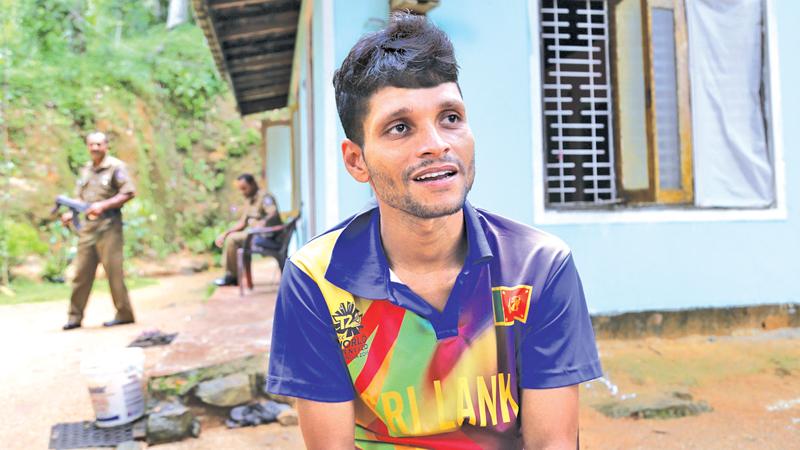 ALAWWA: Deep inside a rubber estate in a village near Alawwa a man clad in a shirt and sarong appears to be clearing a pathway with a mammoti.
Just a few feet away out of sight an armed Police Constable keeps a constant watch, while another stands guard near his home accessible only by a steep, narrow footpath.
The man going about his usual business under Police protection is Namal Kumara, former Police informant and the now self-styled Director (Operations) of the Anti-Corruption Force.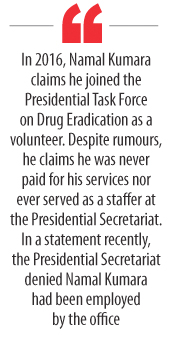 Having recently made shocking revelations regarding alleged assassination plots to kill several prominent figures in the country including President Maithripala Sirisena Kumara is now back in his village, while the political firmament continues to be in turmoil over serious allegations made by him against former Director of the Terrorist Investigation Division (TID) DIG Nalaka De Silva and an individual identified as Thushara Peiris, the Director of the movie 'Prabhakaran' currently believed to be living in France.
As the country struggles to make sense of the allegations and continued investigations, behind the alleged assassination plot is also a story of double-crossing and betrayal by all actors involved in this unfolding saga.
While the accusations have led to the downfall of the once powerful but unpopular TID director, the possible future fate of Peiris remains unknown.
Prior to September 12, when Namal Kumara first held a press briefing to reveal what he calls a plot to destroy Sri Lanka by various elements and DIG De Silva's corrupt practices he was almost unheard of.
A figure previously known mostly among nationalist groups, he has now been thrust into the limelight. But his sketchy past has cast a doubt on his claims while others have questioned his mental state. Addressing a press briefing this week, Presidential Advisor Shiral Lakthilake insisted the allegations deserve deep and credible investigations, irrespective of the background of the complainant. He warned about a political hand behind moves to 'trivialise' the alleged plot.
"I saw reports in the media of political factions referring to the story as 'bogus' or 'cooked up', it may be true but it is not up to us to decide," he said addressing journalists at the Nippon Hotel in Colombo on Thursday, October 18.
Political and diplomatic ripples
The alleged plot also created major political and diplomatic ripples earlier in the week, after remarks attributed to President Sirisena at the weekly Cabinet briefing about a RAW involvement in the conspiracy – followed by a flurry of denials by the Government the next day – which made it to the front page of The Hindu newspaper in India.
But all this is far removed from the Alawwa village where Namal Kumara is busy tending his garden the day we visit.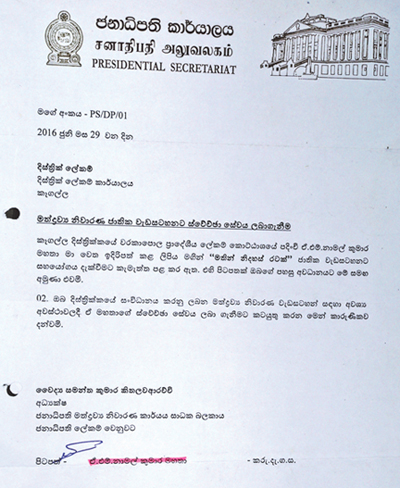 Letter in Namal Kumara's possession nominating him as a volunteer by the Task Force on drug eradication
Born in Maha Oya, Ampara the 32-year-old likes to portray himself as a social worker and crusader of justice. Schooled at Borapola Vidyalaya in Maha Oya Namal claims he first came to Colombo just aged 17 and did various odd jobs including working in a hardware shop and several private security firms.
In a startling revelation, Kumara also claimed that while working in one private security firm after 2005, he was assigned to work at the Associated Newspapers of Ceylon Ltd. (Lake House), the home of this newspaper. In less than a month on a request made by the then Director of Operations at ANCL, Upul Dissanayake, cousin and one time Media Secretary of Former President Mahinda Rajapaksa, Namal says he went on to work as a security officer at Dissanayake's residence. "When the organisation changed security firms I left and have had no contact with Dissanayake since" he claims.
Denying he was ever in the armed forces as claimed, Namal clarifies it was his twin brother who joined the Army and died in action years ago.
Marrying in 2014, Namal moves to Karanda, his wife's village. Seeing issues such as illicit drugs and liquor plaguing the village Namal says he was pushed to take action. He speaks at length of various steps taken by him to put a stop to these vices in Karanda and other social work such as constructing a temple for the village. But what he does not speak of is his connections to various extremist Sinhala nationalist organisations and key figures in the movement such as the notorious Dan Priyasad.
In 2016, Namal Kumara claims he joined the Presidential Task Force on Drug Eradication as a volunteer. Despite rumours, he claims he was never paid for his services nor ever served as a staffer at the Presidential Secretariat. He presents a letter by Director of the Task Force, Dr Samantha Kumara Kithalawarachchi seen by the Sunday Observer as proof to this claim. "I may have signed and taken up to Rs. 2000 on several occasions as petty cash to conduct awareness campaigns, but that was it," he says.
In a statement recently, the Presidential Secretariat denied Namal Kumara had been employed by the office.
To go back to the very beginning, it all started when Thushara Peiris, the sinister figure that features heavily in the second audio recording released by Namal Kumara, purportedly began discussing a plot to create a guerrilla organisation in Sri Lanka to create racial discord. Peiris, the director of the film 'Prabhakaran', allegedly lives in France.
Namal Kumara claims Peiris reached out to him in August 2017, through the social media network Facebook. According to Kumara, Peiris may have been scouting for a person "capable of executing these plans" and seemed to have chosen him. "I had many people with me by that time and I was actively involved in social work so maybe he trusted I could help him" Namal claims.
In the released recordings, a man who Namal identifies as Thushara Peiris could be heard asking Namal to secure weapons for an attack on a prominent Muslim politician in Ampara. In the conversation, Peiris talked about how to secure C4 explosives and 6 pistols for the 'operation'. While the Muslim MP's name was never mentioned, speculation has been rife that the Parliamentarian in question could be Industries Minister Rishad Bathiudeen.
"What he said alarmed me and I realised if I don't play along he will reach out to another and carry out these plans to ruin this country," Namal explains.
Insisting he had nothing but good intentions, he says he reached out to IGP Pujith Jayasundara in September 2017 to inform him of these acts of terror being planned by Peiris. IGP Jayasundara put him in touch with TID Director DIG de Silva and Namal Kumara assumes a new role as police informant. As an informant, Kumara became a double agent, in more ways than one.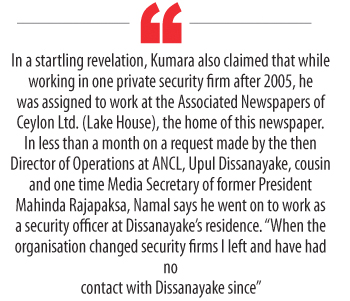 "The first day I went to meet him he removed my name from the visitors log after hearing what I had to say, perhaps understanding its gravity," Namal says. By October 2017 Namal was already working closely with the Police. Moving among Sinhala nationalist groups and working together with characters such as Dan Priyasad of the 'Sinhale Nationalist Organisation', unknown to them Namal helped DIG De Silva to nab Priyasad along with several others who were wanted in connection to the attack on Rohingya refugees that same month. Despite being a close confidant of Arambepola Rathanasara Thera Namal admits it was he who turned the controversial Buddhist monk into the Police at the request of DIG De Silva for the same case.
"DIG De Silva began trusting me after this," he says. Namal claims he also eventually helped the Police to locate Amith Weerasinghe, the suspect of the Teldeniya attacks this year.
Awarded cash rewards of Rs. 500,000 and Rs. 600,000 for his work as a police informant, now Namal Kumara rubbishes claims that De Silva currently owes him any money. "We had no money dealings," he asserts. However, in a newspaper interview earlier this month, Kumara claimed cheques written to DIG De Silva had been handed over to him. Namal claims, in fact, he and his family have lost everything through his work instead. Showing letters sent by banks regarding him defaulting loans and pawned jewellery about to be seized, he claims he did not make any substantial gains. "I was not able to hold down a job due to Police work and even now have no job," he claims. The rewards he received went towards settling his debts.
Maintaining contact with Peiris on the advice of DIG De Silva, he says since September 2017 he met the top cop several times a week to provide information. Namal , now a close confidant of Silva, the DIG spoke freely to him regarding various other Police top brass and certain politicians in the country.
"He seemed to have a personal grudge with former Director of the TID, Rtd. DIG C.N Wakishta," Namal says adding that he spoke about destroying two officers ASP Prasanna Alwis of the Colombo Crimes Division and OIC Warakapola CI H.H Janakantha who he said claimed were Wakishta's henchmen. "He asked me to finish off Alwis and said he will provide the weapons," Namal continues to make wild claims.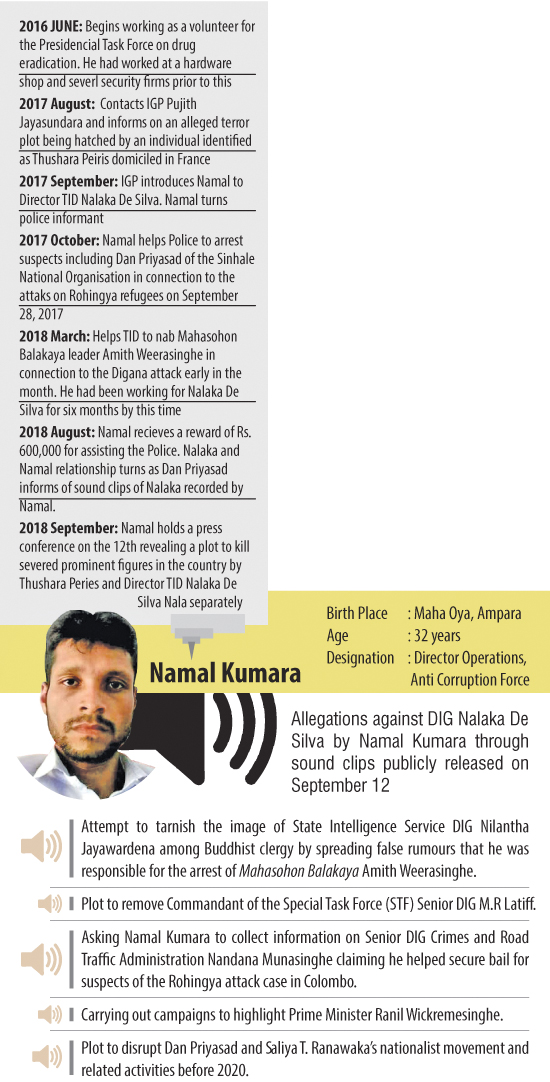 In some recordings, a male voice, similar to that of De Silva's can be heard telling Namal that steps must be taken to bring down other powerful Police Officers such as Commandant of the Special Task Force, Senior DIG M.R Latiff as well as Senior DIG Crime and Traffic Administration Nandana Munasinghe. "He is the other troublemaker," the voice can be heard saying. Referring to Latiff, the voice says "He must be removed from that seat, he will have no power then".
Namal Kumara speculates that DIG de Silva wanted to carry out mud-slinging campaign against these senior cops so that the path could be cleared for him to become the head of the State Intelligence Service (SIS) once DIG Nilantha Jayawardena was removed. Assassination plot aside, Police sources say it is believable that DIG De Silva made such utterances. As head of the TID, DIG De Silva had sweeping powers of surveillance and almost unlimited resources at his disposal. Well known in the Police Department to be an ambitious Policeman, with dreams to become the IGP someday, he has been an unpopular character within the force for a while. Accused of tracing and tapping the telephones of Police top brass and politicians through a TID branch run in Epitamulla, Kotte, sources told Sunday Observer that DIG De Silva had also checked the phone records of CI H.H Janakantha and other officers he had personal issues with several times.
Despite De Silva's claims of Alwis being a stooge of Wakishta, sources say the real reason behind the grudge was Alwis's decision to complain against DIG Nalaka De Silva to the National Police Commission claiming he did not have the necessary education nor physical requirements to join the Police force and had fraudulently entered the service as a result.
It was Alwis who provides the proof for these allegations by presenting copies of the fake education qualifications and physical details presented by De Silva at the time. While the complaint was made by Alwis along with DIG Ranmal Kodithuwakku and DIG Priyantha Weerasooriya, highly placed sources say De Silva had also ordered mudslinging campaigns against these officers.
Assassination plot
For Namal's part, it was not the internecine cop wars that bothered him, but when DIG De Silva allegedly tried to hatch a plot to assassinate President Sirisena and former Defence Secretary Gotabaya Rajapaksa using agents of underworld kingpin Makandure Madush, things took an alarming turn.
But while Namal Kumara has provided the Criminal Investigations Department (CID) with 24 audio clips including that of several conversations he had with DIG Nalaka De Silva, Namal says he does not possess recordings to prove this particular claim. According to the CID B report on the investigation into the alleged assassination plot, the recordings that were submitted for analysis by the Government Analyst's Department were mostly recorded when the pair were travelling together in a vehicle, and not recordings of telephone conversations.
When DIG De Silva found out Namal Kumara was recording their conversations in August 2018, and learned of several Facebook messages Namal Kumara had sent out regarding the TID Director's corruption, their relationship soured, says the man responsible for placing the top cop at the centre of a political and criminal storm.
Outed by Dan Priyasad to De Silva after Namal allowed him to listen to one such sound clip, he says the DIG on several instances threatened him and also informed him to not reach out to him again.
"At the time I felt worried and deleted most of the proof I had on my phone" he claims adding that he made an immediate decision to hold a reveal all press briefing before he was harmed. Most conversations he says, were not recorded.
"We would be having a normal conversation and he would say something shocking suddenly but I had no way to record at the time," he says admitting he has no recordings to prove some claims being made by him. "I met him almost every day so how can I record all that without him becoming suspicious," he asks.
While the audio clips are now to be sent abroad to further analysis as investigations continue, this week DIG Nalaka De Silva was summoned to the CID. Despite reports of an imminent arrest, he was let off creating doubts if the provided sound clips are sufficient proof to ascertain the alleged assassination plots and other claims being made by Namal Kumara.
Meanwhile, calls have also been mounting to conduct investigations against Namal Kumara for his involvement in the plots. Prof. G.L Peiris of the Sri Lanka Podujana Peramuna was quoted as saying that clearly, Namal Kumara had also collaborated in the plot. According to an independent criminal law expert, there is a possibility of Namal too being implicated.
Namal says he however is not afraid. "I revealed all so how can I be implicated," he says adding that having seen death during the war years he is now unafraid. "DIG De Silva can continue to be the way he is but the Police must not forget Thushara Peiris and his plots as he continues to operate even today in a bid to destroy Sri Lanka," he warns.