Astoria, Colombo, is a massive building under construction, in front of Mahanama College, in Kollupitiya.To the right of the building there is a pandal-shaped gate with the name,CHINA STATE CONSTRUCTION ENGRG. CORPORATION. LTD. We stepped out of the van and approached the construction site.
It was around 5.30 in the evening. Chinese workers who had finished their work for the day were checking out from their work site. They scanned their fingers on the time keeping machine and stepped out of the site speaking in loud voices. We greeted them, Ni Hao (Hello in Chinese) and moved closer to a group of the Chinese workers. They smiled and returned our greeting, Ni Hao, Ni Hao. Making use of a few Chinese words that we collected from the internet, we asked them whether they could speak English or Sinhala."No English. Wo men Shuo HanYu (No English, we only speak Chinese). So, we were right in thinking that the Chinese could not speak Sinhala or English. We started a conversation using the few Chinese words gathered from the internet and jotted down in my note book, and also using hand signs. It then occurred to us that they were ordinary workers, after a hard day's labour, with patches of cement and limestone marks on their uniforms. Most of them had arrived at this construction site a few months ago. "What do you normally eat?" we asked.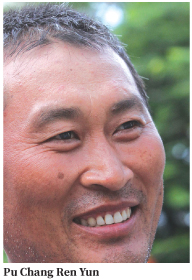 Wo men qi Baifan (we usually eat some white rice) said, one of the workers patting his tummy. Some well-groomed Lankans were coming out of their air-conditioned offices at that time. They came with long faces, as though the world was not treating them well, whereas, these Chinese workers after a 10 hour long tough work schedule were just chilling out, cracking jokes with one another, in loud voices." You all seem to be happy…" we said. In response they just laughed as they couldn't understand what we said in English.
In the past, many Chinese came to Sri Lanka for various business activities. The Chinese dentists were some of the first to arrive in the country. To this day, one could see Chinese dentists in Colombo and other major cities in the country. Later on, the Chinese who came to Sri Lanka as textile traders had set up shops at Maradana, as well as in Kandy. In those days, we seldom met even two or three Chinese in Colombo.
"I came to Sri Lanka about a year ago. There are many Chinese workers with me at this construction site, and as such I find it easy to do my job," said a Chinese worker named, Hong Chua, who had acquired a smattering of English.
"We have to work 10 hours a day. We are paid a daily wage of Rs. 1,000 and food. Accommodation is provided free of charge. So, we are okay" Hong Chua said.
Our next stop was W.A.D. Ramanayaka Mawatha, just behind the Gangaramaya temple. A large multi storied building is being built there, where the Excise Department Office had been located a few months ago. There were around seven to eight Chinese workers, sitting on the pavement. Two of them were chatting with each other, while the others were busy with their mobile phones.
Yèhioshēnle
Zhichuānglizěn meliàngzhe
A Chinese song was played on one of the mobile phones with no headphone connected.
We came closer to the two men chatting, who we guessed to be in their 40s. They began to smile, making their already small eyes even smaller. "My name is Sun Zhou. This is Son Chua" He introduced himself and his friend.
"What are you guys doing here on the pavement?" we asked.
"Our work is over. Now we have to wait for our bus to pick us up."
Sun Zhou said they were staying in a house at Malabe. Each morning, they arrived at their work site by bus and would return by bus in the evening. More than 50 Chinese workers, attached to numerous workplaces around Colombo used the shuttle service. While many workers were sitting on the floor, we approached a lonely Chinese, waiting for the bus.
"We are from a newspaper. Would you like to have a quick chat with us? "
"Yes, of course!" Pu Chang Ren Yun said. He had been working in Sri Lanka for over 15 years, now. He first arrived as a worker and was now a supervisor.
"How old are you" we posed the question.
"Forty-six" he answered in Sinhalese.
"Do you speak Sinhala?"
"A little bit," he laughed.
It was not surprising, that he could speak Sinhala having been in Sri Lanka for the past 15 years. In 2003, Pu Chang had come for the Millennium City project in Athurugiriya and subsequently worked in Trincomalee, Muttur, Puttalam, the Hambanthota Port and the Mattala Airport.
Today, there are 12 Chinese workers at the site he is attached to. They all stay at Malabe. He says, they are paid their wages every three months. When asked about the salary, he burst out laughing and said, "We are paid at Chinese rates." That's all he wanted to share about his salary.
There are rumours that Chinese prisoners are sent to countries like Sri Lanka as a burden relief to the Chinese government. We asked Pu Chang about it.
"That's not true. I don't know anything as such" he answered.
They prepare their own food at their lodging. Noodles, in addition to rice, is their main food, together with chicken and some vegetables.
"What is your opinion about Sri Lanka?"
"Sri Lanka is good. A very good country, indeed. Your people are genuine", Pu Chan, explained how he feels about Sri Lanka.
We also understood that many Chinese workers who come to Sri Lanka are from the rural areas of Mainland China. The Chinese workers had their families in their homeland where they see them probably after a year. Some workers are not going back again, they say.
We contacted Mr. Wang, a manager of a Chinese manpower agency over the phone. "Not only Chinese.We have local workers also", he said. When inquired about accommodation for them, he said, they have been successful in providing them with better lodging. "In the past, they had been living in shanty houses. But now we have given them better houses in areas like Ja-Ela and Malabe,"said Wang.
After a while, a big bus full of Chinese workers arrived and those waiting got in hurriedly and set off.
According to C. Hettiarachchi, Controller of Visa and Border Control at the Department of Immigration and Emigration, there are around 8,000 Chinese workers currently in Sri Lanka. However, Eng. Nishshanka Wijeratne, CEO Chamber of Construction Industry, Sri Lanka, pointed out that there is plenty of room for illegal employment in the country as a result of the tourist visa system.
During our tour around Colombo we found that these Chinese workers are very friendly. But their inability to speak any language other than Chinese (Mandarin) seems to be a hindrance to their communication with the locals.