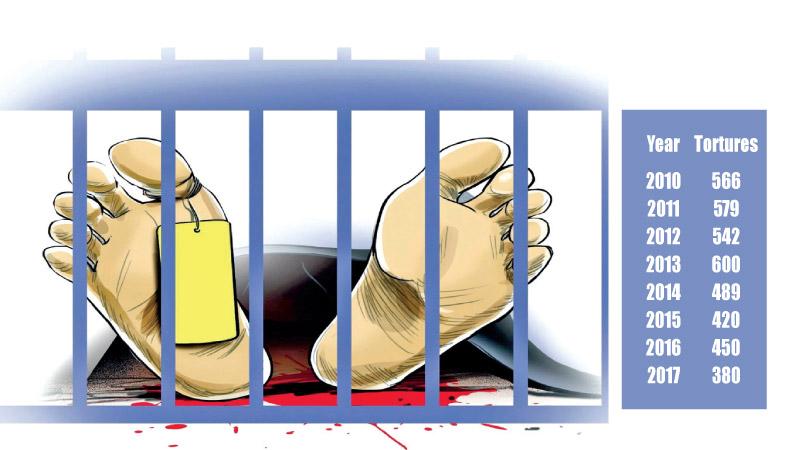 Last weekend's shooting of the main suspect in the Matara jewellery heist while in police custody has brought the subject of extra-judicial action on the part of the country's law-enforcement and its implications for rule of law and due process back into the limelight
The Human Rights Commission of Sri Lanka has commenced investigations into the death of the suspect involved in an armed robbery, who was shot and killed while in police custody, last week.
"A team of investigators has already been sent to Matara. Action will be taken to hold a fair and independent investigation on this incident," HRCSL Chairperson, Dr Deepika Udugama, told the Sunday Observer.
On Friday, police officers in Matara responded to an emergency call about a robbery taking place at a jewellery shop in town. The robbers were heavily armed with automatic weapons and a gunfight ensued when police officers arrived at the scene while the robbery was still underway. Police Sergeant Suranga Pradeep Weerasinghe (36), was gunned down during the incident, while he was attempting to stop the robbers from making an escape. Two civilians were also injured. The policeman killed in the gunfight was a former member of the Special Task Force (STF).
The main suspect in the robbery, Chamara Indrajith who was shot dead last Saturday (23), was arrested by the Police, a few hours after the incident while in hiding, in a house in the Hunukotuwa area.
The next day, Indrajith was shot dead while in police custody. Soon afterwards a familiar story unfolded about how the suspect's death had come about.
Police Spokesman ASP Ruwan Gunasekera said, the suspect had been taken to a place identified as 'Kirala Kale' to uncover a bag carrying clothes and other equipment used in the robbery. However, soon after the suspect found the bag he had retrieved a hand grenade from it and attempted to throw it at the police officers, which resulted in an officer firing at the suspect inflicting injuries resulting in his death, the police report on the incident claimed. The police had been compelled to shoot him, ASP Gunesekera said, adding as a disclaimer, that Indrajith was a suspect in several other major crimes.
In recent years, dozens of suspects have been shot and killed in police custody – most of them hardened criminals and members of the underworld, but none of them convicted of a crime by a court of law. Each time, the police justification of the shootings takes an eerily similar turn. Suspects are usually shot by police officials while leading them to a hideout of weapons or looted goods. On the way or while there the suspect suddenly finds a concealed weapon and turns it on the cops. Another famous narrative involves the suspect jumping into a river or a lake and drowning while leading police officials to some piece of evidence. Magisterial inquiries into these deaths rarely reveal anything. The public never learns if the suspects were handcuffed, or what the ballistics reports and bullet trajectories indicate. The public accept these extra-judicial killings as par-for-the-course – that most of the suspects/victims were well-known criminals, and probably deserved this fate.
Some 30 years ago, iconic JVP Founder Rohana Wijeweera, who led two youth insurrections against the State in 1971 and 1987-89, was arrested in October 1989. A month later, he was shot dead while in custody. At the time the Sri Lanka army said Wijeweera had been shot in a confrontation between members of the JVP and the military when he was being taken by the army under custody, to help locate a JVP safe-house.
Operating in the fog of civil war and two insurgencies, for law enforcement agencies, forced to explain deaths in custody, this narrative has become a tale as old as time.
Sri Lanka's Police Department is 151 years old, but its conduct remains as mired in controversy and corruption as ever. According to HRCSL, 90 percent of torture complaints were levelled against the police, the public's first encounter with the country's laws. Each year, police torture figures are in the hundreds. [See table].
The list of custodial deaths is long and no real aggregation of these incidents has been performed.
In a historic judgment in 2014, against five police officials who killed two young men in Angulana, Moratuwa in 2009, the Supreme Court affirmed the death sentence delivered by a High Court Trial-at-Bar. "When a person is detained, he is merely a suspect; he has not been found guilty according to the laws of the country," the Supreme Court said in its verdict.
But many other cases have never been investigated.
In its report on the Angulana double murder, the Human Rights Commission of Sri Lanka said: "The police investigations should be held only to find out whether it is a matter for the courts and not to the police to decide whether he is guilty or not."
The Police Department Standing Order A20 guarantees the safety of those in police custody, despite this order being given scant regard historically. The order states, "a person in police custody is different from a convict and as such his safety has to be looked into.'
Standing order No. 2(A) states, 'Before or after a person is taken into custody, where it is necessary to use force, such force has to be proportionate.' Section 4(I) states, 'unless there is a compelling reason a person in police custody should not be taken out for any investigation. Where it is necessary to take him out for investigations, there should be adequate security to ensure his safety.' Section 8(B) states, 'where there is a possibility that the suspect might escape or become hostile, care must be taken to provide sufficient security.' 8(E) states, 'Police officers escorting those in their custody should not leave them alone but be present close to them, so that they can be brought under control.'
Time and again these orders are flouted.
Speaking to the Sunday Observer, an HRCSL Investigator said that the guilty have gone unpunished for a long time. "Police officers resort to torture to settle their personal issues," a report by the Human Rights Commission states. According to the report, there have been three deaths in police custody in 2012, three in 2013, four in 2014 and seven in 2015.
Soon after last Saturday's custodial death, President's Counsel Saliya Pieris – a former Commissioner of the Human Rights Commission of Sri Lanka – told the Sunday Observer that the law must provide for an immediate independent investigation whenever a death occurs in police custody. "There should be no room for extra-judicial killings in this country," Pieris said. "A suspect in police custody, taken to recover something suddenly hurls a grenade taken from thin air and is promptly shot dead," he added.
The Centre for Policy Alternatives has called on the IGP to take full responsibility for the death of a person under the custody of the police and requested independent institutions such as the National Police Commission and the National Human Rights Commission to investigate the shooting.
"These incidents are evocative of a time when excessive force and extrajudicial practices was commonplace, with a complete disregard towards the guarantees provided in the Constitution of Sri Lanka and procedural safeguards. In the absence of swift action where the rule of law is upheld, we fear a slide back towards a society engulfed in violence with a thriving culture of impunity," the CPA said in its statement.