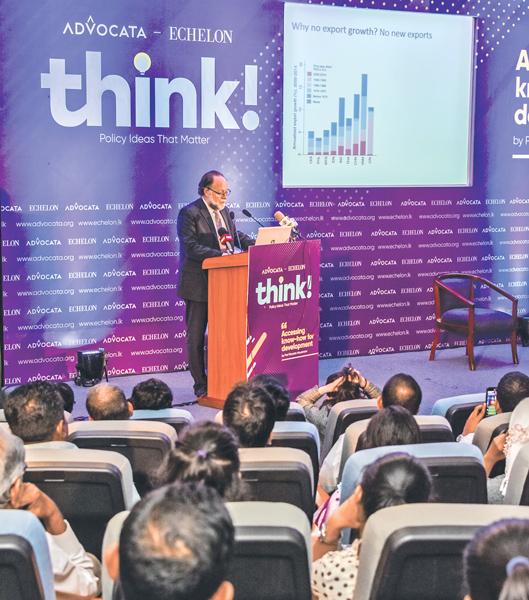 Sri Lanka has the potential to accelerate its economic growth by creating access to know-how through liberalised immigration policies, opines a renowned expert on development economics.
Addressing a recent lecture on the topic of 'Accessing know-how for development', Director of Centre for International Development (CID) at Harvard University, Prof. Ricardo Hausmann says the low addition of new products to the island's export basket in the last two decades was primarily due to the barriers in immigration laws and coupled by the low rate of growth in Foreign Direct Investments.
"With the talent you have, you have the country you have. But with the talent you have, you cannot create the country you want to have. To have the country you want to have, you have to compete for talent," the Professor advocated.
Pointing out that 'immigration policy is the lowest hanging fruit in the developing world', Dr. Ricardo Hausmann highlighted that while many countries have barriers to immigration, those barriers are, however, biased towards the high skill and not the low skill.
"Sri Lanka is characterised by the amazingly low rate of immigration and low rate of FDI growth. In the US, for every seven people you stop on the street, you would find that one is a foreigner. In Singapore, for every 2.2 people you meet, one is a foreigner, which means almost half the people are migrants. But in Sri Lanka, for every 535 people you meet only one is a foreigner," he said.
Arguing that immigration is the cheapest and fastest way to increase innovation and make Sri Lanka a stronger country, he said that this is because it is often easier to move brains to new countries than to move new know-how into brains.
"A society knows more not because individuals know more, but they know different," Dr. Hausmann said, noting that in the experiences of countries such as Singapore, India, Vietnam and most other dynamic economies, three channels of know-how transfer stand out: FDI, immigration and diaspora networks,
On the other hand, the Professor observed that economies could only grow by adding new products and services to their production portfolio, and not by producing more of the same kinds of products.
The key to such diversification is access to know-how, but know-how often has to come from abroad, he said.
"Since year 2000, Vietnam added 48 new products which represented US$ 50.4bn of new exports and US$545 bn of exports per capita. On the other hand, Thailand added 70 products, China – 76 products representing several hundreds of Dollars per capita. But in Sri Lanka you have added a mere seven products representing US$ 5 per capita," the Professor emphasised noting that in countries like India, Thailand and Vietnam, there had been significant contribution to export growth generated by new products which fueled growth when compared to Sri Lanka.
The lecture by Prof. Hausmann was organized by Advocata Institute, an independent free-market policy think tank based in Colombo. Before joining the faculty at Harvard, Prof. Hausmann was the Chief Economist of the Inter-American Development Bank (1994-2000), where he created the Research Department.
He has served as Minister of Planning of Venezuela (1992-1993) and as a member of the Board of the Central Bank of Venezuela. He also served as Chair of the IMF-World Bank Development Committee. He holds a PhD in economics from Cornell University.