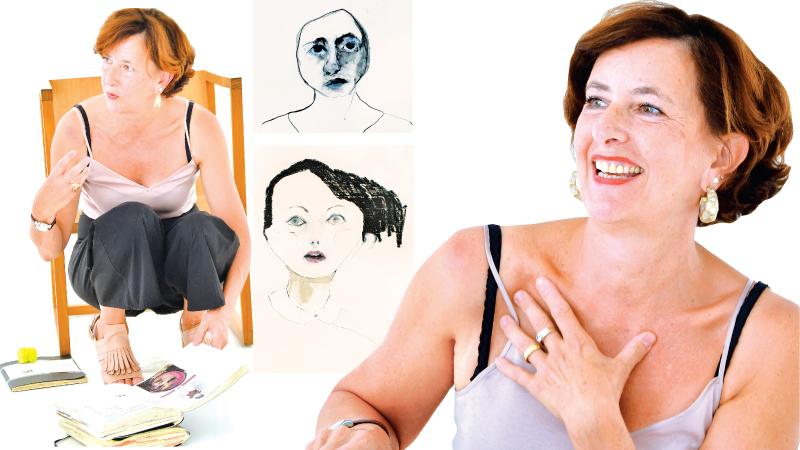 "I think we all have empathy. We may not have enough courage to display it." - Maya Angelou
Courageous, is who she is. Intense, arresting, overwhelming, "My paintings are an intimate study of the people around me," says Fabienne Francotte. 'It's Like Someone Took My Soul' is her minuscule effort restoring the souls of those who have lost theirs.
Resilience, respect and warm and easy mannerism is what had attracted her to the people of Sri Lanka. However, besides the ever present smiles and warmth, lurks a fount of emotions yearning to be poured out, she thinks. The people who have suffered a lot are, "unable to talk about it… and enjoy the opening doors of Sri Lanka today. It is all inside and they are very brave and courageous, I think they never complain, never." What this Belgian artist tries to show through her paintings is empathy, identifying with them to give voice to the voiceless, to focus on the invisible, anonymous individual inside, screaming to be released.
A 'self-taught' artist, her aptitude for drawing and painting was discovered accidentally, through her efforts to express herself, says Fabienne. Going through a difficult period of life at the time, she had taken up calligraphy not exactly as a form of beautiful handwriting to follow with precision, but rather, "leaving stains on a piece of paper as a way of expression." However, later on she had studied collage. Her expression through human portraits developed "slowly, first drawing bodies strong and able, then faces, through the eyes, portraying the souls of people." She stands on the premise that the eyes bear the soul. Being a teacher for 15 years, had taught her that "you don't need to speak the same language to understand someone, body language speaks louder."
Though restoring the missing pieces in the lives of people is a complex task, "Whatever we do if it is connected with people I mean just having that kind of not sympathy but empathy, is something that will last forever in their mind. I'm just concentrated more than ever on people." It was this and her willingness to use her spare time to benefit others, that had brought her to the National Institute of Mental Health (NIMH) and to the Siviraja Children's Development Centre, volunteering as an Occupational Therapist. Starting her work at the adolescent and female forensic wards at NIMH, she had now moved on to support the rehabilitation unit as well. "I see it more as a time for them to laugh, eat cookies and have an open space to express themselves," says Fabienne, stressing that she has "no conclusions about patients. I see them as human beings." Her sessions at NIMH allows the freedom for people to draw, "whatever they want or even to just sit and watch. Usually, if I present something, to say, 25 people, I get 25 different expressions," she points out. However, a note of triumph slinks in to her voice when she talks about the person who had been sitting there for eight months. "After eight months, she got the courage to move on to the table to draw," she declares with joy. At the Siviraja Centre it had been easier, as her experience with children helped in connecting with them. They had been receptive and had produced numerous creations.
Though she had some inspiration for a few drawings through her volunteerism in Sri Lanka, what she portraits is, "never one individual but many," emphasizes Fabienne. "People I have met, from all walks of life, the ordinary people as well as those from high society," are intertwined in the portraits. Her creations depict the 'soul' of the difficult and conflicting issues of today's Sri Lankan society, such as, "school and education; dreams and weddings; sex and business; silence and fear; courage and dedication; as well as religion and tolerance".
It seems as if she had fallen in love with the people of the country. Sri Lanka is a place which she will find difficult to leave, says Fabienne. "Most exciting is, behind the 'chaos' there is hope. Besides all the problems, there is lightness. Inside, there is life, vigour and freedom, same as you find in nature."
So, as an artist with her focus on people, where does she see hope for Sri Lanka's future? It is to empower the youth of the country, says Fabienne. "They need to be inspired. Nobody gives dreams high goals in life or challenge them. They are confused and show apathy because they have to do the same things their fathers and grandfathers did. If you believe in people they do it. If you challenge them, they will go forward. Notwithstanding the differences in societal strata, age, gender or other differences anyone would do the same." Who the Sri Lankan society concentrates on now, are the elderly. Though educated and able, they have less time to contribute back to society. With a history of colonialism and a civil war of three decades, the people of Sri Lanka have suffered, but shown a lot of resilience. It is there in the people, and with a little encouragement the youth of the country would lead the country to development, she opines.
The vibrance and life of the Sri Lankan youth would also be included in her next exhibition. 
Pix Saman Mendis