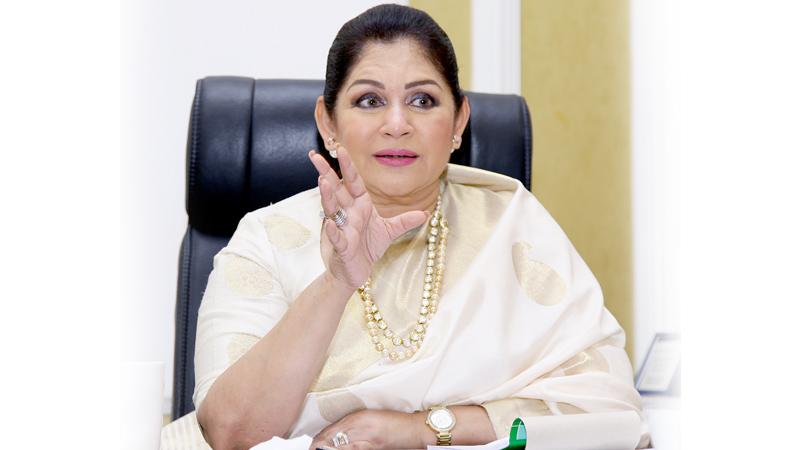 Rosy Senanayake is well placed to be the first woman Mayor of Colombo. She brings with her a wealth of experience gained through diverse interests and a long involvement in politics. One of the senior most members of the United National Party, Rosy Senanayake has been High Commissioner for Malaysia, Leader of the Opposition of the Western Provincial Council, Member of Parliament, and a State Minister. She is currently the Deputy Chief of Staff in the Prime Minister's Office.
Ms. Senanayake has a keen interest in seeking solutions to socio-economic and socio-cultural issues. She has campaigned vigorously to have more women enter politics, and keeping children and youth safe.
Excerpts:
Q: The United National Party has nominated you as their Mayoral candidate for Colombo. The CMC has been run by the UNP for the longest time. How do you plan to make Colombo a different city from what it is now?
A: Colombo will be transformed into a smart, empowered and green city through the implementation of our ten-year plan of activity.
Colombo is unique. It is a highly sought after residential area and also the financial capital of the country. We have the very rich and the poorest of people living in the city. Also, we have a huge migrant population that comes into the city daily.
Meeting all of their needs is quite a challenge. However, with the strong team the United National Party has nominated for Colombo, I am confident I will be able to successfully address those challenges.
Minimizing congestion and reducing travel time will be a priority.
There will be transparency and efficiency under my leadership. The Councillors, staff and I will be available via App and chat rooms for interactive communication with the public. A website will be set up for each Councillor so they will be directly accessible to their constituents.
I plan to hold "Town Hall" meetings in different locations every three months, where the constituents will be able to meet with me, the Councillors and staff, and address any concerns. I hope to have these meetings telecast live via social media.
The Local Government Act provides for a Citizens Charter, and we will introduce that. Constituents will have the opportunity to review budgets, and make suggestions for budgetary allocations.
The CMC staff will receive regular training in communication skills to serve the public better. Through Public-Private Partnerships, we will develop the city.
Beautification of the city is important; however, we must be mindful of the consequences and plan carefully. One of the first areas that will be spruced up is the Beira Lake area.
Our vision is to make Colombo a commercially-viable and efficient city like Singapore or Kuala Lumpur while also preserving the environment.
Q. As you mentioned, Colombo is a city with a mixed group of residents. What will you do to ensure everyone's requirements are met?
A: Clean drinking water, sanitation and fully functional toilet facilities are a priority, especially, for the under-served settlements and the migrant population. Former President Premadasa built Council homes for the people. The CMC has the capacity and the land, and we will work with Line Ministries to help 50,000 low-income constituents become owners of storeyed houses.
We will be more tech-savvy and digitalize the city to make it easier for residents to pay their bills on-line.
"Think Equal,' is one of my initiatives. This involves social and emotional value-based education that cuts across caste, creed, religion, gender, and every other form of discrimination. The subject teaches empathy and gender equality and I propose to introduce it in the Council too.
We will also be the first Municipality to implement the government's three language policy when interacting with the public.
Q. Could you elaborate on those plans you have for the city?
A: Garbage –The issue of garbage can be successfully dealt with if constituents and the CMC work together. Therefore, awareness programs for the community to correctly identify and sort their garbage will be carried out. We also need to persuade the public to refrain from throwing solid waste and other items into canals, storm water drains, and sewer systems, as such actions result in blockages and cause flooding.
Illegal drug use – This is a problem spreading fast. We will work closely with the Ministry of Law & Order, The Dangerous Drugs Control Board and other relevant institutions to introduce an effective program to rid the city of drugs.
We will study international best practices and adopt relevant activities in the rehabilitation centres for addicts, that we plan to set up.
Dengue - Last year, we had a really bad situation with the Dengue problem. Together with the CMC medical staff we will promote the use of the new App "Epihack" to involve more public participation in eradicating Dengue. Social media platforms and mobile phones will be used to alert residents if there seem to be an outbreak in a particular area.
It will help us to deploy Public Health Inspectors and medical teams to the affected area quickly. The CMC staff will also follow a more efficient tracking system to ensure all areas are sprayed regularly.
Our aim is to reduce dengue deaths by half this year, and work towards zero dengue deaths by 2020.
Transportation and easing traffic congestion –
Soon there will be electric buses on our roads and passengers will use re-loadable cards instead of tickets.
There are plans for a new fly-over from the Kelani Bridge through Fort to the Colombo Port. We will also build more underground crossings.
We have a good canal network, which we will develop as an alternate method of transport.
There will also be separate parking areas for three wheelers, school buses, etc.
A digitalized and more efficient CMC – Though there is provision for e-bill payments etc., this service is not being utilized fully. We have already drawn up plans to make this service more user –friendly and quick.
We plan to computerize the issue of land certificates and work with government agencies to ensure such certificates are accepted by them.
Multi-faceted Community Centres:
Each ward or electorate will have a multi-faceted community centre, with services such as, child care facilities, counselling, recreational activities, etc.
There will be a modernized library, with career guidance units. A section of the Centre will be set aside for constituents to use for weddings, funerals and other events. Three NYSCO styled vocational centres will also be set up to provide skills training for youth.
Q: What are your plans for infrastructure development?
A: A construction policy will be developed to meet the ever-growing needs of the city and curb structures being built haphazardly.
There are many schools that need to be developed. To begin with, we will work with the relevant government departments and ministries to upgrade Al-Hussain MahaVidyalaya and the Kotahena MahaVidyalaya and also build two more national schools in North and Central Colombo.
We are servicing a population of 650,000 with sewer and drainage systems that were put in place fifty years ago. These systems will be overhauled to meet current demands.
Q: How do you feel about the quota system that will enable more women to be involved in politics and governance?
A: I am elated! It has been something I have been fighting for a long time, and am extremely pleased the Prime Minister was able to bring in this Bill.
When I was an MP in the last Parliament, and the Local Government Bill was being amended, I introduced a Private Member's Motion asking for 30% of women representation but there was resistance to even table it.
Finally, with the support of the Prime Minister I tabled it in Parliament.
Chauvinistic attitudes within the group resulted in the motion being rejected at the committee stages. The Prime Minister promised that he would table it once more when the UNP is in power and that was the first thing he did.
Q: In your position as the Deputy Chief of Staff in the Prime Minister's Office, what are your responsibilities?
A: Handling issues involving children and gender are my responsibilities.
We have constituents seeking redress for their needs. I meet with them, and, depending on the situation, either resolve it, or direct them to the correct officials or institutions.
One initiative I took was to convene a meeting of subject experts from academia to draft the women's rights provisions for inclusion in the proposed new Constitution.
Q: What would you list as the major achievements of the government over the last three years?
A: The 18th Amendment was repealed and the 19th Amendment introduced.We also brought in the Right to Information Act and are working on changing the Constitution.
We marked World Children's Day with the launch of a medical insurance policy for children.
In the first five weeks of government, as the State Minister of Child Affairs I launched the Rs. 20,000 nutritional program for every pregnant mother.
As the State Minister of Child Affairs, during the first 100 day program, I was able to obtain $ 50 million for early childhood education.
Q. Can you share your career achievements with our readers?
A: In 1987 I obtained life membership of the Seva Vanitha Unit and carried out many activities that empowered women and children.
I was appointed to the Working Committee of the UNP in 1997 and held the positions of Coordinating Secretary and President of the Eksath Lak Vanitha Peramuna.(The women's wing of the UNP).
As the High Commissioner to Malaysia in 2002, I led the drafting of and execution of a bilateral agreement that paved the way for more Sri Lankans to work in that country.
I am the Deputy Chief of Staff to the Prime Minister, and have been a Member of Parliament and also the Leader of the Opposition of the Western Provincial Council
The experience and insights gained through these positions are the strengths I will bring to the position of Mayor.