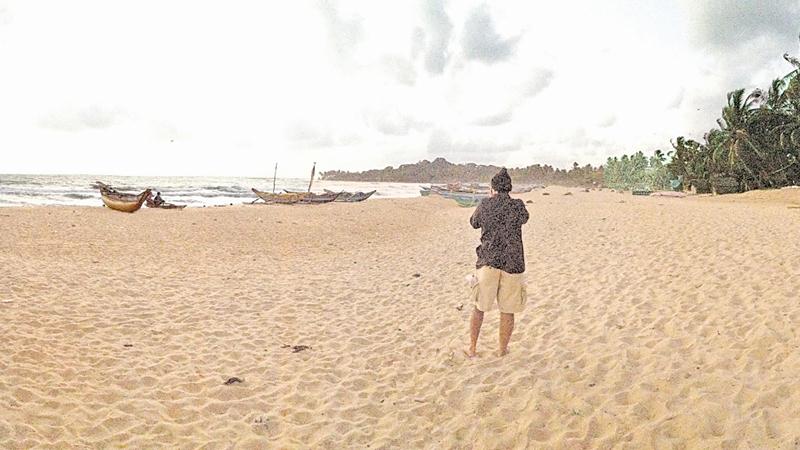 Giorgio (George) Corbin, then 27 years, stepped into the Colombo harbour four decades and seven years ago, hoping to catch a ship to a mysterious chain of islands he had seen in a well-worn world map that he still carries around with him.
He didn't quite expect that it will be so hard to get to these chain of islands, "only when I got to Colombo did I realize there was no connection by air to Male and I had to find a boat to take me there," Corbin told the Sunday Observer last week, while sipping a glass of icy cold water at the plush residence of Ahmed Naseem in Kotte. Naseem, the former foreign minister of Maldives was Corbin´s first partner in crime in 1971, the year both of them, along with another friend, started Maldives first tourist resort.
discovery tour
Corbin was on a tour of discovery, looking for islands where he can snorkel and dive, a beach where he can bring his friends and family. "I had by that time been to South-East Asia, the Mediterranean and even some parts of North Africa, but never to the Indian Ocean," Corbin said.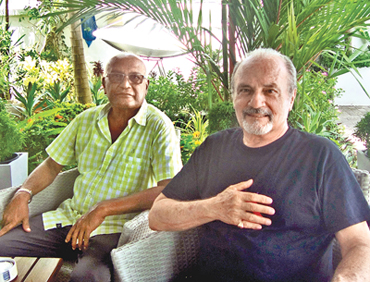 Former Maldivian Foreign Minister Ahmed Naseem and his partner Giorgio Corbin relax at Naseem´s residence in Kotte, Sri Lanka.    
Twenty one year old Ahmed Naseem was the first secretary at the Maldivian mission in Colombo then. Having finished his education at Wesley College in Colombo, taken time off to explore Sri Lanka with two other friends on bicycles, Naseem was keen to establish roots back in the Maldives, where his family had wealth and connections.
"It was a serendipitous meeting," Corbin says, reminiscing of seeing the energetic and smiling Naseem on board the banana boat, where he finally found a berth, after being refused by a couple of others. "I had met Naseem the day before at the High Commission and found him to be a very enthusiastic young man," Corbin said.
That initial friendship resulted in Kurumba Resort, Maldives' first tourism resort, a joint venture between Ahmed Naseem and Mohamed Umar Maniku, with Corbin bringing in the guests by the planeloads.
Today, Kurumba, named after the young coconut that Corbin was given to quench his thirst when he first stepped into the island, is one of the top upscale resorts in the Maldives, operated by Maniku´s Universal Marketing group.
From its humble origins, accommodating only 60 guests a month, Kurumba has since graduated to 14,000. From a handful of founding friends, to a staff of 450. Several have stayed for over 20 years.
Natural assets abound
This upscale tourist destination is roughly situated 724 kilometers southeast of Sri Lanka across the equator in the Indian Ocean.
The Republic of Maldives encompasses 26 major atolls and 1,190 small-distributed cays distributed on an economic zone of 859.000 square kilometers with 99% of the territory covered by the ocean. According to Maldivian government publications, merely 33 inhabited islands possess a land area more than one square kilometer. "The main reason why travellers spend their holidays in the republic are, the natural assets, such as the tropical island environment and the multifariousness of the reef ecosystem, which is counted among the varied reefs in the world, covering a territory of more than 8,920 square km, belonging to the ten biggest worldwide, counting over 5% of the total world reef area, attracting over 900.000 visitors every year," A government publication said.
The small coral islands belong to the government; 194 of the Maldives islands are settled and 88 islands are self-contained resorts on a 'one-island-one-resort' concept. The individual islands are mainly rented out for a duration of 25-35 years, with the lessee remitting an annual rent to the government, for the use of industrial, tourism progress or farming.
While Naseem and Maniku were building Kurumba, a third, Hussain Afeef, joined in as an employee. His first job was to act as Corbin´s guide, taking Giorgio to all the best diving spots. Today, of those three entrepreneurs, two own the two largest tourism organizations in the Maldives, Crown Company and Universal Enterprises. Naseem was not so lucky. His political involvements meant he spent much of his time in a Maldivian prison after President Maumoon Gayoom took over from Naseem´s brother-in-law, President Ibrahim Nassir, in 1978. However, despite his initial setbacks, Naseem became the Foreign Minister to President Mohamed Nasheed and continues to own resorts and properties built on family owned atolls.
Corbin and Naseem have a new mission in life. "Tourism arrivals are declining and the profile of the average tourist is changing in the Maldives," Corbin says.
Chinese arrivals up
Government publications indicate this may be"caused by the 'shift of demographic profile of major generating markets from Western Europe to North East Asia, where especially, China overtook all European markets and became the market leader. More than 96% of the Chinese tourists stayed in the Maldives for less than 7 nights, of which 9% stayed for less than 3 nights."
"The average spending of a tourist, visiting the Maldives, accounts per person per day, approximately 90€. This number will remain constant, but the length of stay will trend downwards due to a shift to short-haul trips from Asia, especially, Chinese visitors," states one document sited by the Sunday Observer.
"Maldives should think about revenue management, to sell the right product, to the right people at the right price and time. Seasonality is also a major challenge for the Maldives, " Corbin said.
Another issue that worries Corbin and Naseem is the rise of Muslim fundamentalism in the Maldives. According to Naseem, more than 250 Maldivians are fighting with the ISIS – "That's the known number, we don't know the real number," Naseem said.
Most of the resort islands pursue a cash free system, where little or no cash actually comes into the country. Most transactions are outside of the country and a bulk of the money remains outside.
Corbin and Naseem do not agree on the cost structure of the Maldivian market. While Corbin believes in a mixed middle-to-high end market, Naseem believes its best to concentrate on the high end. "Unlike Sri Lanka, where you have varied conditions, locations and markets, our resorts are expensive to run – we have to import almost every single item used – and to meet these costs, we have to concentrate on the high-end market," Naseem said.
After some twenty years of sending tourists to the Maldives, Corbin focused his energy on the Caribbean and the Laccadive islands, where he helped to establish an exclusive resort for the middle-eastern market.
Corbin´s latest foray – looking to develop the eastern coast of Sri Lanka on a thematic basis for the surf and beach crowd.
"We provided a beautiful concept to the previous government to develop Passikudah as a thematic area, where there the whole Passikudah cove would have been developed as one continuous thematic strip," Naseem said. However, that was not to be.
Sustainable development
The World Commission on Environment and Development, defines sustainable development as 'development which meets the needs of the present without compromising the ability of future generations to meet their own needs." Corbin and Naseem do not see development of tourism in the east coast as falling within this definition.
"It's haphazard, and does not consider the impact 20 years from now – let alone future generations," Naseem commented.
Naseem says, despite its many setbacks, Maldives has done something very right. "We have incorporated the basic foundations for an environmentally friendly, sustainable development in our school system. Kids learn about the environment and sustainable development from their kindergarten days," Naseem said.
While the atolls were being leased for a period of not more than 50 years (however, recent developments under current President Yameen has seen several atolls sold on a freehold basis), the government also charges a per square meter tax on atoll operators every year depending on the size of the atoll. This money is put back to protect the atolls and the corals and to build a sustainable lifestyle for the people.
"Sri Lanka is yet to consider some of these issues. We can help with our experience," Naseem said.
One area which Sri Lanka is yet to explore are the safari-vessels or the floating beds concept, which provides the second largest number of beds in the Maldives, after the resort hotels.
"There are virgin areas in the east coast that are becoming prey to unsustainable development. Arugam bay and beyond to Panama is an example of this. The country must recognize the environmental importance of these areas and put in a sustainable plan to develop these areas," Naseem said, while Corbin excused himself to change into attire that is more comfortable before he took a plunge into the backyard pool.